As Sri Lanka attempts to lure tourists away from other destinations and bring them to this country, it is incumbent on the relevant authorities to use the latest technology to deliver a wonderful experience to all visitors – Pic by Shehan Gunasekara
---
There is no doubt that tourism is a crucial part of Sri Lanka's national economy. Besides being one of the major earners of foreign exchange to the country, the tourist sector is also responsible for the direct and indirect employment of thousands of people. Unlike other industries which are concentrated in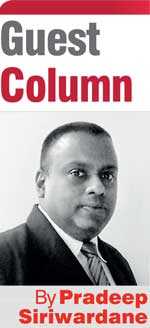 certain parts of the country, hotels and resorts catering to tourists can be found all over the island. While the services provided to these travellers have steadily improved over the years, there has been a deficiency in terms of using the latest technology to enhance the tourist experience.

At present, Sri Lanka competes with many tech-savvy countries such as Thailand and Malaysia for tourists. These countries have many advanced facilities to help make holidaying in those countries convenient and pleasurable. This begins with the use of advanced digital marketing practices that build on the country's branding and entices tourists to visit. They can easily and conveniently book hotels and resorts and also buy tickets to attractions online. Thus, tourists are able to plan their entire trip and pay for most of the facilities they will be using before even setting foot in the country. They can even use augmented reality applications and websites to check out places of interest which will help them decide on the ones that they would like to visit.

A recent research has revealed that 74% of travellers use the internet to plan their trip. With the ability to view operating hours and obtain accurate estimates of the time taken to travel to various destinations, tourists can plan their itinerary with greater accuracy than ever before. Since practically all international travellers take their mobile phones with them, it has become a valuable device that serves multiple purposes. This includes getting real-time updates on things such as travel times and sudden venue closures, saving them the hassle of visiting attractions that may be closed. Most of these countries have 5G networks that can download enormous amount of data in a split second.

Sri Lanka, unfortunately, has a lot of catching up to do in this regard. While visitors can book hotels and guest houses online, they cannot, in many cases, buy tickets for major attractions. This means that tourists have to find ticket booths when they visit the attraction, often spending hours in queues, and sometimes falling prey to unscrupulous touts. The absence of real-time information, especially away from Colombo, means that tourists are often severely inconvenienced, sometimes traveling many miles only to find that the attraction that they are visiting is closed.

Technology is also useful in ensuring that tourists receive assistance in the event they meet with an accident or encounter some other emergency. In more advanced countries, emergency assistance is a mere click of a button away. If they need to contact the police that too can be easily accomplished online and via other means, assuring their safety wherever they go. On the Singapore subway, for example, all train carriages have a red button to press in the event of some crime being perpetrated which will automatically stop the train and bring police to that location. This is unfortunately not the case here, particularly in more remote areas of Sri Lanka.

It can clearly be seen that Sri Lanka has some way to go in matching competing destinations in terms of using technology to better cater to tourists. As Sri Lanka attempts to lure tourists away from other destinations and bring them to this country, it is incumbent on the relevant authorities to use the latest technology to deliver a wonderful experience to all visitors.


(The writer, B.Sc. (Hons) (Trinity, USA), M.Sc. (UCD – Ireland), MBCS CITP, MCIM, FCMI, is a computer scientist, researcher, marketer and strategist and counts over 20 years of experience in Government and private organisations. He enlisted in the Sri Lankan Army as an Information Technology Officer. In 2006, he joined MiTel Limited as Head of Marketing and in 2016 became General Manager/CEO of the Sri Lankan Conventions Bureau. Crowned 'Outstanding Alumnus of the Year 2018' by University College, Dublin, Ireland, he continues to pursue his passion for technology transformation and strategic development.)