India's growing focus on its neighbours has made its 'Neighbourhood First Policy' and SAGAR Doctrine central to fostering its regional diplomacy. Sri Lanka's geo-strategic positioning in the Indian Ocean region makes it pivotal for advancing India's strategic interests. The nature of relations with this southern neighbour will determine India's future in its quest for regional cohesion.
The commonality of interest in terms of trade and maritime security between the countries has been a critical factor that has steered the India's 'Neighbourhood First Foreign Policy'. The territorial distance between India and Sri Lanka necessitates close relations of the two countries in addressing mutual security requirements. Sri Lanka's huge ocean resource base and geo-political positioning at the juncture of the Indian Ocean region is of profound significance to India. Moreover, mainland India and its southern island neighbour need each other in furthering their national interests.

The growing traction between this rising global superpower and the Indian Ocean island nation is driven by their foreign policy oriented towards utilising this mutual interdependence for strategic gains. The manifestation of this notion of strategic gains is clearly evident in Indian Prime Minister Narendra Modi's visits to the island nation over the years. Moreover, President Gotabaya Rajapaksa's first official overseas visit to India was a major departure from the nation's previous Foreign policy norms.


Trade beyond aid

From an economic perspective, the bilateral trade relations between the countries is a major aspect that has propelled the shaping of foreign policy through mutual dependence. The South Asia Free Trade Agreement (SAFTA) and Indo-Sri Lanka Free Trade Agreement (ISFTA) played a decisive role in defining the trajectory of Indo-Sri Lanka bilateral trade relations.

Furthermore, the Indo-Sri Lanka Free Trade Agreement provided an impetus to the commercial diplomacy by providing the island nation with access to 1.3 billion Indian consumer market. Sri Lanka is India's largest trading partner among the SAARC countries while India is one of Sri Lanka's largest investor and trading partner with bilateral trade amounting to $5.3 billion (Indian High Commission Colombo, 2019).

Therefore Sri Lanka has become the priority destination in attracting significant investments from India. The Lanka Indian Oil Corporation (LIOC), a subsidiary of the Indian Oil Corporation, caters to Sri Lanka's widening energy needs by operating 15 oil tanks out of 99 at the China Bay Trincomalee oil storage facility. The LIOC also operates more than 100 pumping stations around the country. ISFTA has been instrumental in making India the focal point for investments from Sri Lanka. Deep commercial linkage has left both countries of paramount significance to each other at an economic front. However, notable improvements in the two-way trade will depend on the ability to balance Sri Lanka's consumer demands and Indian supply side with minimum tariffs.


The tourism factor

Success in India's 'Neighbourhood First Policy' has not only impacted the diplomatic arena but has resonated in the tourism and leisure sector as well. India's growing middle-class and growth of Indian investments in the tourism sector opens a myriad of opportunities with the island nation. Sri Lanka is emerging as a favourite travel destination among tourists in India. In fact, India has largely contributed to the growth of the tourism sector in Sri Lanka.

Around 424,887 Indians visiting the island nation in 2018 amounted to over 18% of the overall tourist. Further, the extension of Ramayana circuit to Sri Lanka has been central in facilitating tourism interconnectivity between the countries in recent years. This has also led to enhanced air connectivity with Sri Lankan airlines operating 126 flights weekly, where Indians constitute 24% of the total passengers in the airline network. However, the COVID-19 pandemic has forced Sri Lankan and Indian airlines to ground most of their flights.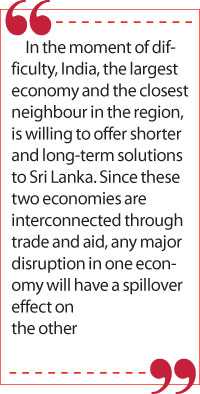 Ports and maritime security strategy

The port and shipping industry is another domain of immense potential for both nations. Sri Lanka being an island economy, its regional connectivity is mainly facilitated through its seaports. Sri Lanka's strategy towards its neighbours has been guided by its interest in gaining regional connectivity through enhanced market access and attracting Foreign Direct Investments (FDIs).

Its proximity to the key international sea routes with substantial sea traffic unravels vast possibilities in improving its maritime and trade economy. Colombo and Mumbai are some of the busiest freight handling ports in Asia. The main advantage both these nations have is that they lie in proximity to the busiest maritime trade route. Colombo alone handles 43% of the transhipment cargo of India which directly benefits the revenues of Sri Lanka. However, the pandemic has affected the maritime supply chains. The complex coronavirus situation has the possibility to disrupt bilateral trade in a wide range of economic sectors. During these uncertain times, cooperation between the nations in this arena is instrumental in steering the maritime trade economy.

Defence and maritime security cooperation between the nations is another significant aspect of this bilateral relationship. The two countries have agreed to build and promote cooperation in the defence sector including regional security and training of Sri Lankan military personnel.

Most significant in defence cooperation between India and Sri Lanka is the project for building two Offshore Patrol Vessels (OPVs) for Sri Lanka by India's state-owned shipbuilder Goa Shipyard Ltd. (GSL). Moreover, the two nations conduct bilateral exercises such as 'SLINEX', and 'Mithra Shakti' to optimise preparedness during counterinsurgency operations.


Economic aid response to COVID-19

Aid diplomacy has been India's most important foreign policy line towards its southern neighbour Sri Lanka. As the Indian Envoy to Sri Lanka, Gopal Baglay clearly emphasised: "Delhi will help Colombo to deal with the economic challenges precipitated by the COVID crisis, and this is going to be one of my very important tasks." (Wionews, May 2020).

Over the years, India has aided Sri Lanka in its development by undertaking various infrastructural and community development projects. Around 70% of India's aid to Sri Lanka comprises loans. The primary focus has been towards improving and uplifting the rural base, especially of the northern and eastern provinces. Developmental assistance over the years includes India's flagship housing project to construct 50,000 houses, the $800 million credit line to support the construction of the Northern Railway, assistance in rebuilding the tsunami-damaged Southern railway line and grant assistance for the island-wide emergency ambulance service.


Aid response to COVID-19

The pandemic has impacted the Sri Lankan economy, which is heavily dependent on the tourism sector for its foreign exchange. India has extended its assistance during this testing times by donating 12.5 tonne consignments of medical supply. Further, India and Sri Lanka has agreed on a currency swap facility of $1.1 billion in addition to the $400 million currency swap discussed under the South Asian Association for Regional Cooperation (SAARC) framework to recover the staggering economy. In the moment of difficulty, India, the largest economy and the closest neighbour in the region, is willing to offer shorter and long-term solutions to Sri Lanka. Since these two economies are interconnected through trade and aid, any major disruption in one economy will have a spill-over effect on the other.

India's aspiration to emerge as a global power is contingent on its success in promoting regional cooperation and security in South Asia and the Indian Ocean Region. Hence Sri Lanka forms a crucial part for India in promoting its agenda and in balancing Chinese inroads in the region. At the same time, India provides Sri Lanka with access to a huge market and is indispensable for its port diplomacy.

Maritime security and cooperation between both countries are integral to maintain stability in the region. It is this coincidence of strategic interests that would steer future dynamics between both the countries. It is also imperative for policymakers to think beyond and make the trade transaction smoother and business-friendly for both these countries. Prospects of cooperation between India and Sri Lanka in posterity will depend on how they choose to strengthen the existing power matrix.
---
(Srimal Fernando is a Doctoral Fellow at Jindal School of International Affairs (JSIA), India and Advisor/Global Editor of Diplomatic Society for South Africa in partnership with Diplomatic World Institute - Brussels. He is the winner of the 2018/2019 'Best Journalist of the Year' award in South Africa, and has been the recipient of GCA Media Award for 2016.)
---
(Prinssa Joby is pursuing Master of Arts (MA) in International Studies at Christ University in Bangalore. She completed her Bachelor of Arts (BA) in Global Affairs at Jindal School of International Affairs. She was also the recipient of Savitri Jindal scholarship and was a member of the Centre for European Studies at the O.P. Jindal Global University, India.)
---