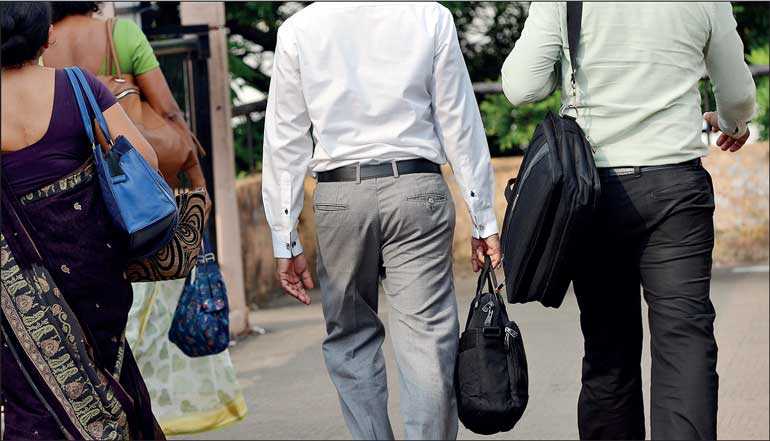 The inner conflict of purpose, meaning and what I do come when the reality of work is different from the ideal. There are many who say I would have given up what I do now if not for my financial commitments, if not for the facilities this job allows me to give my family, etc., the golden hand cuffs the HR throws in – Pic by Shehan Gunasekara
---
She is an exceptionally talented young executive. She has worked at two leading multinationals in brand management and currently with a local conglomerate as a key partnership manager. I had the

pleasant experience of working with her on a number of projects mostly online and her enthusiasm, paying attention to details, proactive planning, a very high empathy, and exceptional team skills impressed me. Appreciating her work, I even sent a special note to her MD. Because of the professional relationship she developed with me she one day sought permission to speak to me on a personal matter, which I gladly agreed.

In a nutshell this was her issue. Though she is doing very well in her current job, being appreciated by all her stakeholders she thinks she is not engaged in the true purpose of life. She is comparing herself with persons like Sanga and Mahela as her ideals and wanted to know how to find the real job that is connected with the true inner purpose of herself.

In asking this question she is not alone. This is a very common concern most young professionals want an answer to. Thus, I thought of reflecting on this as a common issue that I come across when guiding young well-intended professionals.
Inspiration, role models and life goals
I have met three types of people. First those who have been dreaming of becoming a certain professional from childhood. Some of them have said so with no influence whatsoever and they have worked their way to become such. They are generally those who have become top professionals like doctors, engineers, military officers, pilots, etc.

Second group get their life goals owing to various influences either from the family, school, peers, or significant life experiences. This includes children who pick up their parents' profession, continue to engage in the business of the parents, etc.

Then there is a large majority who have found passion and interest in the profession that they have stumbled upon. They have chosen such careers because of the opportunities prevailed at that time, or the examination results lent to do that accidently. In time to come there will be more such people because the opportunities will appear in areas that were not even present in the past, especially during their parents' generations and in some instances not even when they were schooling. For instance, the option of 'Gig' economy is a very new phenomenon. I have met architects and doctors who are part-time uber drivers.

Even in the first category I have met people who start searching for a purpose later into the career, but this is more common in the other two types mostly.

This comes in a way from the thought "I would be happier if I were doing like that". This is a result of measuring or comparing that goes on as a natural process which is a kind of conditioning we acquire known as 'mana'. Sometimes one sees another person doing well, enjoying, happy and 'successful' mostly from the more visible external imagery. The life they lead, the kind of facilities they have, the power, fame, position, economic standing, etc., indicate to the aspirant other that as an ideal. When we see such successful people, many ignore the hard work that has gone in to come to that position or the sacrifices they currently go through, the burdens they carry but see the brighter side. Almost all pose for photos with a Cheese! and eventually that is what get captured. When one sees a swan smoothly gliding over water, one cannot see the hard-working feet of the bird underwater.

Another conflict with what one currently does comes from the kind of higher order ideals one possesses. They are like the desire to do common good, help poor, care for less fortunate, care for animals, nature, planet, bigger social issues, etc. and the conflict with the current occupation or the job.

By looking at the so-called successful people one can get inspiration. Reading biographies and listening to inspirational stories is all about that. Getting inspired to challenge yourself and go that extra mile. Believing in unleashing the person's full potential. We need such inspiration to set goals and to overcome challenges on the way.

During different stages and circumstances in life some find different things as what they want to do. We can observe this as a child grows and even adults as they pass through different stages in family life cycle. Some professionals who were so involved and engaged in work even to the extent of becoming workaholics, begin to enjoy time with kids when they become parents. Or they pick a new hobby and that gives more satisfaction than anything else. Need to accept that we physically as well as mentally change constantly.

Another dimension to the reality of life is, that in most cases we need a job to meet our personal life requirements. To provide for basic needs, to ensure family is looked after well, etc. This is the hard truth of working whatever fancy purpose of work labels we give to what we do.

The inner conflict of purpose, meaning and what I do come when the reality of work is different from the ideal. There are many who say I would have given up what I do now if not for my financial commitments, if not for the facilities this job allows me to give my family, etc., the golden hand cuffs the HR throws in. Sometimes however much one goes through the work day unhappy at the end does not have what it takes to take that jump.

So, the answer to the dilemma of the young executive I introduced at the beginning lies here. Ideally, I would be doing something else, but currently I have to do something totally different. So, what should I do?

In finding a way out let me reflect on two social concepts or practices.

In Sri Lanka Buddhists ascend Sri Pada, to venerate the footprint of Buddha. In order to worship the sacred footprint, they have only two stanzas (a four-line verse in pali language) but there are more than 600 four-line verses (kavi) that they chant during the journeyi. Why is more to sing during the journey. Perhaps it is more important to enjoy the journey than the destination itself. In the past whatever the task people did in Sri Lanka they had such kavi to sing along. Whether it was carrying goods in bullock carts, or going to fetch honey in the forest, or guard the chena in the night, or digging deep in to earth for graphite or gems, or various stages of paddy cultivation they had such singing. I think this is because they knew the importance of enjoying the journey.

In Japanese there is a saying called Ichi Go Ichi e – meaning One Time, one meeting, capturing the unrepeatable nature of a moment. When two people meet both of them think; "Perhaps this is the last time we meet". Imagine the intensity of attention to each other when two people encounter such a meeting. Extend this concept to life. Then this moment becomes the most important moment, the person with me becomes the most important person, the task in hand becomes the most important task. When you learn to give you best to this three, you invariably enjoy the journey.

I always advocate this concept. Because the most important thing for any person is life, life is in a way the time span between the birth and death. Thus, time becomes the most important thing we have. Therefore, whatever we do spending our life, which is in a way time, then shouldn't we give our best to whatever that task may be. Because if a task has to be done by a human being any one of us is suitable to do that job. Competency could be the only limitation.

When we slightly alter the approach then whatever we do can be meaningful rather than finding meaning outside. This will help us to do the best all the time.

Once on NKH a traditional basket weaver was interviewed. When he said that he had been doing the same type of baskets for the last 20 years, the interviewer asked, "Isn't that boring?" and to his surprise the answer that smiling craftsman gave was, "May be they look the same, but every one of it is a masterpiece!"

Visit our national museum in Colombo and take time to observe the intricate designs that adore day-to-day utensils like combs, kitchen spoons, even toothpicks. Aren't they masterpieces? Obviously, they too wanted them to be masterpieces.

The traditional villager when sweeping the garden made sure that at the end of the sweeping no footprints are left but very nice wavy pattern of a coconut branch (Po latta) is there. The same concept is there in the zen gardens in Japan.

Have not we seen some exceptionally happy security guards, cleaning persons, shop assistants, who do very boring ordinary jobs but with a smile in their face?

I remember a delivery peon of an advertising agency. We knew him only as a person who would bring the documents or art works from the agency. One day he approached me and asked whether I could help him get a sponsorship for his book launch in Galle. He was a poet and a social worker. That was his passion and the purpose but to make a living he worked as a delivery peon.

If you cannot chuck up and go to do what you think the ideal job, give your 100% to whatever you are doing for you do that while spending your life. It is important to be happy along the journey. The happiness you can generate by giving your fullest to whatever you do will give you that energy for you to reach your ideal position as well.


Footnote:

iJayanetti, Dayapala.Vandana Kavi Sahithyaya, Samaywardhana 2005