Three must-read books: 'The Singapore Story – Memoires of Lee Kuan Yew,' 'From Third Word to First: The Singapore Story 1965-2000' and 'The Wit and Wisdom of Lee Kuan Yew'
---
I inadvertently happened to tune into a late night TV discussion which was touching on who deserves monuments. It was interesting so I stayed on as we are in a climate of toppling monuments and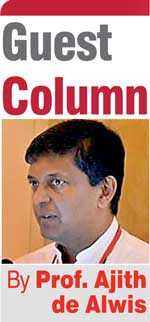 cowering for protection in some places. I thought that there was a demonstration of lack of deeper knowledge and one of political biases, which of course in Sri Lanka is quite usual – albeit unfortunately.

I heard again another statement indicating that Singapore developed from services and a country to be emulated on that front. If you flip channels there are many chat shows –otherwise it may be superstars of all ages dancing or singing – and most of the time you feel that we are wasting our precious fossil fuels in providing electricity to keep them powered. There perhaps is quite poor conversational IQ demonstrated.

Our Engineering Pioneer Wimalasurendra indicated generating electricity and making products such as caustic soda! He was not advocating frittering away resources for unproductive exercises though the TV set was not one from his time. I am sure that he would be appalled to see the night time peak demand in Sri Lanka, COVID-19 or not!
Nation building through leadership
The die had been cast for the election and you hear the clamouring for the youth, the disciplined and the educated – much more of the latter! Important definitely. My take on this is to recommend some mandatory reading to understand what nation building through leadership really means and entails.

As a teacher one can always recommend some reading material for the novice and the seniors. I am equally ready to recommend these to seniors as well as I see that after 71 years of post-independence our report card really is bad, meaning that discussion of monuments are not really relevant.

It is unfortunate that most of the time the attention of the leaders had been spent in fire-fighting or fighting and upon closer examination the fires initially may have been lit or fanned the embers by themselves. The brief report card is all from open data and much may be said on those.
Lee Kuan Yew
What are my recommendations? Well you hear that the late Lee Kuan Yew stated to vote for him to make Singapore like Ceylon. There is the other comment that later he indicated vote for the opposition if you want to make Singapore like Ceylon. In some way it appeared that Ceylon had been a great lesson to him in planning his strategy for Singapore.

My acquired knowledge from hearsay was dashed upon reading the three books that I consider as mandatory reading for any aspiring nation builder. The two-volume autobiography does mention Ceylon but none of the earlier statements are included and whatever the references given are not at all positive. He may well have stated these in some way as one of his closest came from Ceylon via Malaysia but he has not identified those in anyway as significant to be included when he wrote his memoirs and his selections are what is important.

Anyway the idea was not to see Ceylon from someone else's eyes but to see how someone transformed a nation almost with sheer will and dedication and to extract lessons if there are any. Of course these tell a story. You need to reflect seriously in reading and not just soak in the story as presented.

One can always visualise a game of chess on those pages, as it was one move against another counter move – strategy and tactics in action and also with sacrifices! Certainly he has made most of his decisions right and the very first being getting the team right.

The other most important is his uncompromising stance on corruption. He identified that it is this virus that affects many a system and took steps to institutionalise anti-corruption practices from the start. Even when some of his closest went astray in later years he was non-compromising in action.
Many lessons
James Bolger (PM NZ 1990-97) writing a message states that (Lee) makes the point that there is no book on 'how to build a nation state' but his own story sets out how he fashioned a new nation on the tiny island of Singapore – and the book indeed is one on that topic. The three books are 'The Singapore Story – Memoires of Lee Kuan Yew,' 'From Third Word to First: The Singapore Story 1965-2000' and the edm publication 'The Wit and Wisdom of Lee Kuan Yew'.

"I always tried to be correct and not politically correct" – quintessentially Lee! And these are some essentials captured from his 60+ years of his life. Extracts for those who may not have time to see the story unfolding in depth in the first two books.

It was in 1955 that Lee said: "I have been accused of many things in my life, but not even my worst enemy has ever accused me of being afraid to speak my mind." A lot of lessons to someone who may be aspiring to do right and do well from these books for sure, as we see political games of Olympian magnitude most of the times plus politically as a working mantra.

Remember that Lee was a relatively young man around 40 when he embarked on the journey, well-educated with a definite passion for the country, who took a third world country to first world status without even having its own water supply! Many would just get scared and only think of to whom to align to when seeing the small dot on the map sandwiched between massive landmasses with strength in numbers.
Education
The collection of wit and wisdom on him organised on subjects gives a glimpse into his thinking as times moved on. He has never been shy of exercising authority to realise the direction he has envisaged for Singapore – be it realising the clean Singapore – let's give notice and pass the deadline all cattle to the slaughterhouse and the meat given to welfare homes or placing Singapore first over China – Singapore is not a Chinese country. Singapore is not a Chinese country nor a Malay country nor an Indian country. He has even foreseen the importance of educated marrying educated for the offspring to be of use to the country!

Shortly afterwards the research paper on this subject had come out of USA – Now famous Bell curve of Herrnstein from Harvard and the genetic inheritance concept. The message is clear one cannot let the competence to decline as that means the decline of the society – any ringing bell for action here?

The wondering mind of his over almost of all the facets of a society is simply amazing but he built all on one area – education. In that he demonstrated excellent acumen. Keeping English but ensuring Chinese and Malay languages. He followed his ideas with practices by ensuring that his children learnt in Mandarin and not in English but English was never away either.

A subject comment of his, an accusation of the British not supporting engineering teaching – the Dutch, the British, the French never gave us any technology. They built our universities, but they never taught us engineering. They taught us medicine, law, history, culture. They withheld the modern part of the industrial society was how he expressed and he went on to build the National University of Singapore to world class.

He identified the need for manufacturing and one of his very first acts had been to get the Japanese to support an oil refinery. Even when Singapore was with Malaysia he had identified Singapore as an industry city, not as a service zone! Today Singapore is the third country in the world with the refining capacity for oil.

Speak of services laying the foundation for Singapore – simply lack of awareness. Then this thinking is thrust on the decision makers. We have a very high per capita number of accountants and marketers and who unfortunately have to keep on counting losses and also spending valuable foreign exchange as well in the process.

So a sincere request from those who are aspiring to lead us to the future. Still there is some time left to take some quality time to peruse some books to get some deep insights on how to bring real growth in. As our system is currently on rote learning, another reminder: Books are not for taking on verbatim but a case study to distil from with thinking.

I am sure if some time investments are made even at this late hour, the night-time chats may not be hollow exchanges of empty banter and the combusted coal with mercury emissions still may not be in vain.
Brief Report Card – Sri Lanka (after 71 years of independence)
Global Competitive Index (2019) – 84th among 141 countries
Global Innovation Index (2019) – 89th among 129 countries
IQ (Intelligence related to income and climate) – 84th among 110 countries
Malnutrition prevalence children – 9th position in 2018 between Eritria and Somalia
Gini coefficient (2016) – 39.8%
Balance of Trade – consistent import expenditure over exports
Export Diversity – diversity is absent with commodities still dominant
High-tech exports – less than 0.9% of manufactured goods exported
Highest mode of foreign income – remittances from labour overseas
Human Development Index – 71st among 189 countries
World Happiness Index (2019) – 130th out of 156 countries
Inclusive Internet Index – 56th out of 100 countries
Doing Business Index (2020) – 99th out of 190 countries
Corruption Perception Index – 91st out of 180 countries