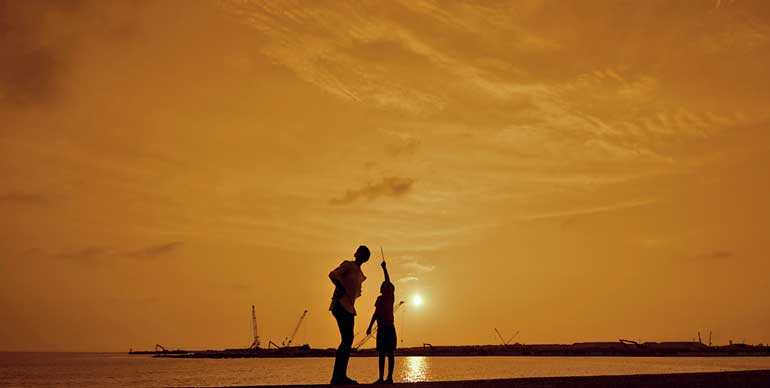 Being a parent is terrifying. You are forced out of your comfort zone, and shoved into a world where fairies roam. Even something commonplace like sunset at Galle Face becomes an epic affair. You no longer see vadai carts and couples, you see magic – Pic by Natalie Soysa
---
Having a child is a terrifying thing. They make you believe in dragons again.

Children are conjurors; they create worlds where none existed, and breathe life into the fairytales we seem to have long forgotten in favour of grown up stuff. We worry about the country, our children's futures, our next raise, and how we will make the next installment on that beautiful house we want to call our home.



But kids see unicorns in the clouds and men on the moon. Because they believe in magic, it exists. They wake up on Christmas morning, knowing Santa had been by the night before. A tooth falls and a fairy comes knocking. And I personally believe that the Easter Bunny is a chocoholic.

We drive about the city, pass its landmarks, and don't pay much attention. Like a poya moon silhouetting a kovil in Maradana, or the sun rising like a titan between the two towers of our World Trade Centre. Go with a child, and you will see again. Children find enchantment in what we often overlook or dismiss as mundane. They see a better Colombo; the mighty little city on an island rising from the heart of the Indian Ocean. And then they turn around and look at you: their hero. I think that means we must build the city they've imagined for us.

So yes, being a parent is terrifying. You are forced out of your comfort zone, and shoved into a world where fairies roam. Even something commonplace like sunset at Galle Face becomes an epic affair. You no longer see vadai carts and couples, you see magic. A child can turn a flying crow into a dragon, and magic the sun into a meteorite crashing into the planet next door. The greying, gold-lined cloudscapes become a fleet of flying horses. And the city they are building across the water is a dark kingdom we must conquer.

I used to think I learned a lot from the people I look up to. Perhaps, the most important lessons are those I learn from my son. Dream up unicorns. Imagine dragons. And don't stop believing.

Natalie Soysa is a photographer, writer and producer based in Colombo.