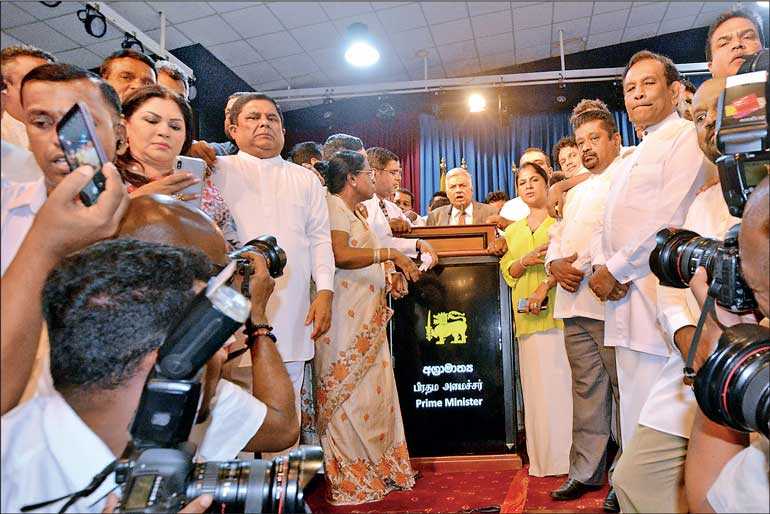 FILE PHOTO: Sri Lanka's ousted Prime Minister Ranil Wickremesinghe arrives at a news conference in Colombo, Sri Lanka, 27 October – Reuters
Let the leaders of the new regime clearly realise that the civil society and citizen voters are watching with eyes open, ears attentive, and minds alert, and the body ready to spring into mindful strategic action to establish whether the much hard-fought and regained democratic good governance framework is going to be violated in the slightest by your new team in governance.

It is the fervent hope of the civil society and citizen voters, who came forward for the second time since 2015, to not be let down by the arrogance of power, egoistic actions, kleptocracy, cronyism, and unacceptable/undemocratic political inaction of the new regime.

The above hope is despite Grusha Andrews in the Colombo Telegraph article sounding alarm bells and stating: "This victory will be your victory till tomorrow. Tomorrow, the UNP will claim this to be their victory alone. They will build their new kleptocracy with wheeler dealers like Ravi Karunanayake, Wijedasa Rajapakse, Wasantha Senanayake and Rajitha Senaratne to enthrone them, justifying themselves through the court verdict. Even if a new government will be formed under the UNP in due course, the Rajapaksas will never be brought to rule. Thajudeen will be buried 12 feet under along with the tears of his parents who die a thousand deaths. Tomorrow, the UNP will claim the court verdict. The people will be soon removed from the mega hall of the Temple Trees that will be cleaned to five star standards. If Chathura Senaratne wishes to marry there again, there will be no one to stop him. Because tomorrow, the most corrupt Rajitha Senaratne will be most powerful .The supporters of the UNP and the citizens who protected the UNP for good 50 days will be forgotten because in the anatomy of the UNP runs the despotic, unruly, corrupt blood. Perhaps till their mega rally at the Galle Face finishes on the 17th, the UNP might treat us all humans. But never, ever will the UNP deliver us from political suppression."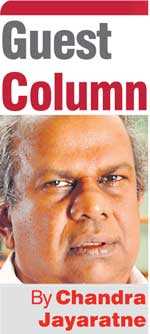 If the above predictions or even lesser damaging acts of bad governance are seen, beware, as the civil society and citizen voters will bark out loud instantaneously, name and shame and bite where it hurts most; and certainly chase such actors out of politics for good at the next elections.

So, here are Seven Golden Rules for the immediate attention of the new regime and especially, its leaders:
No persons appointed as Ministers, Deputy Ministers, State Ministers and Secretaries of Ministries and Heads of Departments, State-Owned Enterprises and other key positions in public commissions, public institutions and regulatory authorities must be even associated or suspected to be associated with any acts of undemocratic bad governance, corruption, breakdown in law and order, and nepotism (especially those associated or purported to be linked to the bond scam, large value State infrastructure projects – including roads, highways, rail, port, and power and energy, large value supply contracts – including rice, coal and petroleum, and in the sale and long lease of State infrastructure). In addition, all politicians, political appointees, law enforcement officer leaders, and others who placed hurdles in the effective conduct of investigations and unbiased and just law enforcement and judicial actions must be eased out of their present accountabilities. The Cabinet and Ministry Secretaries must comprise of persons with proven capability, accountability and unblemished track record of high leadership achievement, having acceptable public relations with voters. At least 75% of them must be below 65 years of age and capable of assuring a line of succession in to the future;
The leadership in governance must practice transparent good governance upholding democracy, the rule of law, human rights and freedoms at all times, follow liberal democratic values and ensure consensual decision-making, where equity and rights of all citizens are preserved with appropriate safety nets for all marginalised communities. Specifically target and facilitate the priority attention in meeting the needs and expectations of all marginalised communities, conflict-affected persons, the poor, the youth and elderly in finding livelihood opportunities to push them out of poverty.
All high profile cases filed and all high profile cases under investigation relating to the previous regime and all reported violations under the present regime, including the bond scam and other cases of corruption, must be brought before the justice, retaining private lawyers where necessary. Complete all law reforms essential to gain an upgrade from FATF classification as a high risk jurisdiction for money laundering, and Uphold human rights commitments and bring before the justice all offenders who have crimes committed violating the rights of minorities and marginalised persons.
All in governance leadership commit that all national resource expenditure/allocations will be within the principles of austerity, cost effectiveness and all investments limited to those assuring timely positive cash flow returns. Here, all tamashas, non-value adding celebrations, and politically motivated events must cease. Use of unnecessary ego-boosting security contingents, non-value adding local and international travel with politicians being accompanied by personal and network contingents on overseas tours must cease. No vehicles for use of Ministers and officials should be imported, purchased or leased for two years. All supplementary estimates must be specifically reviewed by the House Finance Committee and adopted by Parliament and be subject to post audit reviews.
All professional steps must be taken with the best advice of the Monetary Board to effectively risk manage and implement the critical external debt management program in the face of the crisis facing the nation at present. Here, the public must be made aware of the risks and needs for austerity and commitment of all to make essential short-term sacrifices. Arrange for the Central Bank to develop procedures to annually compute and place before Parliament the fiscal gap computations.
Adhere to open government commitments, and strengthen the independence and capabilities of independent commissions, public institutions and regulatory authorities, and take steps to improve productivity, quality of public services and public utilities. Require all large value public investments and all revenue spends above set limits to be subjected to Parliamentary Finance Committee Approval and post audit reviews.
A report card on the delivery of the above commitments must be placed before Parliament on a quarterly basis by the Prime Minister.
This is the last chance the new regime will have to prove their commitments made before Reverend Sobitha. So do not fail him, and do not fail the civil society and citizen voters!