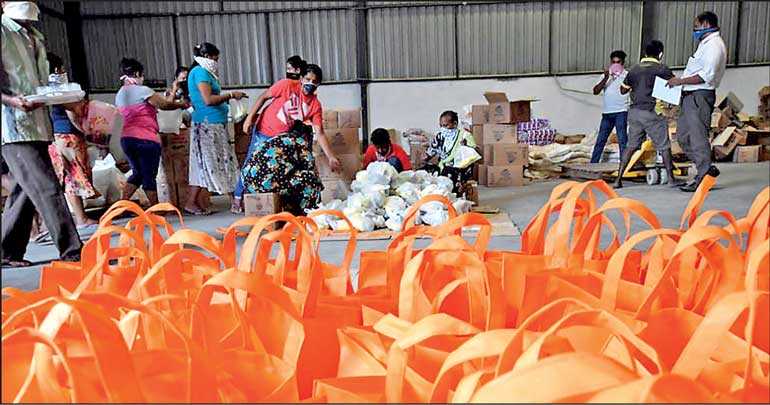 During a crisis purchasing essential goods are of a major concern to the customers and conceptualising a solution became vital. Lanka Sathosa was the first supermarket to startup a home delivery service for essential groceries by tying-up with PickMe – Pic by Shehan Gunasekara
---
Overnight, business leaders had to face novel and increasingly complex business challenges at the onset of this pandemic. Hardly anybody had past experience of handling an organisational crisis of this magnitude. Conceptualising solutions to look after the best interest of every stakeholder became a demanding task for all leaders. 

Nevertheless, the true capability of a leader can be assessed in the way in which a crisis situation is

handled. One's hidden talents become evident when they are been challenged. 'We are as only as big as the challenges we accept'. What needs to be done is to 'be brilliant with the basics. In the process try to identify and develop the leadership fundamentals that enable adaptation and agility to face and overcome changing realities.

In customer service the leader has to perform three fundamental functions. 1. Get things done with the team to create value for the customer. 2. Optimise every resource to reach win-win solutions. 3. Make quick decisions to facilitate the prompt delivery of the needed service.

The leader's role in managing customer service in a crisis is an art with the mix of the above. It is difficult to quantify and explain how each element works individually, but overall, the customer perceives the proper value from it when he experiences the service. 

However, let us take a look at how leaders can use the three elements above to drive customer service in a crisis.
1. Get things done with the team to create value for the customer
Place the customer's needs first and understand the extent to which customer service can be extended in the crisis situation. When a clear solution is not readily available, get your team to go above and beyond to render a service that helps customers fulfil their current needs. 

For example, Postal Services delivering medicines, through postmen, to senior citizens for the first time in Sri Lanka's history was a good initiative led by the Post Master General Ranjith Ariyarathna that illustrates how leaders can use their teams to get things done and create value for the customer.
2. Optimise every resource to reach win-win solutions
Provide the customer, the facility of smooth accessibility through omnichannel support options. In a crisis situation when mobility is limited customers with smart phones or tablets in their hands expect to use these tools for multiple functions including 'working from home'.

Many mobile service providers offering free call facility, multiple TV channel selection and data doubling options can be quoted as a good example. Furthermore, call centre staff were educated and equipped to handle the subscriber traffic to propose the best fit solutions. 

In particular, although Dialog Axiata outlets were closed during the lockdown, they requested their staff to work inside the outlets and online to provide the necessary service to their customers. Even their secretaries were educated and used to assist escalating customer enquiries.

3. Make quick decisions to facilitate the prompt delivery of the needed service.

During a crisis purchasing essential goods are of a major concern to the customers and conceptualising a solution became vital. Lanka Sathosa Ltd. was the first supermarket to startup a home delivery service for essential groceries by tying-up with PickMe. It was initiated by its Chairman Nushad Perera. Since it is a highly beneficial service to the customers others also followed suit. 

The initiatives discussed under the above three points give us an indication that visionary leaders can bring about a paradigm shift to drive varied value creations to customers.  Although these initiatives have brought about memorable experiences to customers and have been fruitful to the entities, it is worthwhile to sustain such operational activities and leadership strategies, even after COVID-19. 
Case 1 – Innovation stems from a customer first mindset
With the outbreak of COVID-19, Lassana Flora Chairman Dr. Lasantha Malavige immediately deviated from his 'core business', in order to meet the current need of the hour, by beginning an online vegetables and fruits home delivery service. It was operated during curfew hours using the available resources such as the existing man power, freezer fleet, storage facilities and technology to the fullest capacity. Furthermore, this move helped 'bridge the gap' between the farmer and the consumer at a crucial time. 

This service initiative was highly patronised and commended by many as a 'consumer convenience'. Although there wasn't a demand for his 'core business' of fresh flowers during the lockdown, the flowers in his upcountry nursery continued to bloom. Therefore, they decided to send a complementary bouquet of flowers, along with vegetables and fruits pack delivery. They were the only online vegetables and fruit deliver company seen in the marketplace during the first two weeks of the lockdown. 

Learning outcome: When you have a 'customer first' mindset enormous creative ideas that can be implemented flow naturally. Think of the 'core competencies' which you possess, and assess, what value creation can be done to customers along with it rather than continuing to worry about the opportunities lost. Since the company's 'core competence' was delivering 'happiness and freshness', they capitalised on it during the lockdown. This operation reached almost 20,000 deliveries, over just three months, and in turn added significant brand awareness amongst a new customer segment. 
Case 2 – Caring for your staff will help you care for your customers
During the lockdown, Toyota Lanka Managing Director/Chief Executive Officer Manohara Atukorala was contemplating how to drive customer service distinctly at Toyota along with his team. Believing the fact that his staff is the company's greatest strength he launched the motto, 'Rise for Crisis' across the company. Along with this he immediately pledged three things to the staff: 1. Operations will be steady and ready to commence when the lockdown is relaxed. 2. The premises will be made 'stay safe space' for all. 3. Job security will be assured to create peace of mind amongst all 1,000 employees. As a result, every staff member enthusiastically started 'working from home'.

Each staff member willingly took the personal responsibility to call a minimum of 25 customers per day to strengthen relationships. Staff first clarified how the customer is doing. Then requested the customer to start the engine of the car every day for a while and move a few meters front and back regularly. They then sent some cartoon graphics via WhatsApp and video clips to educate the customer with regard to what should they do overall to take care of the vehicles when it is stationary for long periods of time. 

Furthermore, assurance was given that the company had taken all possible measures to ensure the health and wellbeing of the customer. The Toyota Lanka team worked hard to get their customers into a mindset where they would be "ready to visit Toyota as soon as they opened".

Learning outcome: The world has been turned upside down by the global pandemic. Customers are anxious to know who takes care of them during this time. In doing so understand the role that your staff has to play. 

In a crisis situation guaranteeing job security and business continuity is a crucial inspiration for the staff. Demonstrating the human touch with which the entity is truly ready to care for the customer and protect him/her more than ever before is vital. Show the customer that 'your care towards them defines your brand'.
Summary
During a crisis, leaders have to lead. They may feel that they do not have the right competence to perform in a challenging environment like this sudden pandemic. However, believing in themselves and developing the confidence to face encounters is crucial. 

During tough times, leaders have to be actively involved and objectively evaluate the own business processes in order to drive the business while ensuring customer service. Eventually give the customer the assurance that your brand is alive today more than ever before. The best example is Sri Lanka's efforts to mitigate this pandemic, which has received global commendations from the World Health Organization.


(The writer is a sought after 'Service Excellence' specialist in Sri Lanka. Over the last 25 years he has conducted nearly 3,000 inspirational and educational programs for over 750 organisations in eleven countries. His work can be seen at www.dhammikakalapuge.com)