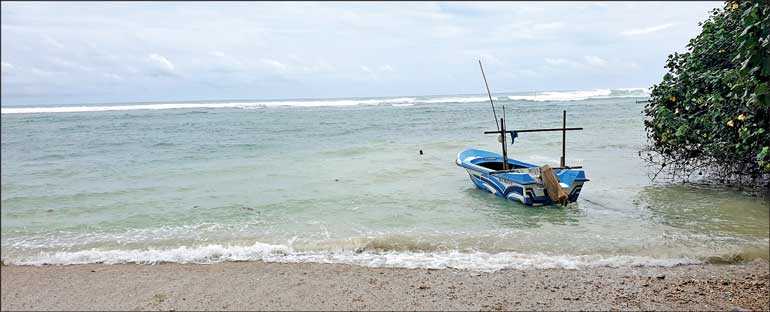 Coastal livelihoods
---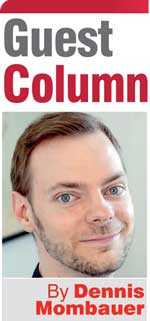 Oceans are essential for human survival. They absorb roughly 30% of all carbon emissions produced by humans and help to mitigate climate change. On a global scale, more than three billion people depend on marine and coastal biodiversity for their livelihoods and primary protein source. In addition, ecosystems such as mangroves or coral reefs can provide for coastal communities and shield them from the impacts of climate change.

For an island nation like Sri Lanka, the coastal and marine sector is of paramount importance. The coastal zone takes up one fourth of Sri Lanka's land area and is home to one-third of its population, including most urban areas. The country's territorial sea as well as its exclusive economic zone of up to 200 nautical miles from the coastline provide livelihoods, with millions of people engaged in fisheries and a strong coastal tourism industry.

Sri Lanka's river estuaries, lagoons, beaches, and the ocean are bountiful ecosystems that harbour great biodiversity. However, the coastal and marine sector is beleaguered by a range of threats and challenges. It has been identified as one of the most climate-vulnerable sectors in Sri Lanka and is exposed to impacts such as sea level rise, coastal erosion, floods, or storms.

In many places, coastal vegetation and animal species have decreased in diversity and richness due to climate impacts and human activity, including illegal settlements, unplanned development, pollution, and improper waste disposal.


Sixth National Symposium on Marine Environment
This week, the Sixth National Symposium on Marine Environment took place in Colombo to discuss these issues. The Symposium was hosted by the Marine Environment Protection Authority of Sri Lanka with support from SLYCAN Trust, a non-profit think tank working on climate change. Over the course of two days on 22 and 23 April, around 200 participants joined in person, with many more attending or watching through Zoom, Facebook Live, YouTube, and national media.

Researchers from all over the Sri Lanka presented their findings on coastal and marine ecosystems, waste and pollution, fisheries and blue economy, and related laws, policies, and regulations. In particular, many studies highlighted that coastal and marine ecosystems have suffered and greatly diminished over the past decades, including mangrove forests, seagrass meadows, and coral reefs.

From the plight of the sea turtle to microbial water pollution, a range of issues and challenges related to climate change, pollution, endangered species, and human livelihoods was presented throughout the Symposium. The research from different presenters painted a vivid image of the complexity and importance of this thematic area, with a multitude of facets that often cannot be addressed in isolation.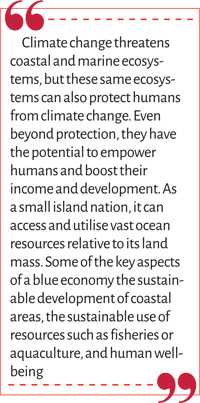 Taking action
In summary, Sri Lanka's coastal and marine ecosystems have complex, highly interconnected issues that are of vital importance to millions. The reason to address these issues is clear, but what are the potential solutions? In concrete terms, what can be done to protect the coastal and marine sector and face climate change and other threats?

Potential avenues for action include the following:

Awareness. Oceans and coastal areas support the lives, livelihoods, and wellbeing of millions of Sri Lankans. However, there is not necessarily a deep awareness on how humans can benefit from healthy ecosystems and what individuals and communities can do to protect them. For example, it is entirely possible for human communities to coexist with mangroves and thrive off their various benefits, which include livelihoods, flood protection, or regulatory services. Mangroves are good for fisheries, good for tourists, good for small handicraft businesses or shops, and shield coastal areas from the sea and the weather. The higher the awareness, the higher the incentive to conserve and not destroy mangroves.

Collaboration. Different institutions are relevant for different aspects related to the coastal and marine sector. Waste management and pollution control, conservation, research, fisheries and aquatic resources, shipping, tourism, urban development, and climate change all have their own mandated organisations that often work in parallel. There is a huge potential to integrate policy and planning processes, increase synergies, and connect actions across these various areas to make them more effective and sustainable.
Data. While there are many organisations working in the sector, there are data and research gaps that can be filled with the help of universities, research institutions, NGOs, civil society organisations, the private sector, and citizen scientists. The greater the understanding and knowledge about the specific conditions and challenges within the sector, the better these issues can be addressed through concerted action. Sri Lanka is a small country, but it has a great diversity of plant and animal species, climatic conditions, and communities. Mangrove ecosystems, for example, can vary hugely in terms of extent, species, mangrove associates, carbon sequestration, and products such as mangrove apples or handicraft materials.
Waste management: Up to 80% of ocean pollution come from litter on land, which is swept into the sea by rain and rivers. Reducing waste, reusing products, and recycling materials on a household level and in the economy can make a significant difference when it comes to the amount of waste and the impact on coastal and marine areas. Air and water pollution have negative impacts on the health of humans and ecosystems as well and need to be addressed through cleaner production processes.

The coastal and marine environment is a common resource and responsibility for Sri Lanka. All actors and organisations can play a part to protect and grow mangroves and other coastal ecosystems through their actions. It can be a as simple as avoiding plastic, properly dispose waste, being mindful of consumption, and not extracting more from the ecosystem than it can produce. Other interventions can be large and long-term, such as organising planting activities, establishing nurseries, or setting up partnerships and structures of conservation.


Looking toward the future
Climate change threatens coastal and marine ecosystems, but these same ecosystems can also protect humans from climate change. Even beyond protection, they have the potential to empower humans and boost their income and development. As a small island nation, it can access and utilise vast ocean resources relative to its land mass. Some of the key aspects of a blue economy the sustainable development of coastal areas, the sustainable use of resources such as fisheries or aquaculture, and human wellbeing. It is not always easy to protect these ecosystems, but it is worth it. They protect humans from shocks or disasters and help them overcome poverty. They stabilise the environment, keep Sri Lanka's unique biodiversity alive, and anchor the coastline. They boost fisheries and other key sectors of the blue economy. Maybe most importantly, they address the sources as well as the impacts of climate change, making them invaluable guardians and allies.
---
(Dennis Mombauer works as Director: Research & Knowledge Management at SLYCAN Trust, a non-profit think tank based in Sri Lanka. His work focuses on climate risk, adaptation, ecosystems, and a range of related issues. He holds a master's degree in Education from the University of Cologne, Germany, and is a parent of an autistic child. Dennis publishes articles in numerous places, for example Mongabay, Earth Island Journal, The Environmental Blog, Daily FT, and Colombo Telegraph.)
---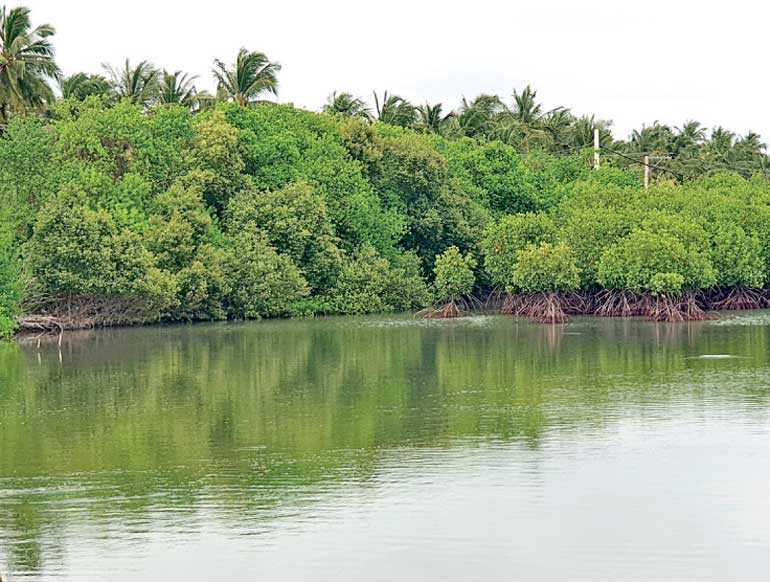 Mangrove forest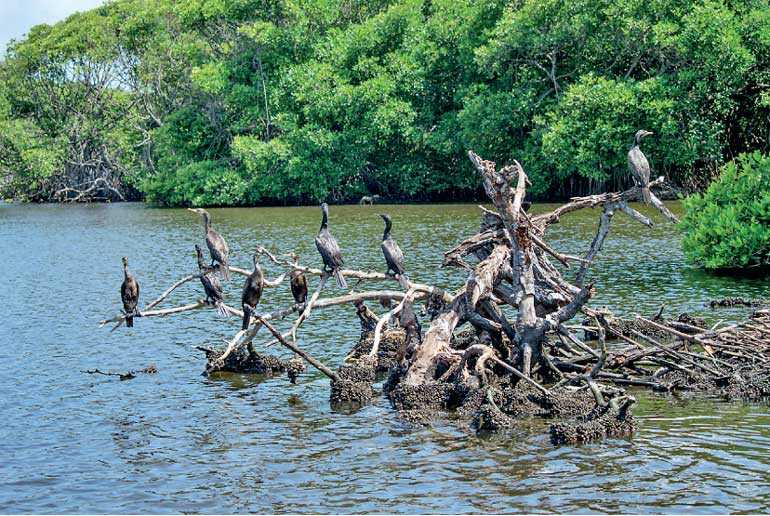 Biodiversity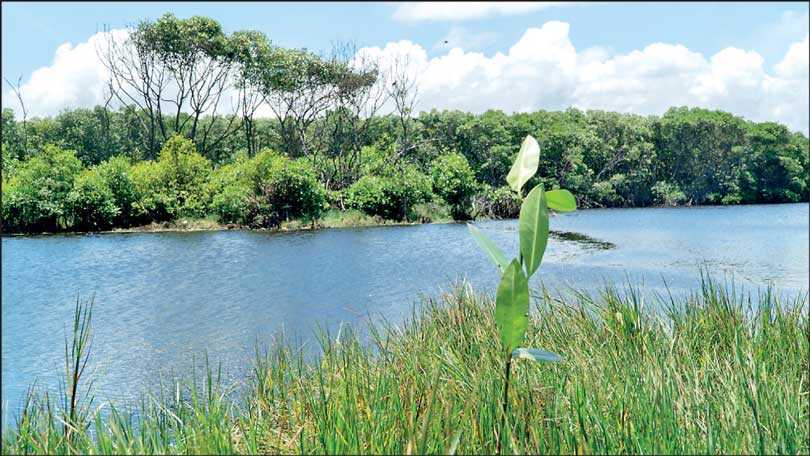 Coastal ecosystems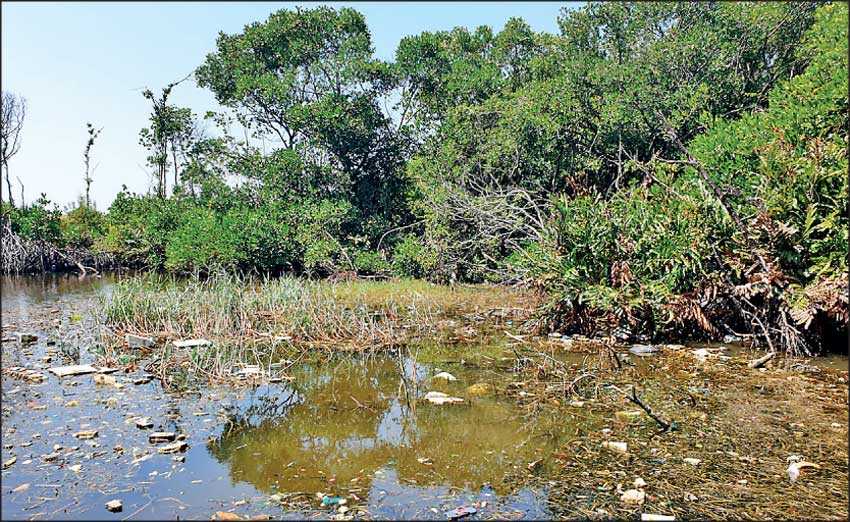 Coastal pollution