A paperless office is one concern of 'preservationists', as paper involves cutting down of lots of trees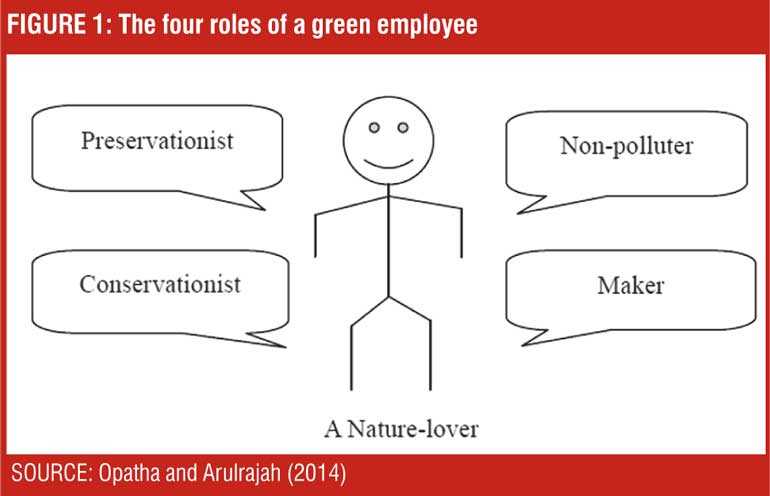 ---
Today's society is concerned with concepts like 'environmentally conscious,' 'eco-friendly', 'eco-conscious' and 'going green' because of their importance for conserving resources and sustaining the environment.



Errors and mistakes made by man affect animals and habitats making them extinct and people sick and tired. People are well aware of the fact that the guidelines, laws and regulations that govern their activities are aimed at reducing or minimising the harm to the environment although adherence to them is highly questionable and doubtful.

The usual working hours of an employee are approximately eight hours per day on five days a week. Hence, the organisation or the "work place" can play a major role in "going green". Implementing "green practices" can inevitably contribute to habit formation within the organisation. Eventually, when employees play their social roles, they implement these "green practices" by conveying a message to the society as well as their loved ones of the importance of adhering to these "green practices" for a better environment and thus for a better tomorrow.

Under these circumstances, an employee becomes a "green employee". Two Sri Lankan researchers, Opatha and Arulrajah (2014), emphasise how a person should perform four roles in order to be a green employee: "preservationist", "conservationist", "non-polluter", and "maker". A green employee, according to them, is a nature-lover and plays the four roles necessary to be performed by a "green employee". Refer to Figure 1.

In the first role as a 'preservationist', an employee is expected to preserve the natural environment because, as Opatha and Arulrajah state, these things in the world are neither caused nor controlled by human beings; the examples include land, forests, plants, animals, and other natural phenomena that come under the natural environment. An employee has to maintain the natural environment in its original form while protecting it from harm, loss, or negative change.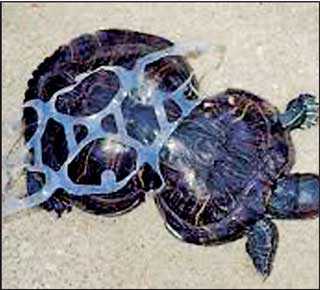 This turtle is entangled in and growing around a plastic ring; it is needless to point out how excruciating the pain and suffering of the turtle is


A paperless office is one concern of 'preservationists', as paper involves cutting down of lots of trees. Due to technological inventions of digital and cloud computing, companies are capable of being more collaborative, streamlined and efficient. Project coordination or workforce management using simple desktop applications such as Microsoft Office or Google Drive for or by investing in digital HR and payroll software reduces the use of paper and ink and support an eco-friendly culture. Reduction of items like paper saves natural resources like forests.

The second role an employee must play is the role of a 'conservationist'. As Opatha and Arulrajah state, the conservation of the natural environment requires being meticulous and mindful in using the natural resources so that they remain safe for future generations. One way of being a 'conservationist' is reusing everyday items without disposing of them. It is a well-established fact that most countries annually, dispose of a considerable amount of plastic cups, plates, bottles, etc. This waste generating habit should be discouraged in organisations while encouraging employees to use reusable mugs, eco-friendly lunch boxes, etc. Company merchandise such as mugs and eco-friendly lunch boxes etc. are ideal means of promoting conservation at an organisational level.

These practices can be linked with performance evaluation by identifying the employees who reuse items, and bring reusable lunch boxes and avoid disposal of items. Rewarding such employees financially or non-financially through gifts or letters of appreciation may encourage their conservationist role.

The third step in being a 'green employee' is being a 'non-polluter'. According to Opatha and Arulrajah, this involves the avoidance or minimisation of environmental pollution and minimising water, air and atmosphere pollution, which are an essential part of this concept. As unpleasant and poisonous substances and wastes are high pollutants, organisationally, such pollutants should be discouraged so that the ultimate outcomes will not endanger planet earth where humans and non-humans live.
Everybody is aware that CFL bulbs contain toxic substances and a very small amount of mercury. As many CFL bulbs are disposed of in an office environment, employees should see to it that every CFL bulb is carefully disposed of to prevent the contamination of soil and water.

Another goal refers to reducing the carbon footprint both from organisation and from individual employee. Either by waste reduction or energy efficiency organisations can contribute to minimising pollution and hence enhancing sustainable management.

An alternative solution for becoming a 'non-polluter' is a cycling to work scheme. In France, Belgium, Italy and Luxembourg there are tax breaks introduced for those cycling to work. Swapping a car for a bike defiantly is a sustainable option.

The fourth and final role that Opatha and Arulrajah propose is that of 'maker', which involves the cultivation of gardens and natural places; creating parks and places with plants, trees, and grass come under this category.

Beautifying work spaces to enhance the overall atmosphere and reduce stress and anxiety can be easily done with plants around the office. Indoor greenery is capable of boosting oxygen levels while reducing harmful pollutants, including carbon dioxide. Employees as teams can be assigned to maintain roof-top gardens or outdoor gardens in the office premises, while encouraging them to bring a desk plant and maintain it properly, which can also be linked to the performance evaluation system.

'Going green' on business level means making conscious choices that contribute to overall sustainability. A few simple steps might improve the wellbeing of employees, improve the business and save earth for future generations. The eco-organisation draw more environmentally-aware employees, who appreciate 'green enterprise'. In turn it leads to increased employees' engagement and talent retention. After all, 'going green' is a new virtue.

In the picture of the turtle entangled in and growing around a plastic ring, it is needless to point out how excruciating the pain and suffering of the turtle is. Understanding that the world is not only for mankind and if one consistently and dedicatedly plays the above mentioned four roles of a green employee, i.e. the roles of preservationist, conservationist, non-polluter and maker, each step taken will directly help the betterment of the entire world.
[Dr. Anuradha Iddagoda is a researcher and a lecturer. She holds a PhD from the University of Sri Jayewardenepura Sri Lanka, an MBA in Human Resource Management from the Postgraduate Institute of Management, University of Sri Jayewardenepura, a Master of Information Technology (MIT) post graduate degree, Bachelor of Information Technology (BIT) both from Charles Sturt University, Australia. Dr. Anuradha Iddagoda does research in Human Resources. Her current project is 'Employee Engagement'. She has been a guest researcher at the Department of Sociology and Work Science in the University of Gothenburg Sweden.]

[Dr. Helena Bulinska-Stangrecka is an Assistant Professor at Faculty of Administration and Social Sciences in the Warsaw University of Technology. She earned her PhD in Management and her PhD thesis has been awarded for the outstanding scientific value. She had her MA from Applied Social Sciences of the University of Warsaw and she is specialised in Human Resource Management. Dr Helena Bulinska-Stangrecka's research focuses on knowledge management, trust, e-culture, employees' engagement, and virtual organisation. She has been an academic visitor at the School of Business and Economics in the University of Loughborough UK, as well as a visiting lecture in Euncet Business School in the UniversitatPolitecnica de Catalunya, Faculty of Economy and Business administration in the University of Malaga and Faculty of Business Administration and Management at the Polytechnic University of Valencia.]