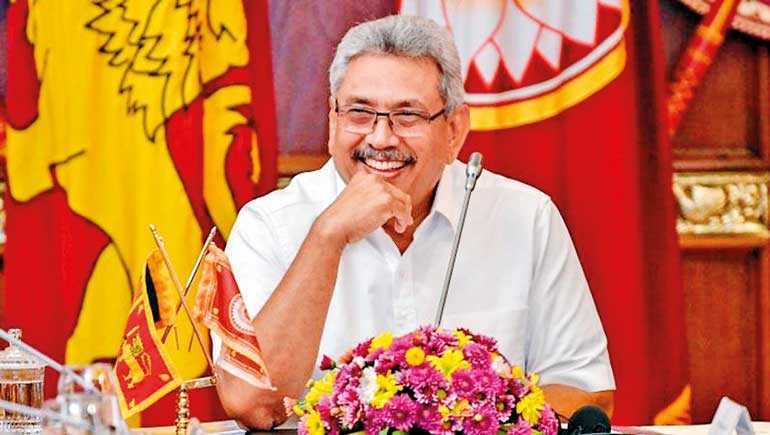 President GR is gambling dangerously in Geneva by adopting a rigid stance. He is thereby making things easier for the supporters of the Resolution in Geneva and more difficult for Sri Lanka's supporters by not giving the latter anything to work with
---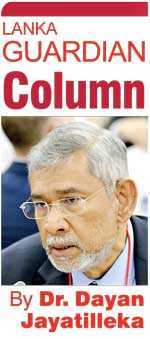 That the outcome of next week's vote in the UNHRC Geneva was/is far from preordained is best evidenced by UK Minister of State and Commonwealth Lord Tariq Ahmad's frank "adult-in-the-room" reply to a letter from the UK-based Tamil associations. He says: "…The 2021 composition is particularly challenging for consideration of country resolutions. The risk of losing a vote is very serious…" (The Island, 15 March).
So, if the Gotabaya Government loses the vote, it would have lost a vote that might have been won. How and why it did that, and why it did not use the moves open to it to win, or at least reduce the margin of defeat, is truly revealing.

President GR is gambling dangerously in Geneva by adopting a rigid stance. He is thereby making things easier for the supporters of the Resolution in Geneva and more difficult for Sri Lanka's supporters by not giving the latter anything to work with. In Geneva (unlike in Sri Lanka perhaps) he sure isn't adhering to the maxim of "helping your friends to help you".

In the face of the Resolution's criticisms and recommendations, what is the counter-offer the Gotabaya administration is making? Where is the gesture proving it is willing to meet its critics halfway? Where is the open-mindedness? What is the constructive choice, what are the positive options that GoSL offers the UNHRC? None. Only truculent denial and inflexibility remain on offer on the GoSL shelves.

The issue of mandatory cremation dragged on quite needlessly and no sooner it came to an end, the Ministry of Defence announced a ban on the import of Islamic books, without, as Dr. Ameer Ali pointed out in these pages, a panel of Islamic scholars who could distinguish between mainstream and extremist Islamic literature.

Minister Weerasekara signed a burqa and niqab ban and trumpeted an imminent ban on madrassas, without a consultative process with the Muslim community.

A leading publication of Indian Muslims has described the personality who has just been arrested by the Sri Lankan authorities, as a moderate anti-Wahhabi rather than a purveyor of Wahhabi ideology. (Sri Lanka arrests the former Leader of Jamath-e-Islami – https://www.milligazette.com/news/8-international/33824-sri-lanka-arrests-the-former-leader-of-jamath-e-islami/). In any case, when has Wahhabism/Salafism, a ghastly fundamentalist, but not inevitably and automatically violent, religious stream been illegalised in Sri Lanka?

No talks with Tamils

President Gotabaya Rajapaksa is the first Sri Lankan leader in 40 years who hasn't had direct political discussions, or even a political conversation, with the mainstream Tamil democrats about a political settlement of Tamil grievances and aspirations. He is the first Sri Lankan leader in four decades not to even attempt to open a process of political dialogue for north-south political reconciliation.

That is because he is the first leader in 40 years who refuses to believe that there is a Tamil Question which at its core, is a political problem, and therefore requires a corresponding political solution based on the universally accepted principle (from Canada to China) of ensuring a reasonable measure of autonomous self-governance to a roughly contiguous area in which the relevant minority comprises a majority.

President GR is the first Sri Lankan leader in 40 years who believes that Sri Lanka's Tamil Question is a purely domestic matter and that as an elected Sri Lankan leader he can move unilaterally to resolve it as he sees fit. This is a rupture from the perspective of every leader from J.R. Jayewardene to Mahinda Rajapaksa and Maithripala Sirisena, who recognised however grudgingly that the Tamil Question had been "internationalised" from at least July 1983 and India's domestic geopolitics make it impossible for Sri Lanka to treat the Tamil issue as a purely domestic issue capable of unilateral resolution.

President GR will witness his assumption that the Tamil issue and devolution are "purely domestic", put to the test in Geneva next week.

Gotabaya Rajapaksa was not always this way. In the first year of the war, while Basil Rajapaksa and the (then) Chief Justice Sarath N. Silva were canvassing President MR for a roll-back to the district as the unit of devolution, GR was for the existing provincial-level devolution because he realised its strategic importance in retaining Delhi's support. Indeed, he once told the wartime National Security Council—perhaps unwittingly echoing Gen. Denzil Kobbekaduwa—that the politicians must get ready with the political solution because the military can only deliver up to a point and are nearing that point, i.e., resolving the military dimension of the problem by prevailing over the LTTE.

What happened to GR after that was a reverse Pauline conversion, in which, having seen the problem "face to face" he later began to see it "as through a glass, darkly". His dark epiphany took place not on the road to Damascus as in the case of Saul of Tarsus, but on the road from Tel Aviv. Having travelled there several times, and watched operations in Gaza from a drone's eye view, Gotabaya Rajapaksa and several high-level Sri Lankan military and civilian officials (and politicians) converted to the Netanyahu paradigm and began to view the Tamil problem through that prism as Sri Lanka's war drew to a victorious conclusion.

In critical remarks made recently, the former head of MOSSAD provides crucial perspective:

"The former chief of Israel's intelligence agency Mossad, Shabtai Shavit, has said that Israel does not want peace and that, if it had, it would have made peace with the Palestinian Authority (PA) long ago. Shavit gave his remarks to Israeli daily Maariv…

Shavit said that Israeli Prime Minister Benjamin Netanyahu does not see the PA as a negotiating partner and therefore refuses to develop relations with the authority. "Do you know any other head of an Israeli government who did not talk with the Palestinians?" he asked.

Shavit also claimed that Netanyahu stopped speaking to the PA under pressure from the Israeli right-wing…

…Regarding the Oslo Accords of the mid-1990s – the last substantial attempt at peace negotiations – Shavit said that the Israeli right-wing has since painted this agreement as a "sin", arguing that had they continued down this path, there could have been peace.

"This is not fantasy, because those who do not want peace succeeded in making large portions of the country believe that Oslo was the mother of all sins and the desire for peace is also a sin" Shavit concluded." ('Israel does not want peace', former Mossad chief says – Middle East Monitor – https://www.middleeastmonitor.com/20190622-israel-does-not-want-peace-former-mossad-chief-says/)

Substitute the Indo-Sri Lanka Accord of 1987 and its outcome the 13th Amendment for the Oslo peace agreements, and there you have it.

This is also why President Gotabaya Rajapaksa has been the only Sri Lankan leader in 35 years to have been singularly unresponsive to and indeed arrogantly ignored even on his first official visit to Delhi, the view of his Indian counterpart—a global player—on Sri Lanka's Tamil Question.

Former Foreign Secretary Shivshankar Menon's memoirs place on the record President Mahinda Rajapaksa's wartime and immediate postwar pledge to fully implement 13A and move to 13Plus.

That was repeated by the Sri Lankan "troika" including Gotabaya and Basil Rajapaksa to Shivshankar Menon and MK Narayanan. Later, MR was blocked; Delhi was double-crossed.

The Gotabaya government is in Geneva without a day's dialogue with the main Tamil democratic parties as evidence of a political process, and maintaining a non-committal silence on Delhi's reminders at the highest level, of Colombo's pledges to fully implement the 13th Amendment.

Geneva next week will be the test of the Gotabaya camp's underlying assumptions that it can sound and behave like the Israelis while incapable of anything remotely like Israel's strategic regional superiority, and treat the Tamils and Muslims of Sri Lanka as if they were Palestinians, which they aren't.

President Gotabaya's recent tepid remarks about the need to hold Provincial Council elections as soon as is feasible, even under the existing legislation until a new Constitution is promulgated, should fool no one, because he has not promised to retain the content of the 13th Amendment undiminished in a new Constitution—therefore any election to the Provincial Councils could prove utterly vulnerable to the drastic subtraction of power by a new Constitution or mere Constitutional amendment.

Marketing the Xinjiang model

Sri Lanka is taking another gamble in its foreign relations. Secretary/MFA Admiral Colombage recently appeared in a Chinese documentary or TV show, praising in extravagant detail, China's policy in Xinjiang province (e.g., "looked like a foreign university"). Our man in Geneva followed suit.

One shouldn't buy the Western view on the subject which makes no reference to the savage jihadist terrorism that preceded the crackdown, just as one shouldn't buy any account of the Hong Kong crackdown that makes no reference to the violently anarchic riots of 2019. Comprehension requires context and chain of causation. However, the excessive Hong Kong crackdown has transgressed the bounds of China's own commitment to its formulation "One Country, Two Systems", while a Nelsonian eye cannot be turned towards all non-state reports out of Xinjiang.

Even when our relations with China were at their warmest, during the tenure of Prime Minister Sirimavo Bandaranaike, Ceylon/Sri Lanka scrupulously avoided any laudatory references – indeed any references whatsoever—to China's policy on and practices in Tibet. Now we have flagrantly abandoned such cautious self-restraint with regard to Xinjiang and the Uighurs.

As for the invitation to the Foreign Minister of Myanmar (my counterpart in Geneva) to participate in the (virtual) BIMSTEC meeting, we should have been mindful that we are dealing with, and being seen to deal with, the representative of an illegitimate regime. We should have consulted all other members of BIMSTEC on the subject—but did we?

The warped worldview of President Gotabaya's closest supporters is being aired for all the world to hear in the UN General Assembly. Ambassador Mohan Pieris sounds frankly paranoid and implicitly totalitarian.

'Speaking during consultations on the Seventh Biennial Review of the United Nations Global Counter-Terrorism Strategy, Pieris said:

"Peace is anathema to their geopolitical aspirations which are played out through the pawns of terror namely Non-State Actors. We see today that by far more sophisticated machinations terrorists have gained access to our governments, civil society organisations, private sector entities, religious organisations, the judiciary and the entire canvas of human activity".' (Military action had to be taken as all efforts to persuade LTTE to accept political solution failed – SL Permanent Rep to UN – The Island – https://island.lk/military-action-had-to-be-taken-as-all-efforts-to-persuade-ltte%E2%80%88to-accept-political-solution-failed-sl-permanent-rep-to-un/)

Addressing the UN on another occasion, Ambassador Pieris articulated an antediluvian attitude on women's rights:

"The role of women in society is different in varied cultures and as such a one-size fits all policy cannot be applied in the pursuance of their rights. It is imperative for policies in this regard to be formulated, in tandem with domestic compulsions and requirements". (Sri Lanka pledges unstinted support to UN endeavours to push for gender parity – The Island – https://island.lk/sri-lanka-pledges-unstinted-support-to-un-endeavors-to-push-for-gender-parity/)

President Rajapaksa has taken a risk in plugging his ideology and maintaining his stance at the UNHRC Geneva even after his camp's ideological hero President Trump was defeated and the old anti-UNHRC propaganda instantly lost traction.


American angle

Whatever President GR's inner-circle and propagandists say, he is smart enough to put two and two together. The US Secretary of State's reference to "past atrocities", the alleged US attempt to introduce the word "extradition" into the draft resolution, and the preparatory orientation towards universal jurisdiction signalled by OP6 of the draft resolution, all add up to a recognisable scenario and endgame, which President GR can surely extrapolate from the facts and indications.

Gotabaya Rajapaksa also knows that for the Democratic administration, the return of the Rajapaksas and especially one dominated by those Rajapaksa siblings with whom most visiting US officials such as Samantha Power had memorable and less than cordial impressions of, would have reactivated old reflexes. The system is now run by younger, anti-racist, human rights and justice-oriented liberal Democrats who had worked in the Obama administration, and later, fought bitterly against Trump and authoritarian-ultranationalist Trumpism. They would regard the Sri Lanka/Rajapaksa file as unfinished business which they should clear more conclusively than in 2015, and within their first term.

The GR presidency faces two challenges: Firstly, the difficult one of defending itself behind its ideological shield of State sovereignty which it has thinned out by interpreting this crucial concept in the most unsustainably parochial and 'absolutist' sense. Secondly, to abandon overstretch and retreat in good time and good order; find exit ramps and a soft landing through re-democratisation, de-militarisation and a robust domestic accountability process, in time for the inevitable one-term transition.

The West has the challenge of integrating its Geneva resolution into a larger strategy to successfully save Asia's oldest democracy, located outside China's periphery, reversing the transition to an ultranationalist, authoritarian-militarist model of governance, snapping it off from China's surge into South Asia beyond its traditional sphere of influence, and pre-empting the temptation of a Hong Kong or Myanmar-type fait accompli.

If the Gotabaya administration wishes to blunder further, it will resentfully crash out of the UNHRC which the USA walked back into because it was unwise for even the world's sole superpower to opt out of that multilateral body.

The GR government must not proceed with a new Constitution which cements the over-centralisation caused by the 20th Amendment while diluting the modest power-sharing made for by the 13th amendment and the existing system of Provincial Councils. This would repeat the mistake of Milosevic.


Moves not made, weapons undeployed

Instead of unimaginatively maintaining its static defence mode, the Gotabaya Government could have exfiltrated the Geneva 'kill-box' and fought the incoming resolution to a stalemate by manoeuvre and mobile warfare tactics, presenting a constructive counter-offer which met the Resolution's concerns and criticisms halfway and neutralised some by accommodation.

The President should have committed in writing to either one or a combination of two excellent sets of proposals, buried by Ranil Wickremesinghe and Mangala Samaraweera, and—curiously—kept buried by his own camp after November 2019/August 2020. These are:

(I) The four-model matrix for a robust, credible, domestic accountability mechanism presented by the A-G's Department to the Foreign Ministry in 2015 (surely still in the Ministry files).

(II) The stellar argumentation and recommendations on accountability mechanisms by Sir Desmond de Silva QC, in the Paranagama Commission Report.

Ajith Nivard Cabral, GL Pieris, Dinesh Gunawardena, Vasudeva Nanayakkara and CA Chandraprema (also Pradip Jayewardene) were intimately aware of Sir Desmond's report, just as Mohan Pieris was of the AG's Department legal draft concretising the LLRC's recommendations (2011).

The mechanisms presented in the A-G's Department reports of 2011 and 2015 and Sir Desmond's report are entirely compatible. They should have been presented to the UNHRC as GoSL withdrew from co-sponsorship. These could and should have constituted GoSL's Forward Defence Line at the current session.

These recommended mechanisms should be fully, instantly, operationalised and fast-track convictions obtained in all emblematic cases. The reporting deadlines in the Geneva Resolution, with September 2022 the outermost, must be domestically outrun by an internationally credible (with observers/monitors, not judges) accountability process.