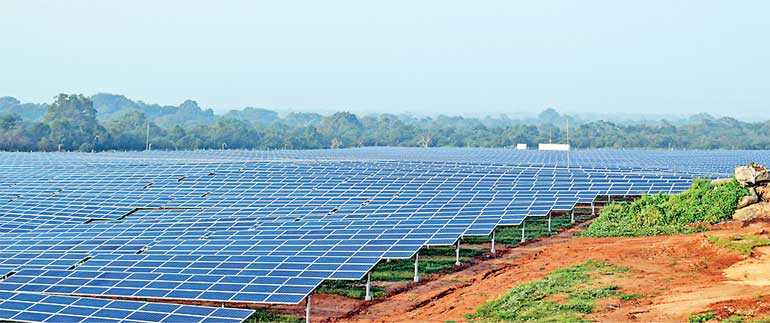 Promoting solar panels by agreeing to payable rates early would help the country overcome the impending power shortage and discontinue expensive oil power plants
---
A few weeks after being elected as President, Gotabaya Rajapaksa publicised the 76 page document under 'National Policy Framework, Vistas of Prosperity and Splendour,' a working document based on his election manifesto.

At the inauguration speech of the new Parliament, the President informed that his 'National Policy Framework' would be a part of his policy speech. The document under 'New Approach in National Spatial System' under the sub-sector 'Power and Energy' gives his proposals over electricity power generation, as follows.
Improving existing energy mix

Enhance the contribution of hydro and renewable energy to 80% of the overall energy mix by 2030.
Assurance of energy security and self-sufficiency
Expedite exploration of natural gas
Modernise Kolonnawa oil refinery
Reconstruct and develop oil storage tanks in Trincomalee
Add 230MW of power to the national grid by establishing Broadland hydropower station by 2020, Uma Oya by 2021, Moragolla by 2023, Talapitigala and Seethawaka by 2024.
Convert Kelanitissa plant to natural gas turbine plant and implement two similar plants in Kerawalapitiya and Hambantota before 2023.
Convert all fuel-powered plants in Colombo area to natural gas turbine plants.
Develop a smart grid to ensure efficiency and maximum utilisation of generated power.
Transforming the country's energy mix towards renewable energy
Add 100MW of wind energy in Mannar by 2021 and add 800MW of solar energy by executing wind and solar projects in Mannar, Pooneryn and Monaragala.
Encourage rooftop solar systems to ensure availability of low-cost energy for households and small business.
Encourage private sector and entrepreneurs to setup renewable energy projects.
Encourage efficient energy generation programme by utilising industrial wastes.
Maximise energy use in construction sector by introducing new policies and legislation.
The President's policy document was presented to the Cabinet earlier and was approved, with instructions to ministers and secretaries that the new Government policies would be based on the document, now presented to the Parliament.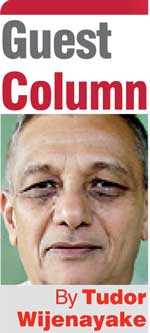 Policy change

The new President's policies propose major changes to power generation system in the country to deliver continuous affordable power to citizens.

CEB's massive losses have been dragging down the economy, due to heavy dependence on expensive imported oil. The President's plan envisages increasing hydro and renewable energy to 80% of the overall energy mix by 2030. Thus there will be no further coal power plants. Even Norochcholai plants would reach 20 years by 2031/2034, near retiring age. In addition exploration of natural gas is to be expedited.
Renewable energy

Possible renewable energy are hydro-power major and mini-hydro, wind power, solar, bio-mass, also electricity generation through burning of garbage. Currently, the country's major hydro-power potential has been already exploited, few more mini-hydro locations are available, mostly in difficult locations.

Unfortunately, over the past three to four years expansion of renewable generation capacities were curtailed by CEB citing conflicts of legislation. The last Government failed to correct the situation by removing conflicts. Thus removing the conflicts are urgent for proper implementation.
Electricity through wind power

The President's plan expects to add 100MW of wind energy in Mannar by 2021 and 800MW with solar and wind projects in Mannar, Pooneryn and Monaragala already planned by CEB. Also execute wind and solar power projects with public-private partnership.

Electricity through wind power is supposed to be the cheapest. A World Bank report disclosed the country's wind power potential as 24,000MW and Puttalam, Kilinochchi, Nuwara Eliya and Ratnapura Districts are the best regions. Unlike solar, wind power is available throughout the day and night. Thus a substantial production of power through wind is essential for a balanced power system.

In 2010 Sri Lanka Sustainable Energy Authority (SLSEA) gave approval for wind power plants on 'first comes first served basis' attracting large number of investors producing 88MW by 2014. But when numerous scandals were reported, further approvals was suspended. Over the past decade successive governments have failed to implement a revised system of acceptance of wind power projects.
Mannar wind power

In 2014 CEB proposed a 100MW wind power plant in Mannar Island with ADB assistance at a cost of $ 120 million, expecting to call tenders in April 2016 for commissioning in June 2018. By late 2018 the Danish wind turbine manufacturer Vestas was selected and Access Engineering for civil works, but protests by local farmers delayed progress. The President's programme propose completion of the 100MW of Mannar wind power project by 2021.

Mannar has a wind power potential of 375MW, private wind producers complain that CEB is blocking wind power projects in Mannar and others for years, claiming only they should develop it. With CEB running at a massive loss, funding projects is a major issue. The private sector can develop projects at much lower costs and faster than the CEB and the President's plan envisages developing projects with public-private partnership.
Solar power – History

The Sri Lanka Sustainable Energy Authority (SLSEA) introduced rooftop small solar power plants in 2010 which became a success with members producing 31.8MW.

The success led to Surya Bala Sangramaya or the battle for solar energy in 2016, under Net Metering, Net Accounting and Net Plus, with the original program becoming Net Metering. The new program targeted adding 200 MW of power to national grid by 2020 and 1,000 MW by 2025. Currently 20,000 solar systems supply 215MW to National Grid.
Improving household solar

The Net Metering system had a serious drawback, as householders were directed to produce only their own power consumption. Under the system the customer is not paid for excess power produced, but could be set off in future up to 10 years.

But how about the loan instalment they have obtained for the solar panels? Under other schemes electricity produced for the first seven years is paid Rs. 22 per unit and Rs.15.50 thereafter.
Ministry attempts to slow down solar

In early 2019 CEB issued a circular modifying the existing power purchase system without informing the Cabinet or the President.

According to proposals, "Net Metering system" will be cancelled, "Net Accounting system" will also be cancelled and "Net Plus" tariffs is to be drastically reduced rendering the scheme commercially nonviable. In addition CEB will not accept applications for solar power projects over 50KW in size.
Small solar power producers

Earlier SLSEA accepted solar power produced by small private producers up to 5MW. Since January 2016 CEB has blocked all NCRE projects.

The Small Solar Producers Association protested that 617 prospective producers with 1,555MW capacity already registered with Sri Lanka's Sustainable Energy Authority and having paid over Rs. 100 million were let down by CEB.

The approved tariff for solar-power below 5MW is Rs.23.10 per kWHr, but the Minister wishes to reduce the payment to Rs. 16 a unit, claiming solar panel costs have come down in the world market.
Solar-based power

The President's program propose to encourage rooftop solar systems to ensure availability of low-cost energy for households and small business, also encourage private sector in renewable energy projects.

In addition introduce a new method to release excess power generation to national grid in improving solar energy utilisation.
Improvement of household solar

Existing household system wished to zero the electricity bill, but neglected the payment of loans obtained for solar panels. Better method would be to promote increased solar power generation with larger panels covering the available roof area, for own use and as an investment now possible with falling panel prices.

Exporting power would enable the house-owner to pay the loan taken for solar structure. Exporting power would fulfil requirements of neighbours as well, reducing transmission costs to CEB. Also large roof area holders as factories could produce up to 100KW while reducing their power and air conditioning costs.
Small solar producers

In 2016 CEB suspended new solar producers from 1 to 5MW. Under a new scheme CEB called bids for 60 power plants of 1MW capacity. Based on tenders, 36 project proposals were awarded under minimum rate of Rs. 12.73 to Rs. 18.37 per unit, averaging Rs. 17.22, showing the reduction of solar panel prices, also efficient power production in dry areas of the country.

If the Small Power Producers registered be called for a discussion by CEB, along with solar panel importers and agree on rates payable for electricity produced based on power plant size and the located region, without wasting everyone's time. As solar panel prices are anticipated to come down, the agreed prices would be valid for three years (say) and revised thereafter, creating a win-win situation. A similar method could be worked out for households, also large suppliers too.
Electricity from garbage

Currently, garbage collected in Colombo is transported to Aruwakkalu in Puttalam and CMC pays massive transport costs. When the Meethotamulla garbage mountain collapsed UDA called international proposals for garbage disposal and three contracts were awarded for electricity power generation using garbage.

The companies were Western Power Company to process 700 tons of waste daily in Meethotamulla, second, a Korean company K.C.H.T Jang to handle 630 tons of waste and the third Fairway, proposed a similar plant in Karadiyana near Boralesgamuwa, each producing 10MW of power.

The Cabinet accepted paying Rs. 35.10 per unit for electricity produced and CEB agreed to pay Rs. 23.10 (same as solar power). But UDA failed to get CMC to pay the balance Rs.10 and the projects halted, when one company had already spent Rs. 1,300 million. To solve the issue the President will need to intervene. The same process could be applied to disposal of garbage in other towns too.
Cost of coal/oil power

CEB claims coal-powered electricity is cheapest at Rs. 8.87 per kWh. However, according to bulk supply tariff submission by CEB to PUCSL for October-December 2017, the coal-based generation of Lakvijaya cost Rs. 14.53 to 14.74 per kWh. As loan instalments for the power plant is paid by the Treasury, coal power costs exceed Rs.17.50 per unit, whereas natural gas based power as per Kerawalapitiya tender is only Rs. 14.97.

Now CEB engineers wish to have clean-coal power plants. There is no such as clean-coal, but with power plants running at higher temperatures with mechanisms to catch exhaust gases would be less polluting. But this would make electricity produced more expensive than current Rs. 17.50.
Natural gas power

It was reported CEB is anticipating another 300MW natural gas power plant in Kerawalapitiya. Thus along with the existing 300MW West Coast, a total of 900MW of gas plants would be available in one locality. This would be an acceptable scale of market to ensure viability of an FSRU to be implemented close to Kerawalapitiya instead of the proposed unit in the Colombo harbour.

In addition, Kelanitissa and all fuel-powered plants near Colombo are expected to be converted to gas, needing imported gas. The exploration of natural gas would be expedited. But usage of locally available gas requires NG infrastructure.
Natural gas infrastructure

Thus urgent planning and decisions are needed over NG infrastructure as capacity, storage, unloading/loading facility, a dedicated NG harbour, jetties, location, transport of gas from unloading to storage, also internal transport from storage to users (power plants and industrial users).

Thus possibilities could be:

a. There are two proposals for FSRUs, both based in Colombo harbour needing pipelines to deliver gas to Kerawalapitiya and Kelanitissa. But FSRUs have limited storage and will not be able to accept local gas. Also FSRU located in Colombo harbour near entrance will obstruct future development of harbour.

The risks especially when flammable gas is under pressure, leaks in a few seconds could lead to explosions destroying entire infrastructure and the results could be catastrophic destroying entire port activities.

b. For decades Liquid Petroleum Gas had been imported through an offshore buoy mooring facility. The possibility of a similar arrangement with an insulated pipeline with storage on shore could be a worthwhile looking into. But the arrangement could get disturbed during rough weather, at least until an unloading harbour is established.

c. An LNG harbour off Kerawalapitiya sea. When the location is finalised, early construction of breakwaters for the harbour would expedite progress. Cost-wise, break-waters for Colombo South Harbour expansion cost $375 million, a smaller LNG harbour would cost much less. With thermal power costing additional Rs. 12.5 billion or $70 million a month, an LNG harbour is an urgent need, with contracts awarded on negotiated basis would be worthwhile.

d. Proposal from Energy World

In 2012 in response to invitation to investors at Hambantota Port, Energy World International Ltd., a Hong Kong based company, owning gas production wells in Australia and Indonesia, offered a LNG hub terminal with power generation plant of capacity 1,200MW in four stages of 300MW each with an investment of $1,350 million.

After initial Cabinet acceptance and further negotiations, electricity was offered at US 7 cents per KWHr (or Rs. 12.60 at today's prices), much lower than Kerawalapitiya at Rs. 14.97. However, the proposal was turned down in 2016 by Ranil's Committee on Economic Management CCEM, headed by Malik Samarawickrama claiming the proposed 30Ha land is part of the land to be handed over to Chinese. If a request was made, Chinese would have accepted the release of land to the Hong Kong-based company.

It may be worthwhile renegotiating with EWI whether they are still interested, also they could undertake harvest oil/gas around Sri Lanka. They need to be offered a maximum negotiation time, say six months. If agreeable would be the fastest and the most suitable way to move over to natural gas.
Role of CEB engineers

The power sector mess, a result of CEB engineers' failure to establish coal-based power plant in Mawella during late 1990s and installation of expensive oil based power plants. Kerawalapitiya power plant capable of running on natural gas was established over 10 years ago, but highly-qualified and well-paid CEB engineers and their consultants, some with Doctorates, failed to propose plans for LNG infrastructure.

Over the past five years no major power plant was established, not even awarded. The 300MW Kerawalapitiya plant took over three years to select an investor, due to inefficiency of CEB's procurement division.

Since 2016 all renewable power sources were stopped, preventing establishment of low cost, environmentally friendly power. For small solar power producers payments were made as Rs. 22 for first seven years and Rs. 15.50 thereafter. But when retired private power plants were reinstated, they were paid the original rates.

Over past years, on CEBEU's instructions, engineers boycotted negotiations on LNG power generation projects on Government-to-Government basis with India, Japan and China, thus preventing moving forward. Thus CEB engineers and corrupt, inefficient politicians are responsible for the mess.

But now, they would be forced to amend their plans also the power generation plan in accordance with the President's wishes.
2020 a crucial year

The country was fortunately to get heavy rainfall until Christmas and most hydro-power reservoirs are nearly full. We cannot expect same rainfall again and 2020 could be most crucial for power.

In September 2019 CEB engineers proposed to go back to 200MW barge-mounted power plant and sought the permission from PUCSL. But if waters in hydro-power reservoirs are properly managed by using only for peak load and maximum use of oil power, the country could get over the power crisis in March-April.

It was reported that 165 MW Kelanitissa power plant was shut down for repairs expecting to take three months. CEB has called two tenders for the supply of 104MW and 96MW to overcome power shortages during first five months of 2020.

If CEB engineers and the politicians allowed private sector to invest on wind and solar power projects, with rates payable agreed upon discussion, the current power shortage would have been averted with low cost power in an environmentally friendly manner.

Installation of natural gas power plants would take a minimum of three years, meanwhile electricity consumption will continue to rise. Getting fastest power is rooftop solar possible under six months, with larger panels taking longer time. Thus promoting solar panels by agreeing to payable rates early would help the country overcome the impending power shortage and discontinue expensive oil power plants.