Digital change execution is a team sport; keeping the employees at the centre of the strategy, leaders are encouraged to focus more on people than technology and create a change mindset when driving digital change. It starts with a culture that fosters, rewards innovation, recognise teams and individual performances
---
It is not technology but strategy that drives digital transformation
Today we live in an era of turbulence and ever-changing technological landscape. The COVID-19 shock has left everyone flat-footed and is forcing businesses to embrace digital alternatives much faster than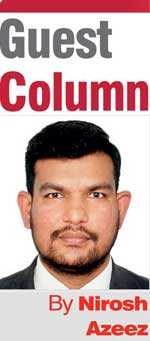 before to face the emerging new norms triggered by corona virus itself. On the other hand, uncertainty caused by the pandemic can turn complete attention of the leaders to a rapid recovery without imagining a path to rebuild the businesses to face future challenges.

What this experience has taught us, or should teach us, is that businesses need to remain agile and adoptable to latest digital trends to navigate through this kind of crisis. Therefore, finding a balance between recovery and rebuilding according to an entity's own interest and environment are essential to cut through the clutter.

Both the recovery and the rebuilding need simultaneous execution to better prepare the businesses to deal with disruptions and survive future competitions when the market become fully active. If businesses fail to adopt the technological swing, it's a question of survival and possible, wipe-out! No firm wants to follow the footsteps of Nokia and Kodak.

Most of the firms chose digital transformation to rebuild the business. However, focusing only on implementing the right digital technology is unlikely to lead to success. Depending on the dynamic nature, and magnitude of business, the approach to digital transformation varies and there is no right or wrong approach. This article attempts to explore three key features that are commonly found in winning formulas of successful digital transformation projects. Companies in pursuit of digital excellence always begin with:

a. Defining a future proof digital strategy;

b. Driving cultural shift through empowering employees; and

c. Keeping customer experience at heart.

Considering the above, but not limited to, will help drive a change project on the right track.
The blueprint – digital strategy
Not technology, it is strategy that drives the digital change. Hence, the starting point is the strategy that paints a picture of the business's digital vision. The strategy to translate into action, it needs to align with the corporate strategy of the organisation, so that the project is well positioned by engaging all the stakeholders with goal congruence.

Any digital transformation without planning will be over complicated, and likely to be over budged leading to failure adding to three quarter of the projects that have already failed according to the latest statistics. The transformation projects fail because there has been lack of clear understanding on the DNA of digital, meaning inadequate awareness on what needs to be changed, what the strategy should aim to deliver and when, and more importantly how to communicate the change with staff and customers.

Each firm's journey is unique, there is no one-size-fits all approach. Hence, finding an approach that fits the business model is pivotal. The digital strategy must be tailored according to specific objectives and dynamics of the organisation and involves a careful assessment of the competitive environment, organisation's capabilities, resources, the state of relevant technology, and a host of other possible factors.

Always, the ultimate goal of any organisation is to fuel cost-efficiency and attain sustainable growth. Simply getting on to every single dimension without justifying how those will generate value for business in terms of ROI may be a losing proposition.

The change strategy will clearly define what digital success criteria to achieve – creating additional revenue sources? Or enhancing internal operations? And how every penny will contribute to the corporate objectives? Addressing these questions will strengthen overall outcomes and increase the likelihood of a successful transformation.
Driving the cultural shift
Digital change execution is a team sport; keeping the employees at the centre of the strategy, leaders are encouraged to focus more on people than technology and create a change mindset when driving digital change. It starts with a culture that fosters, rewards innovation, recognise teams and individual performances.

In order to really win the change game, creating positive momentum is fundamental. Particularly during the coronavirus pandemic, it is vital to establish an effective two-way internal communication system to engaging everyone within the organisation and make sure everyone has a voice in that process. For a favourable transformation outcome, employees should indeed be aware of what they are supposed to do on a daily basis.

It is also essential to obtain buy-in from staff to achieve the intended outcome. Building a culture that is more adaptable and boosting confidence will assure easy buy-in.
Customer centric
In the digital world, customers are getting a very different value proposition to what they did before. Critically understanding how the industry value chain is changing, who the customers are and what the business is offering to them, will help enhance and create new value propositions. Customer experience will have direct impact on revenue targets; hence any digital transformation will definitely have to focus on this.

Mainly during the times of crisis, customers are looking for value added products and services for convenience. Reconnecting with customers to communicate what the company's value offerings are, why the customers need to buy particular product or obtain the service are key to success. Reconnecting with customers during transformation will boost their sentiment and enhance confidence. The result of a digital strategy should be the creation of customer value.
Takeaway and way forward
The digital strategy is not about new technologies that enable organisations to do business in the same way but slightly more efficiently. Instead, it involves fundamentally reimagining and rebuilding the business in light of the latest technology trends, identifying potential new products and services, additional channels of revenue, reconnecting with employees and customers.

To navigate the businesses through COVID-19, leaders may focus on incremental changes, starting on a smaller scale, addressing low-hanging fruit, and continuing with complex matters. It is essential that the leaders make bold investment decisions that are not surrounded by emotions and traps. Rather those decisions must be based on a business assessment considering relevant set of value drivers. The future will be defined by the choices we make now. Most of these choices will be hard, hence companies need to target precisely.

[The writer (FCA, ACMA, CPA) is a fellow chartered accounted with over 15 years of experience who has worked for big four accounting firms in Sri Lanka and Middle East in managerial capacity. He has exposure in policy making, business and the financial advisory, strategy, innovation, digital transformation and change management. The writer is an aviation specialist and currently works for a leading airline.]