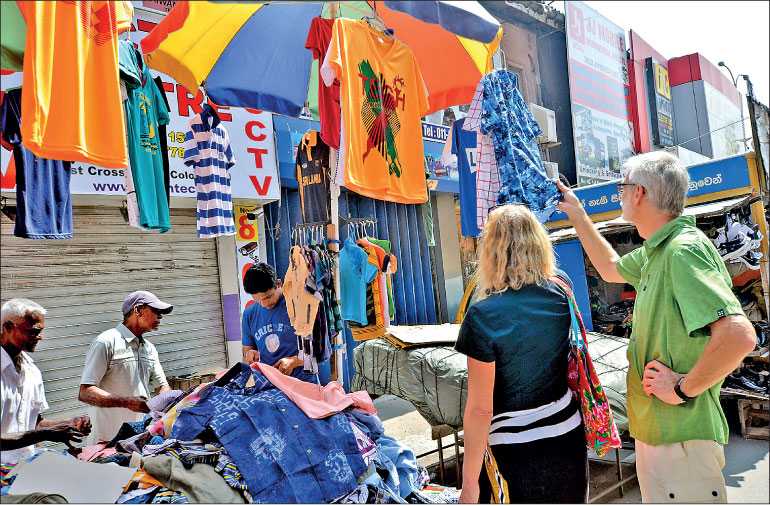 Travel will bounce back. Man's insatiable thirst to explore and experience new things will always prevail over all else. The whole idea should be to welcome all potential local and international guests back in action – Pic by Shehan Gunasekara
---
The tourism industry in Sri Lanka that relies on international travellers especially as a large source of revenues is experiencing its worst nightmare as tourist arrivals plunge. Recovery from the COVID-19 pandemic is the utmost priority. On the socio-economic front, a global recession, with the loss of millions of jobs is looming. This sector, is one of the most affected with jobs at risk, therefore require urgent support and specific mitigation packages to sustain jobs and ensure capacity in the market in the immediate aftermath of the emergency.

This offers a rare opportunity for reflection and recreate to grow again for planet and people in a better way than ever before. Becoming more resilient through change in marketing and operations approach the sector can stay in the business, although there are issues with cash flow handling it's time to switch to survival mode. If managed well sustainable tourism can emerge from the current crisis as an even more important contributor to the UN 17 SDGs which can be achieve throughout 10-year period, supporting livelihoods and creating opportunities for millions of people around the world and leaving nobody behind.

Tourism business gets hit the hardest because of its 'poor economic sustainability' as a result of being largely dependent on tourists to keep it going. It is time to think about opportunistic moves. It is time to think about resilience. Operators could use the downtime to 'expand domestic markets, expand the portfolio of international target markets, and in the immediate future targeting demographics that are less susceptible to COVID-19'. It could also give the sector an opportunity to place even more emphasis in the well-being initiatives, encouraging guests to stay longer in a healthy environment with programs to enhance their health.

It is time to think about managing crises effectively because crisis management is something often overlooked by the industry, this is important to identify potential risks and to develop plans to respond accordingly by establishing global sustainable standards. Governments, environmental authorities and tourism associations should step up their game plan too. So, this coronavirus threat may help the destinations to prepare safer and more hygienic conditions including national, regional and local response plans to crisis. The government could make use of this opportunity to promote more environmental education that promotes responsibility, conservation and community in ecotourism.

There are travel companies in Sri Lanka who are already engaged in their contribution for achieving sustainable and climate positive and working toward gender equality targeting toward eight of the 17 United Nations Sustainable Development Goals where tourism can be applied. The tourism industry affected by travel bans or town isolation is facing the difficult period of forced downtime. While this is extremely challenging for businesses such as resorts, food and beverage operators and retail shops, there are opportunities to adapt: this includes utilising human resources differently.

Using downtime to undertake labour intensive tasks such as maintenance creates a positive outcome out of a negative situation. Bring forward maintenance schedules tour operators could use the downtime for reviewing their services and supply chains, developing new tours under crisis management plans, and training their staff, this is the best time for staff training, so as to prepare for better service when business picks up again. The key is to keep surviving.


Way forward

COVID-19 will impact different countries in different ways and in varying degrees. This could be due to differences in infrastructure, human resources, economic capacity or political factors. The recommendation can be divided into, it's highly important at this stage to understand the importance of PPP in tourism as it brings together stakeholders with different objectives and skills, and resources in a formal or informal voluntary partnership to improve the attractiveness of a regional destination, its productivity, associated market efficiency, and the overall management of tourism.

When running a tour business, it is always crucial to grow your partner network, especially both in public and private parties to increase client base, increase sales, and promote tours and activities. Namely, partnering up means a chance to meet and work with other people within the tourism industry. It also helps to promote destinations and provide a range of services to encourage tourism development.

The tourism industry is an umbrella business networked with other divisions in the economy including hotel, education, financial, agriculture and transportation, etc. Therefore it is important to identify how the dependence of the industry might shape the recovery of its main sub sectors once the pandemic lessens. In 2019 it was reported that travel and tourism contribution was 12.5% GDP; therefore it necessary to safeguard all the sub service providers under tourism for future development prospects.

Needless to say the impact on stakeholders and it's important to discuss some strategies like giving credit grants to tour operators in Sri Lanka who's already contributed largely to country's revenue stream and promoting Sri Lankan well-known products like tea with its associated benefits, etc. Also, banks can collaborate with interest-free instalment plans for travel plans.

In Sri Lankan context, tourism has a proven capacity to bounce back and drive the recovery of other sectors; the best example was the Easter attack in 2019. The sector has recovered from crises before and, given its proven importance at every level of society, must be supported to sustain and grow jobs again.

Also, in Sri Lanka tourism is a facilitator of cultural exchange, mutual understanding and peace. It counters discrimination and prejudice between individuals and societies. Soon after the Sri Lanka Civil War, the tourism sector continued with the growth and it was disturbed during the 2019 Easter Sunday attack; somehow with the help of the Government and Sri Lanka Tourism Development Authority it was able to bounce back soon. Stability is the key for the growth of tourism. Any turbulence minor or big directly affects tour operators for short or long term. Since tourism is the most liquid industry it bounces back faster than any other trade because business moves with travel.

This is an unprecedented scenario globally but has given time to those who are affiliated with tourism to restructure, reorganise, and relocate their business. Sri Lanka needs to identify the sectors which open up quickly but are safe to travel and keep alternative plans for rescue and evacuation ready and focusing on the future of tourism segments like Adventure, Wellness, Eco and Educational Tourism. Although given the pandemic Sri Lanka is not in a situation to move forward its operations aligned with tourism, but the country needs a preventive planning improvement; however it would take more time to reach back to the core capacities, since this pandemic is the biggest threat after the bomb attack that does not leave enough room to breathe to revert it back to normal.

World Tourism Organization (WTO) has already taken measures to help the tourism industry, #TravelTomorrow is trending nowadays as a response to the pandemic "By staying home today, we can travel tomorrow" which gives a sense of hope to the people around the world.


In the middle of difficulty lies opportunity

The coronavirus epidemic highlighted several hidden gems that Sri Lanka is enriched with, more than the other rich nations; with that in mind we could utilise and gain more opportunities currently, and also in the future. The emphasis toward the Ayurveda and authentic medical foods in the country, became a famous topic in the world. Sri Lanka is a market leader in the Asian region for medical tourism and is well-renowned for the quality of its medical services as well as being a major player as a holiday destination.

Tourists from all around the world come to Sri Lanka each year to take advantage of the beauty of the country and also for the skill, talent and experience of the medical services. The market drivers for medical tourism include cost savings, improved quality of healthcare in developing countries, quicker access to care and shorter waiting periods, more affordable international travel, improved information through the internet.

Sri Lanka holds vast potential in medical tourism and wellness tourism as well, given its traditional knowledge of ayurvedic treatments. It concludes with the role that international organisations and in particular the International Trade Centre, whose mandate is to foster sustainable economic development in developing countries and economies in transition through trade and international business development, can play in helping developing countries like Sri Lanka with medical tourism potential grow their own domestic capabilities and join the global industry.

Sri Lanka has the potential to become a health tourism leading destination in Asia. Sri Lanka comparative advantage is first on wellness tourism (with ayurvedic treatments), the country will not neglect the development of medical tourism based on Western medicines. The government can help in the overall promotion of the country as a medical tourism destination, e.g. through visa facilitation, trade fairs organisation and participation, and marketing efforts by its consular offices abroad.

One area that holds strong potential is ayurvedic treatment in which Sri Lanka, along with India, holds a strong competitive advantage for holding the traditional knowledge. Ayurveda means the 'science of life'. It is a system of healing, widely practiced in South Asia, especially in Kerala and Sri Lanka, based on herbs and diet. It is duly recognised by the World Health Organization (WHO) as a complete natural healthcare system.

For medical tourism purposes, two 'avenues' may be considered in the Ayurveda industry. One is relaxation (massage and spa where herbal oils are used); the other is an alternative or complimentary treatment to western medicine.

Research and therapeutic strategies for COVID-19 have focused on agents to attack the virus or immunise against it. Ayurveda pays particular attention to the host and recommends measures for a healthy lifestyle rather than the mere prescription of medicine, the classic of Ayurveda, describes epidemic management and defines immunity as the ability to prevent disease and arrest its progress to maintain homeostasis. The concept of building strength of mind and body to cope with various stressors, including infection, is a cornerstone of Ayurveda practice.

The holistic approach of Ayurveda toward promoting health includes personalised interventions based on host and environmental factors. The interventions include therapeutic cleansing procedures and certain immunomodulators. The choice of specific Ayurveda therapeutic agents and practices is based on certain individual genetic characteristics.

Sri Lankan value of traditional medicine, is an essential step to develop tourism; consideration toward Ayurveda treatments can be viewed as another aspect that can link towards future tourism creativities with a focus to allow room for Ayurveda tourism in Sri Lanka. On the other hand, traditional authentic foods can be exploited to create more prosperity to Sri Lankan tourism in the near future.

While there is no such market for Ayurveda tourism, it is essential to think through current developments and start developing Ayurveda tourism that will be demanded in near future exceeding the number of visitors travelling for pleasure because given the current virus outbreak in the world people will move more towards health and wellbeing maintenance instead of entertainment in the future as a reply to the current crisis in trying to be more healthy and strong who expect a simple lifestyle.


How tourism sector may look once the crisis is over

Sri Lanka needs to have a resilient strategic plan to renovate the country's economy. In the long run Sri Lanka can customise the products for new market groups and make Sri Lanka a destination that is worthwhile coming to for wellness tourism, with regard to short term strategies the tourism sector can identify the sectors which open up quickly but are safe to travel and keep alternative plans for rescue and evacuation ready, also firing the staff just for cost cutting is not a solution. It is very difficult to train and retain. Instead continue with the existing manpower but with new targets, like training them via online courses about promoting through social media so that once this current situation is over, they can action it soon.

As a medium strategy Sri Lanka can develop more products that are appealing to potential tourists to think how it will benefit them (wellness programs). The impact is huge and it has already lowered the business investment due to increased uncertainty and risk. Subsequently, travelling and consumer confidence also may vary lower due to ambiguity and caution; which leads to reduce the spending of people as lowering the disposable income with limited economic activities and homebound life to reduce the probability of infection.

There is an urgent need to encourage tourism operators to engage with crisis alertness and disaster-management strategies and it is important to gain a better understanding of the consumer response to disastrous events by all components of the value chain. This is one of the key elements which is currently not in the corporate plans of many business organisations.

Sri Lanka Tourism Development Authority and Sri Lanka Tourism Promotion Bureau should strengthen its globally driven destination marketing and branding that systematically evaluates and reviews the state of tourism in the country with properly highlighting the best practices applied in the crisis situations from the past, future forecasts to encourage private sector. Most importantly, the PPP approach is much more appropriate for this effort.

Further, local-global collaboration is essential in the recovery process. One cannot clap using one hand, similarly right now one cannot write off the importance having private sector in the big game, providing government and other public sector reach out to them for their engagement, then private sector will give their fullest contribution for this current situation; this will also help to reach to key business leaders in the sector and to work towards a common goal.

If this is implemented well then there is no reason to hold back the execution of a survival strategy without causing much more to the economy. However, it's important to allow some space to the private sector to provide their service without a hassle to play the role of an effective facilitator and to effectively implement survival and growth-oriented productivity and quality enhancement business transformations.


Impact to domestic travel market

There will be a significant increase in the domestic travel market compared to the international tourism market to release the home bound stress of the community as an immediate effect. This can be looked at in two different perspectives (locally and internationally). Different digital communications can be planned for different segments, with even some interactive webinars and virtual tours of interesting sights for select guests in the international market until things gets back to normal. And communication with local customers while it would be futile to commence any promotional programs for hotels at this juncture, it is certainly very important to communicate to guests, both past and potential.

Factual and credible updates about what the situation is in Sri Lanka, good stories and video clips reminding everyone about the pristine beauty of the country will all be very useful, furthermore for locals there will be the need to focus much more on cleanliness and health aspects, with regular monitoring of how the environment is cleaned, and that should be communicated clearly to guests. This will call for more stringent 'visible measures' to show the effort made to keep the product and service clean to local market since it's impossible to develop a strong international market at this stage, therefore it's better to target the immediate market in hand which is locals.

Once the crisis blows over, travellers will slowly start venturing out. After a crisis, in a local context it is seen that the 'first movers' are the more risk-taking, younger people. They are by nature looking for cheaper offerings, but at the same time are more adventurous and prefer authentic back to basic experiences. Travel will bounce back. Man's insatiable thirst to explore and experience new things will always prevail over all else. The whole idea should be to welcome all potential local and international guests back in action.

Sri Lankan indigenous medicine including Ayurveda and Siddha along with authentic cuisine and its related culture, different cultural practices, meditation, religious practices and rural lifestyles must be more attractive for senior tourists. Current positive image of controlling COVID-19 can be capitalised for promotional campaigns. Ayurveda treatments including spa and healthy local foods, more specifically, organic foods which improves health and immunity can be very successful tools in promoting long-stay tour packages as post-COVID-19 disaster tourism development efforts.

Domestic tourism will need to be encouraged to cushion the loss from international tourism. Sri Lanka Tourism is also currently working with the United Nations Development Program (UNDP) in a three-stage strategy of situation assessment, impact assessment and road mapping, to help get tourism industry back on its feet.
(David Baxter is an independent PPP consultant who started his career in environmentally focused development in partnership with the South African Department of Tourism. He has worked with Federal Agencies in the USA that have had a focus on recreation and tourism concessionary activities. Between 2017 and 2019 he served as a PPP contractor to USAID on a project that supported PPP capacity building with numerous Sri Lankan Government ministries. Currently David has been advising institutions (both in the public and private sector) all over the world on the sustainable and resilient implementation of PPPs.)
---
(Amila Bogahawatta served as a senior finance professional at an international development organisation.)