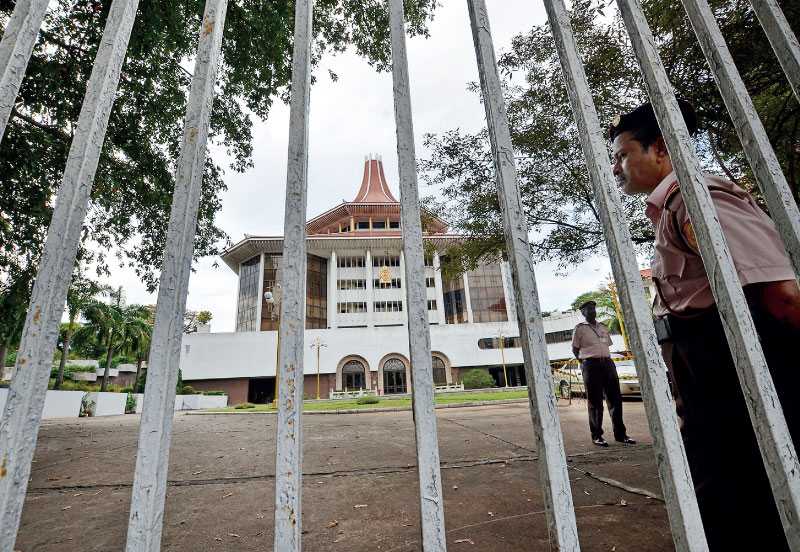 The path to a digital courtroom has become a necessity to ensure the timely and efficient mechanism of the justice system as seen with the onset of the COVID-19 pandemic and its effect on the traditional workings of not only the court system but every aspect of our lives. Although a complete digital transformation of the legal system appears to be a challenge rather than opportunity to adapt to the local framework, it presents a vision for newer, alternative employment opportunities in favour of those that would be replaced by a digitalised system and greater scope and drive to further digital literacy among professionals and the general public. Therefore, our objective should be directed towards a digital justice system that it is not relegated to a temporary transition but a stride towards an overarching transformation – Pic by Shehan Gunasekara
---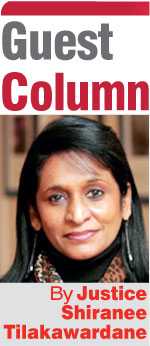 Success stories

There are a number of success stories when it comes to digitalisation of the justice system which Sri Lanka can look towards for inspiration.

For example, in India, the E-courts Mission Mode Project which was part of the National eGovernance Plan (NeGP) began in 2007 to increase the affordability, accessibility, predictability, reliability and transparency of the justice system. Today, 14,249 courts are computerised with the installation of the Case Information Software ("CIS") providing daily updates on litigants' cases while the National Judicial Data Grid (NJDG)11 system stores data regarding pending cases, disposed cases and total cases under different heads.

Recent progress has also seen the implementation of new Business Intelligence Tools and desktop video conferencing for recording of evidence in sensitive cases like sexual offences are some instances where technology was used judiciously. The project has also seen the introduction of portals like 'epay,' 'efiling' and 'e-courts services' and applications like NSTEP and 'JustIs' continuing the growth towards digitalisation.

While data protection and privacy remain significant concerns, such concerns have been allayed in the Indian model in the form of effective data protection mechanisms, policies and laws. For example, the CIS introduced Judicial Officers numbers, CNR (Case Number Record) numbers and unique process IDs as measures to ensure the security of records although results have yet to be seen.12


Digital transition challenges

However, a digital transition is not without its challenges. A pioneer in the e-court system, South Korea, adopted a gradual transition since the 1970s. Rather than going paperless immediately; it started with paper-on-demand to allow users to adapt towards using a paperless system13 indicating the need for planning, time and patience when moving towards digital transformation.

Several ambitious projects have halted due to a combination of factors. The State of California which had to abandon a statewide case management system after surging costs overwhelmed the initial budget. Another situation arose in the statewide Integrated Courts Management System integrated by the State of Victoria (Australia) in 2005 which projected an uncertain future due to budgetary fluctuations and scheduling conflicts14. It is thus advisable to prioritise the resolution of the disputes of the majority of the public when initialising a strategy for the digital future of the justice system in Sri Lanka while taking into account the strengths of the existing systems.

SL digital leadership and innovation

In 2012,15 Sri Lanka became the first country in South Asia to introduce commercial 4G services becoming a regional leader in connectivity, innovation and incubation. The country also boasts a mobile penetration of over 100% with the market rapidly shifting towards the Smartphone segment. Given that IoT (Internet of Things) solutions primarily rely on Smartphone use and connectivity, there is substantial runway for growth and adoption of IoT solutions in Sri Lanka.

Web-based solutions are an integral part of internet use and as such can offer a simplified mechanism for management of attendance, salaries and other operational and administrative systems. Other possible additions include monitoring key performance indicators (KPIs) for members of the judiciary allowing both qualitative and quantitative professional evaluation and assessment.

Additionally, revising court resources based on objective data regarding the case flow, efficiency and quality, and introducing other modern court management techniques can spur greater efficiency of the courts. As such, we must be proud of the digital leadership and innovation Sri Lanka has produced in the recent past.

At the helm of our digital development are a community of concerned individuals who have cleared a path based on high expertise, knowledge, skill and integrity. The ambitious advent of 5G technology in Sri Lanka back in 2018 has also given rise to significantly faster and higher transfer rates through improved mobile broadband connections, shorter response times (latency), ultra-reliable connections and a secure internet of things among its many benefits.


Requirement of digital literacy

While the ambitious progress of the recent past is optimistic, the primary challenge is the harmonisation of technological advancement and the requirement of digital literacy of the general public without which the execution of a digital transformation and actualisation of the potential seen thus far is impossible. In this context, even if the systems are developed, the difficult chapter that lies ahead is for the users to adapt themselves to take optimum benefit of the new systems.

By 2019, overall computer literacy reported in Sri Lanka was 30.8%.16 Low digital literacy will continue to be barrier to digital inclusion, particularly among the urban poor, where women are 1.6 times more likely to lack basic computer literacy which in turn acts as a barrier to their internet access.17 On the other hand, youth (aged 15–19 years) showed the highest computer literacy rate (64.9%) among all other age groups highlighting the need to inculcate digital skills and integrity to ensure the intragenerational development to assure the country's digital continuity and future growth.

At present, Sri Lanka has gained wide traction for its growing tech talent pool and service culture and is home to local IT pioneers with global integrity. However, the low digital literacy rate makes it challenging to achieve the optimum benefit and potential of IT systems as the quality and development are hindered by the obvious challenge that users face in being unable to adapt to continually evolving technology.

Our journey to a digital transformation cannot take shape without a fundamental change to the education and skills development of the young users who will be the torchbearers and advocates of this mission. Hence, a vision for a sustainable digital transformation cannot take shape without a nation that is educated and qualified to quickly achieve a high degree of digital literacy.

It is imperative that the Government prioritise its spending and invest in developing language skills, knowledge building and sharing of innovative and emerging technologies in addition to cultivating a high degree and standard for ethics and integrity. It is imperative that this opportunity be seized and developed in the near future if we are to persevere for a digital transformation with holistic development in this vital area.

We need to understand the gravitas of our present predicament as a nation, and I urge readers to consider the Annual Reports of the Central Bank to understand the reality of digital literacy and IT skills development in Sri Lanka. Rather than perceiving it to a detriment, we must embrace our current situation with an opportunistic fervour for development.

The need to improve both basic computer literacy and digital literacy (the ability to understand information and perform tasks in digital environments) must extend to the professionals in the justice system to ensure a smooth transition and less deterrence to the digital landscape of court operations.


Digital devices

Web-based solutions offer a practical first step on this journey. Further, growing phenomena such as Bring-Your-Own-Device (BYOD) allows smartphones and tablets to rapidly replace large volumes of paper and has changed the way legal professionals operate. MDM18 (Mobile Device Management) solutions are the most common form of BYOD management allowing for the administration of mobile devices. MDM solutions can both deliver applications to user-owned devices and secure the corporate apps and data on them.

HCM (Human Capital Management) software which supports a range of HR functions through recording and storing data can be implemented through mobile apps. However, if the Ministry of Justice is to provide judicial officers with the tablets/PCs, it is important to weigh both the benefits and practical challenges that must be faced. Upon the execution of the digital transition, the Ministry of Justice must also consider whether the existing devices in the courts can be used and are compatible with the newer digital solutions.

Today, Apple products have dominated business computing because of their tighter security and versatility in contrast to Microsoft Windows. However, the high costs and impressive selection of apps for its devices still lack many of the major networking and communication apps that large businesses rely on every day. Regardless of the type of software used – Apple, Samsung, Microsoft – it is important take precautions when contracting with Original Equipment Manufacturers (OEM).

These companies manufacture and sell products or parts of a product that other companies sell to their own customers while putting the products under its own branding. Because of the extent of the control that OEMs have over equipment and software, it is imperative that they provide some level of security assurance to clients and be compatible with system level security controls (protocols, access controls, etc.) to ensure proper implementation of Security Architectures and reduce overall system risk. Contracts between clients and OEMs must be meticulously scrutinised and drafted to provide maximum security.

Further, where existing devices in the courts are incompatible with the newer digital solutions, alternative IT solutions can be procured. Other considerations at the most formative stage include Wi-Fi facilities (WLAN – wireless LAN) and LAN which should be available in courtrooms while mobile applications, SMS and secured e-mail systems could be adopted for communications as is a practice embraced by most industries. The use of video conferencing enabled court rooms allows for greater accessibility and availability of testimonials allowing litigants to connect from anywhere in the world for a hearing.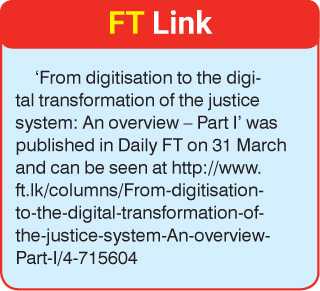 The path to a digital courtroom has become a necessity to ensure the timely and efficient mechanism of the justice system as seen with the onset of the COVID-19 pandemic and its effect on the traditional workings of not only the court system but every aspect of our lives. Although a complete digital transformation of the legal system appears to be a challenge rather than opportunity to adapt to the local framework, it presents a vision for newer, alternative employment opportunities in favour of those that would be replaced by a digitalised system and greater scope and drive to further digital literacy among professionals and the general public. Therefore, our objective should be directed towards a digital justice system that it is not relegated to a temporary transition but a stride towards an overarching transformation.
---
(The writer is Consultant, Sri Lanka Judges' Institute. Retired Judge of the Supreme Court of Sri Lanka. National and International Arbitrator. Research assisted by Purnima Pilapitiya.)
---
Footnotes

11 https://ecourts.gov.in/ecourts_home/

12 https://calcuttahighcourt.gov.in/downloads/ecourt_files/cis3/What_is_CIS.pdf

13 Improving Court Efficiency: The Republic of Korea's E-Court Experience

14 https://static.legalsolutions.thomsonreuters.com/index/pdf/lessons-learned-in-courts-digitisationwhitepaper.pdf

15 https://www.pressreader.com/sri-lanka/sunday-times-sri-lanka/20121230/281676842246510

16 http://www.statistics.gov.lk/Resource/en/ComputerLiteracy/Bulletins/AnnualBuletinComputerLiteracy2019

17 http://www.ft.lk/ft_view__editorial/Bridging-the-digital-literacy-gap/58-702581

18 https://blog.vsoftconsulting.com/blog/byod-in-the-workplace-the-difference-between-mdm-andmam#:~:text=The%20most%20common%20form%20 of,mobile %20devices%20in%20 the%20workplace