Requests its users to reduce credit periods to sustainable levels
Seeks trade chambers and associations to educate members
Requests banks to extend the low interest loans to the sector
---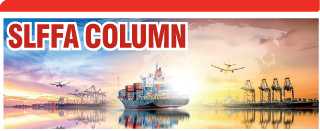 SLFFA column is a new initiative of the Sri Lanka Logistics and Freight Forwarders' Association (SLFFA) which was established in 1981. The objective of this column is to interact the freight and logistics providers with rest of the trade and to educate the public of this important sector of the national economy. SLFFA under one umbrella has a vision to increase professionalism and to support trade growth of Sri Lanka. Today the relevant government agencies and the trade has recognised the SLFFA as the apex body representing the industry. SLFFA currently has over 120 leading freight forwarding and logistics companies in its membership registered with Director Merchant shipping division of Sri Lanka.
---
Evolving freight forwarding industry

Freight forwarding industry has evolved from a basic booking agent to a Third-Party Logistics Operation. Third party logistics (3PL) is defined as companies that offer outsourced logistics and supply chain management to companies mainly involved in international trade. The 3PL service may be a single provider, such as transportation or warehouse storage, or it can be a system wide bundle of services. 

Outsourcing supply chain services to third party logistics providers, businesses can focus on primary functions and their core competencies. When companies experience growth, they often run into challenges meeting the demand of their supply chains. Forming these business partnerships with 3PLs allows retailers and manufacturers to expand operations while increasing efficiency and reducing costs, whether more easily in inventory management storage, packaging, or shipping. 


Unsung heroes of trade facilitation for shippers

Trade facilitation comes in many ways, but mostly it is looked at as a process driven reform in cutting cost at various junctures in the transportation supply chain such as customs trade facilitation. 

However, it is rarely spoken and appreciated of the fact that global service providers of freight and logistics companies who act as a catalyst between  shipping lines and airlines to exporters, importers and traders by creating economies of scale and most importantly provide freight solutions and often provide extensive credit to such shippers on freight and services charges deferment. Some even provide credit to services rendered to statuary bodies. Generally most logistics companies provide 30 to 60  days credit to shippers, but on the other side they are compelled to pay full payment to shipping lines, airlines and government, with zero to limited number of days credit to collect the original bill of lading or approvals which often creates cash flow issues to the logistics service providers' business.


Freight forwarders as 'Freight Financiers' to shippers and shipping lines with challenges faced

Against best practices some of the major lines are imposing a penalty fee labelled as the 'Late Payment Fee' even with one day's delay beyond the credit period which is less than 21 days in most cases. Such practices are not prevalent in the freight forwarding and logistics industry. Furthermore even in a case of a default by the customer there is no provision for a logistics company to hold back  the payment to the line as the  logistics industry work with shipping/air lines with multiple shippers and liners take action to hold overall  shipments if payments are not settled. 

The extension of Freight financing is an integral aspect of the logistics industry which enable the shippers to manage cash flow which is a direct trade facilitation that is not recognised or appreciated by many in the industry. SME traders specifically benefit from credit provided by logistics companies and helps business grow. Total amount of this facilitation as a figure could go into billions of rupees at any given time which is provided at no security or collateral. 


COVID-19 impacts the industry threatening sustainability – Logistics industry rises up to meet the challenges 

COVID-19 has changed many aspects of the third-party logistics industry as well. Many new challenges are being overcome to manage the requirements of the customers to ensure supply chain stability. Managing Roll overs/blank sailing by shipping companies, making advance bookings to facilitate on time delivery and coping with abrupt increases of 200-300 percent increase in Airfreight costs are some of the emerging issues as the transport patterns have been disrupted due the market conditions across world. The logistics industry is witnessing credit for shipments are getting extended from the standard norms of 60 days to 120 days in some cases, creating serious cash flow pressure for the logistics industry in Sri Lanka which the Industry is meeting drawing on its reserves. 


Coping with port demurrage, rentals and market changes

At the same time a percentage of abandoned cargo have increased at the port of Colombo due to the accumulation of demurrage and detention even beyond free times allowed resulting in delayed clearance. The whole responsibility of the port demurrage falls on the shoulders of the logistics provider irrespective of the fact that it has not been a port user. SLPA bill which goes to the liner lands with the logistician who ultimately becomes liable to settle all relevant issues of the end customer. Further auctioning process at the SLPA could take weeks, months, or years where all parties could make someone responsible but not the logistician who has to bear the brunt of all costs mostly upfront. 

With it reserves and resources fully stretched, freight forwarding companies are challenged to make payments and salaries of employees and to run day to day business operations. More and more companies are forced to borrow at higher interest rates to keep the businesses at float, which is now becoming an over stretch of credit to the industry. SLFFA as an industry body are taking the initiative to call upon central bank to establish and initiate a Freight bill discounting facility at a concessionary interest rate accessible for both exporters and importers as this will help address the credit periods in settling bills for services completed. The industry also requests banks to facilitate the low interest loan schemes supported by central bank to be extended to its members who are facing the short-term cash crunch due the prevailing situation.