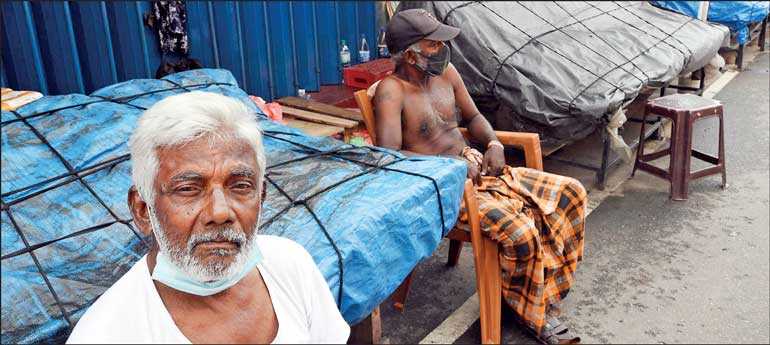 Under the present curfew situation, people who earn their living through small businesses, vendors and daily wage earners have been immensely affected. People who work for the Government and big companies may get at least part of their salaries and may not be severely affected. The prolongation of curfew will bring distress and desperation to the people who struggle in life without any savings. We see that the Government is trying their best to help the people with dry ration packs and Rs. 5,000 grants but there is a limit to what they can do – Pic by Shehan Gunasekara
---
The purpose of this article is to emphasise on the necessity for the Government to prepare and plan for a probable community spread of COVID-19 which may be inevitable due to the prevailing situation in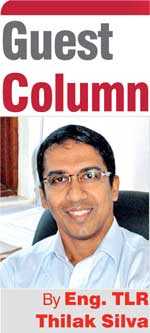 the country.

We cannot be complacent because we controlled the first wave of the pandemic very successfully with an excellent management of the total situation which resulted in a very low death rate compared to other developed nations. Even if the Brandix cluster had not emerged, we could not have gone too far with the satisfactory normalcy we enjoyed in the country for nearly about four months after the control of last Kandakadu cluster.

In spite all these reasons to be happy, the Government has been pressed to open the airports to revive the badly-affected tourism industry and it had to bring back the destitute citizens who were stranded in the Middle East countries without jobs, food and shelter. The situation we are facing today is inevitable and Government has to plan and face future challenges by introducing more sustainable and creative strategies to continue life normal under anticipated community spread. We now hear that the Government thinks in the same direction.

Under the present curfew situation, people who earn their living through small businesses, vendors and daily wage earners have been immensely affected. People who work for the Government and big companies may get at least part of their salaries and may not be severely affected. The prolongation of curfew will bring distress and desperation to the people who struggle in life without any savings. We see that the Government is trying their best to help the people with dry ration packs and Rs. 5,000 grants but there is a limit to what they can do.

We see that the COVID Task Force is taking all efforts to contain the spread of virus to a wider society. However, the Task Force needs to plan out medium and long term strategies assuming that community spread will emerge (it has now already happened). Planning of alternative measures of managing the situation will be important rather than considering isolation as the only solution through imposing curfew. Government should plan for a systematic control of spread and management of the virus infected patients in a more sustainable manner without driving the people into poverty and desperation.

The country has weathered many difficult periods during the last 50 years due to JVP insurrections in 1971 and 1989, 30-year-long Eelam war, 2004 tsunami, the dengue epidemic and April 2019 bomb blasts. During these bad time periods, many lives were lost and many families in our society had been affected. However, people had no other alternative but get used to live with these calamities spanning for many years and such problems had become part of our civilian life.

'Lessons learnt' during early stages of spread of dengue and how the Sri Lankan doctors invented new medical procedures in managing the dengue fever should be considered while planning strategies in controlling and managing the COVID pandemic. Our doctors have managed COVID well, so far, with a low mortality rate. The way the patients have been segregated and managed is commendable.

The Government, Health Ministry and the Armed Forces have gained praise from many parts of the world for their excellent management of the first wave and their continuing efforts in the same effectiveness and intensity now. Still there may be more room to get a wider participation of the medical fraternity and the civil organisations to face the broader perspective of the problem, anticipating that community spread is imminent or has already happened.
Doctors who contributed to bring down fatality rates of dengue patients
At the beginning of the dengue outbreak, the fatality rates were very high. Many those who contracted dengue faced the ultimate fate of death irrespective of their social status. Many deaths were due to late diagnosis, inexperience in patient management and unpreparedness.

However a few Sri Lankan doctors who studied the disease through their own patient management derived clinical procedures in the management of the dengue patients and brought the death rate due to the dengue epidemic under control. They took further initiatives in setting up dengue units in major Government hospitals.
Forgotten story of Dr. Lak Kumar Fernando
Dr. Lak Kumar Fernando is one such dedicated doctor whose name should be reminded to the Sri Lankan people and the authorities.

The below description of Dr. Lak Kumar's work had been prepared when Lak Kumar was elected to the Ashoka Fellowship in 2012 (https://www.ashoka.org/en/fellow/lak-kumar). The Ashoka Foundation is an organisation which recognises individuals with innovative solutions to society's most pressing social, cultural, and environmental challenges. It should be noted that this narration is limited to only small fraction of work he had done up to 2012.

"Dr. Lak Kumar had pioneered the treatment for dengue fever (DF) and dengue haemorrhagic fever (DHF). His novel approach to treatment has reduced the number of deaths attributable to the disease by half in Sri Lanka. This distinct model has caused revision of the guidelines for dengue fever treatment in Sri Lanka and abroad.

"Dr. Lak Kumar's work was motivated by his belief that dengue fever is a predictable and treatable disease, and therefore conventional methods of treatment can and should be improved upon. His work has also helped to dispel public fear and common misconceptions surrounding dengue fever, and his new approach to treatment has shown that dengue fever infection does not have to result in patient death.

"Dr. Lak Kumar's new approach to treating dengue fever was the result of a close analysis of dengue fever deaths in Sri Lanka. In 2009, Dr. Lak Kumar studied all 64 child deaths due to dengue fever at Ragama Hospital, where he was posted as a paediatrician. His work went beyond merely studying patient records; Dr. Lak Kumar visited the homes of each of the deceased in order to analyse the patient's complete medical condition. During his analysis, he spent time in Thailand with a team of doctors who worked in regions with high incidences of dengue fever. With Thailand-based Professor Suchitra Nimmannitya, Lak Kumar discussed his findings. Nimmannitya's team believed that fluid management was the most important part of reducing dengue fever mortality. Dr. Lak Kumar realised that successful treatment of dengue fever in Sri Lanka, and all over the world, was more about proper doctor training and less about a lack of medical resources.

"Upon returning to Sri Lanka, Dr. Lak Kumar discovered that standards for fluid management in dengue patients were not uniform in Sri Lanka or globally, leading to many unnecessary and treatable deaths from dengue. He championed the standardisation of fluid management therapy for dengue fever treatment in Sri Lanka.

"After completing his initial analysis of the causes of dengue fever and death, Dr. Lak Kumar worked on revising standards and creating a comprehensive guideline to change conventional treatment. His revisions focused more on fluid management in order to minimise dengue fever mortality. However, the medical community did not easily accept his recommendations. Dr. Lak Kumar's methods required doctors to overcome their own misconceptions about dengue and confronted the fact that their previous methods of treatment may have led to many more patient deaths. Dr. Lak Kumar began an extensive educational process that trained doctors and nurses on his methods throughout Sri Lanka. In an effort to codify his knowledge, Dr. Lak Kumar got the approval of the Health Ministry to build a training unit in the Negombo Hospital in 2012.

"Dr. Lak Kumar has also successfully communicated his strategy across borders. He visited Pakistan when they faced a critical situation and found a more receptive audience than he initially faced in Sri Lanka. Dr. Lak Kumar and his team trained over one thousand Pakistani doctors on the clinical management of dengue fever by providing the tools and knowledge to establish a similar model of treatment to the one he pioneered. With the Pakistani doctors, Dr. Lak Kumar began a supervised group: the Dengue Expert Advisory Unit., and he believed that they would be able to take charge of future dengue outbreaks in Pakistan.

"Dr. Lak Kumar has been able to change World Health Organization (WHO) guidelines on dengue. Initially, WHO dengue strategy focused on developing a vaccine by 2017. Dr. Kumar argued that the vaccine could not control all dengue infection and death, namely due to the many strains of dengue that infect patients. Successful inoculation would require at least four separate vaccines. In 2012, Dr. Lak Kumar co-authored a dengue treatment method that was incorporated into the WHO National Guidelines on Management of Dengue Fever and Dengue Haemorrhagic Fever." This is only a reminder to the health authorities that we have talented and dedicated doctors like Dr. Lak Kumar in this country who can make a breakthrough in conceptualising novel procedures in managing COVID patients as well, in the future.
Medium- and long-term approach
We have to look for alternative ways of living with the virus under controlled conditions. Otherwise a large section of our population will be affected, will lose their employment and will be without means of living.

The Government has to plan for a better and a sustainable system.
COVID-Task Force can consider new guidelines to segregate COVID infected patients
Transmission frequency and probability of spreading the COVID virus is much higher and may be 1,000 times more compared to dengue. However with proper understating of the community spread, further propagation of the virus can be controlled and managed.

In a future situation of community spread, 'capacity threshold' of Government hospitals may exceed unless government prepare for creative and innovative strategies. In such scenario, the Government may have to revisit its present segregation procedures and adopt a different procedure for asymptomatic patients who still can transmit the virus, but will not pause serious medical emergencies.

The Government may consider the below-mentioned proposals for further review and recommendation of the experts if they wish to adopt as next stage strategies in the medium- and long-term:


a. Asymptomatic and low/medium risk groups

Presently the patients of this category are transferred to quarantine centres once a person is detected as PCR positive. Explore the possibility how such patients can be isolated and managed in their own homes, if the required facilities of isolation are available in their houses under necessary supervision of PHI, proposed Village Neighbourhood Committees (NCs) and Grama Sevaka Officers (GSOs).

In medium risk categories, explore the possibility at least in cases where the patient is from educated back ground and understands his/her other primary medical complications such as Asthma/ controlled heart conditions, etc. Such patients, if they feel confident of managing their primary illnesses under constant advice from their regular consultant doctors over the phone, can they be isolated in their own homes with strict quarantine protocol with procedures set in place to transfer to medical facilities in case of an medical emergency?


b. Asymptomatic and high risk groups

This category will need constant medical supervision and has to be transferred to a quarantine centre or to a designated private hospital which will be under constant medical supervision and with adequate facilities to transfer the patient to a designated hospital having emergency treatment facilities depending on the nature of primary illnesses of the infected patient.


c. Symptomatic and low/medium risk groups

These categories may possibly be managed in district level hospitals and in isolated wards of designated private hospitals.

The Government may get the necessary participation of managing this category of patients in designated private hospitals for concessionary rates for those who can afford to pay and who are having health insurance policies.


d. Symptomatic and high risk groups

Such patients need to be treated in the current IDH facility or NHSL with necessary intervention of the specialist doctors who have treated the patients for their primary illnesses.

It has been evident that the COVID Task Force and the Health Ministry have already differentiated and segregated the patients based on their condition, risk level and symptomatic behaviour.

Next stage will be to prepare for stakeholder participation in the control of spread and management of infected persons. COVID Task Force and Health Ministry using their experience gained through the first wave and management of the second wave so far, can explore the possibility of delegating the management of asymptomatic low and medium risk groups in their own homes through community participation.
Village-level participation
China has effectively used community engagement through Neighbourhood Committees (NCs) to track down the new infections and community participation in preventing the spreading of the virus.

NCs can be used not only to track the people who are possibly infected but also to manage people who may be of asymptomatic risk category (a) as stated above. NCs also can play a wider role of assisting the families who are on quarantine with or without infected patients at their homes.

NCs can extend their assistance to look into the day-to-day requirements of the quarantined families and look after their wellbeing. NCs can also supervise and submit necessary reports to the authorities giving necessary details and progress of the families under quarantine in their respective precincts. They can also coordinate with the PHIs and Grama Sevakas for further advice and guidance, and to share the information.

NCs can be formed through the participation of the places of religious worship dominant in the respective areas. The COVID Task Force and the Health Ministry can plan the necessary training and regular briefings in the respective Gramasevaka Divisions. Formation of these NCs should be driven through Divisional Secretariat offices with active participation of Grama Sevaka Officers (GSOs).

NCs, on regular basis, will monitor the health and wellbeing of their neighbours and monitor any sudden change of health conditions of families in their neighbourhood.
Institutional, corporate and school level participation
Government organisations, companies and schools can participate in COVID spread control and patient management programs. This will be an essential process of decentralisation of responsibility to the community level to face the challenges of a possible community spread and to train general public to live normal life amid the virus being present in the society.

Institutions, companies and schools should participate in MOH recommended sanitation programs and make the facilities available to their employees and students such as steam inhalation, promote hot water drinking, exposure to sun between 10-11 a.m. and other procedures that the COVID Task Force and MOH already instruct the asymptomatic patients to follow in their quarantine facilities.

They have to conceptualise new ways of doing business while the virus is still spreading within the community.
Rewards and incentives
Stigmatisation of those who become positive in PCR tests should be stopped. Once such a patient is reported, a protocol should be followed to determine whether he/she will be transferred to a quarantine centre, a hospital or allowed to recuperate under isolation in their own homes if the patient is asymptomatic.

Companies should reward employees who volunteer to stay at home if any mild early symptoms of the virus are experienced, by granting paid sick leave and further concessions if they have to quarantine due to persistence of probable symptoms for a further period of time. There should be designated officers from companies to monitor and get regular up date of such employees who volunteer to stay at home due to probable symptoms and those who have to undergo quarantine procedures.

There should also be a system that such employees report their illnesses to the proposed Neighbourhood Committees (NCs) and Grama Sevaka to get a documentary confirmation for necessary approval to obtain paid leave. Companies in future may develop CSR programs to support infected employees and their families who are under quarantine and under treatment.
Final message
As the problem becomes bigger, the Government needs to channel all available resources and be creative in the new strategies to face the unknown and inevitable future. The Government needs to remove curfew and allow people to earn their living as early as possible. Such decisions should be taken without prolonged delay as a good percentage of our population may fall into an extremely desperate situation and driven to poverty. The Government also needs to bring back affected Sri Lankan workers stranded in the Middle East countries who are without any help and protection. The country's airports will have to be opened in the near future.

People, companies, institutions and proposed NCs should be creative in adopting to new systems and procedures for them to get back to their day to day business, in the same manner people of this country have been doing for last 50 years amid all those crisis situations and challenges.