The export earnings of Sri Lanka as a percentage of GDP is on the decline over the past few years. However, during the year 2017 the export sector recorded remarkable growth. Nevertheless, there is no room for complacency as we have a long way to go in achieving the target of $ 20 billion as export earnings by year 2020.This article explores the competitiveness of the export sector in Sri Lanka through selected indicators of Enabling Trade Index.


Enabling Trade Index

The Enabling Trade Index (ETI) is featured in the Global Enabling Trade Report which is a joint publication between world Economic Forum and Global Alliance for Trade Facilitation. The ETI evaluates whether the countries have conducive environment to facilitate international free flow of goods. The ETI consist of four sub-indexes which are as follows: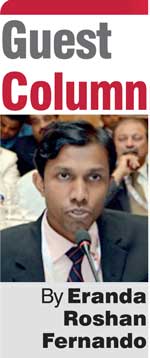 n Market Access – Market Access includes two pillars i.e. domestic market access and foreign market access.

nBorder Administration – Border Administration deals with only one pillar which is efficiency and transparency of Border Administration.

n Infrastructure – This includesthree pillars, availability and quality of transport infrastructure, availability and quality of transport services, availability and use of Information Communication Technology.

n Operating environment – This sub index includes only one pillar, operating environment which consists of 16 indicators. This section deals with efficiency in enforcing contract and level of protection of property rights, etc.

Under each pillar, there are different indicators. Total of 57 indicators have been categorised into seven pillars where each pillar comes under different sub index as mentioned above. The ETI assigns marks for each country based on the performance under each indicator. The ETI marks are between 01-07 where 01 is lowest score and 07 is the highest score. The first Global Enabling Trade Report was published in 2008 and the report is compiled once in two years.The ranking of some selected countries in ETI in year 2016 is as follows:

According to the ETI 2016, Sri Lanka is ranked in 103rd place, out of 136 countries scoring 3.9 points. Sri Lanka was in 96th place in 2014 but slipped back seven places in 2016 although the score has been improved from 3.87 in 2014 to 3.9 in 2016. Bhutan occupies the top slot among the countries in the South Asian region.Sri Lanka is ahead of Nepal, Pakistan and Bangladesh that occupy 108th, 122nd and 123rd places respectively.

The table illustrates several indicators which are important to determine the efficiency and transparency of border administration that in turn impacts the competitiveness of exports. The above table present a comparison of performance of Sri Lanka with Malaysia and Singapore that occupies 36th and 1st places respectively in ETI.

According to the above table, Sri Lankan exporters have to spend as high as 76 hours for documentary compliance whereas those in Malaysia and Singapore have to spend only 10 and two hours respectively.For documentary and border compliance Sri Lankan exporters have to spend $ 57 and $ 366 which is relatively high in compared to exporters in Malaysia and Singapore.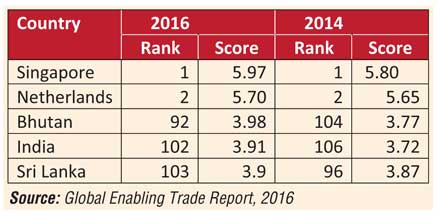 When exporters are compelled to spend more time and money to meet the documentary and border complianceit pushes the price of export commodities. In current business environment, buyers prefer short lead time and consequently the exporters will be deprived of market opportunities if they have to spend more time on documentary and border compliance.

Exporters of perishable commodities are theworst affected due to long hours in battling to meet the documentary and border compliance. For example, a recent research undertaken by the writer revealed that, fruit and vegetable exporters confrontnumerous procedural obstacles such as multiple checking of cargo and relatively long cut off time at Bandaranaike International Airport (BIA), etc.


Conclusion

Sri Lanka is signatory to the WTO Trade Facilitation Agreement (TFA) and there are various initiatives underway to improve the export competitiveness. Therefore, we can be hopeful Global Enabling Trade Report 2018 which will be published soon would reflect results of such initiatives.

The year 2018 will go down in the history as a year of Free Trade Agreements (FTA). Sri Lanka signed a FTA with Singapore few days back and FTAs with China, India and Bangladesh are in the pipeline. However, improving the capacity of local business entities to enter into global market anddomestic policy reforms to create conducive environment that propel export competitiveness is crucial for healthy growth in export sector.
(The writer is employed as Grants Specialist in International Development organisation. He can be contacted through eranda1700@gmail.com.)