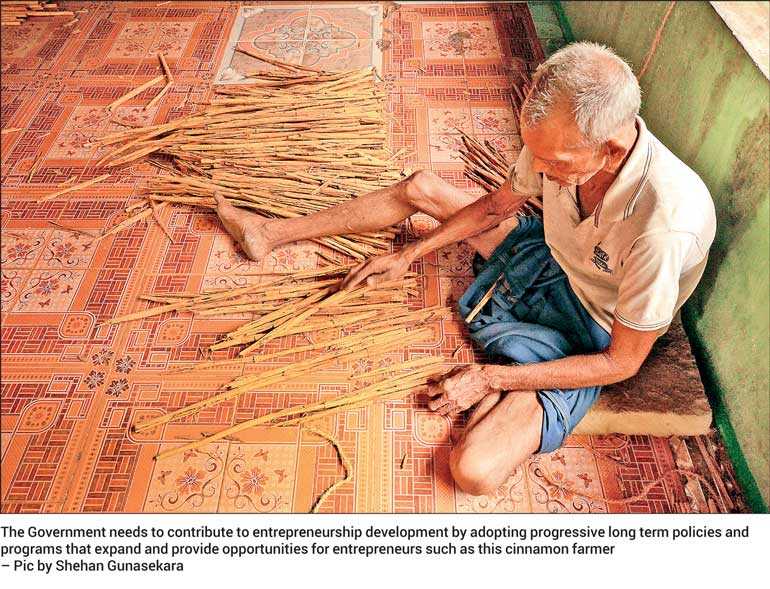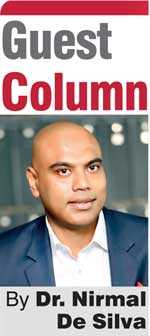 Entrepreneurship is a key driver for any economy. Sri Lanka has a very low presence of entrepreneurs in the market numbering less than 1.5% of the population. This compared to some of the other countries in the Asian region such as Vietnam and Thailand is very low.
If Sri Lanka is to move forward with an export driven development agenda, grow the economy and compete at a global scale then we definitely need to focus on encouraging entrepreneurship. In fact developing entrepreneurship should be a national priority at a policy level. The entrepreneurship ecosystem in the country has seen promising developments during the last few years in particular. There is much buzz now on the topic especially within the youth segment.
However, whilst there are more opportunities now for setting up a venture and raising capital for the same (in comparison to a decade ago), much work is required in the areas of education, skill development and government policy/regulation.
Our society is virtually geared on aversion to risk-taking in business and typically moves along traditional paths or conventional norms. One can argue that we have inherited this mindset through our culture and education system. Basically, without the willingness to fail and take risk, there is no room for entrepreneurship to flourish. The Government needs to contribute to entrepreneurship development by adopting progressive long term policies and programs that expand and provide opportunities for entrepreneurs (both current and future).
The policies and programs of the Government need to be structured based on key focus areas such as employment generation, balanced regional development of the country, promotion of exports and a mindset change from entitlement to meritocracy. The Government policy for entrepreneurship development should cover the Micro, SME, Start Ups and Social Enterprise sectors.
Entrepreneurship encourages creativity, problem solving and risk taking. It also reduces the dependence on a government for social benefits and eliminates the 'free rider' syndrome. The resultant economic empowerment also provides psychological well-being and better family relationships.
Entrepreneurship culture
It is important that we encourage an entrepreneurship culture in the country. This requires improving the skills and knowledge levels of people on how to set up and run an entrepreneurial venture. Given below are some of the recommendations on how we can create a conducive culture for entrepreneurship in Sri Lanka:
1.Introduce and encourage entrepreneurship to the secondary and tertiary education curriculum
2.Establishment of entrepreneurship clubs within schools so that it becomes an extra-curricular activity which ensure a fun learning environment
3.Promote Entrepreneurship to vocational education and training programs across the country
4.Establishment of a national centre for entrepreneurship coaching and mentoring.
5.Partnering with institutions in other countries to learn from their experience and create a knowledge hub and research linkage
6.Provide entrepreneurship training for teachers at primary and secondary schools within regular teaching studies and also as continuous professional development including international internships. Furthermore, provide opportunities for entrepreneurship training to university professors, university staff and youth workers in the country.
7.Conduct regular surveys on the outcomes of entrepreneurship education.
8.Promote entrepreneurship and self-employment to students through workshops, conferences, business competitions and media (both traditional and digital).
Entrepreneurship hubs and business incubators/accelerators (District Level)
The establishment of an entrepreneurship hub and business incubation centre in each district is mandatory to support and identify the best entrepreneurs. Existing infrastructure at a district level can be utilised for this initiative in collaboration with the corporate sector, the regional chambers of commerce, universities, etc. The following could be the key aims and objectives of these hubs:
1.Provide regular awareness and training for prospective entrepreneurs
2.Ensure local entrepreneurs get the necessary coaching and mentoring to successfully run their ventures
3.Provide skills training to entrepreneurs in areas such as financial planning, marketing, business model validation, etc.
4.Provide technical and ICT related skills to entrepreneurs
5.Prepare and select the best entrepreneurs in the district so that they can be supported further with government intervention – 'Best of the Best in the Nation'
6.Business and Psychological Counselling aspects to be regularly briefed and updated.
7.Conduct start up boot camps and get the entrepreneurs to be 'investor' ready
8.Provide the necessary infrastructure for office spaces such as co-working at concessionary rates for entrepreneurs within the hub locations
---
What's your opinion?

Readers are welcome to email views on this subject to [email protected]
---
Access to finance/funding
The access to funding and finance is a key challenge to drive entrepreneurship in the country. The existing banking and debt models are costly and prohibitive due to collateral requirements, etc. Sri Lanka definitely needs to create a national fund to support entrepreneurs. This should be a key priority for the Government and not anymore a choice.
The Government alongside donors, private sector and philanthropists can establish a venture fund which will select 20 new companies for example every year over the next 5-10 year time frame with Series 'A' & 'B' funding. These entrepreneurs will need to have a scalable product or service and will be selected via a national entrepreneurship challenge or competition from both district and national level.
Similarly to encourage social enterprises the Government can introduce for example a 10,000 X 50K support program where a Rs. 50,000 startup or seed funding grant can be given to 10,000 new entrepreneurs to either set up a social enterprise or grow their existing enterprise through the submission of their business plans to the district level entrepreneurship hubs. Exemplified below are some of the other initiatives that can be done in this area to encourage and support entrepreneurship.
1.Provide more information (which is high in quality) on acquiring financing and investments for business start-ups and make links to other entrepreneurship support programmes such as training, coaching and mentoring and business advisory services at a district level.
2.Focus on repayable instruments for venture financing and move away from grants.
3.Introduce some flexibility into the lending rules i.e. capital moratorium, structured financing plans and grace periods, etc. for interest payments to support entrepreneurs
4.The brain-gain incentives for Sri Lankans who return back from overseas to get preferred tax concessions and lower cost loans to set up an entrepreneurial venture
5.Provide special incentives for women entrepreneurs such as tax concessions, statutory fee waive offs and the Government for example bearing around 50% of the interest on loans especially for first time women entrepreneurs
Regulatory and institutional policies
It is imperative that regulatory and institutional policies are in place to drive the entrepreneurship development agenda in the country. Exemplified below are some:
1.Improve the ease of doing (and setting up) business including incentives for business registration and tax compliance
2.Scale-up efforts to promote a positive image of entrepreneurs and entrepreneurship mindset using various success stories and role models.
3.Promote entrepreneurship to youth with different information channels, digital media etc. including a nationwide campaign organised by the respective line ministries
4.Continue efforts to simplify the taxation and compliance
5.Create international level partnerships with incubators, angel investors, venture funds, innovation platforms, etc. For example Techstars, Startup weekend, etc.
It is evident that for Sri Lanka to progress in the future we need to place a strong emphasis on developing entrepreneurship. The purpose of this article was to identify some practical, time oriented initiatives that can be implemented to encourage and support entrepreneurship. It should be noted that these initiatives may not be the only options available. However, based on a multi stakeholder engagement, incorporating some of these initiatives will definitely help the overall entrepreneurship ecosystem.
(The writer is Co-Founder of Paramount Realty, TYNA Consulting and Board Director of Global Entrepreneurship Network (GEN) Sri Lanka.)