A Sri Lankan Muslim leaving polling station after voting Election Pic by Shehan Gunasekara
---
The public is watching with dismay how the main political parties and the respective leaders have commenced canvassing for votes to get back to the Parliament. In this regard I would like to draw the attention of the general public to what we have witnessed over the last several months/years with regard to their actions and in particular their behavior within Parliament during this period.

We saw in the electronic media how they behaved in the most disgraceful manner even going to the extent of spoiling the speaker's chair to prevent him from taking up his position.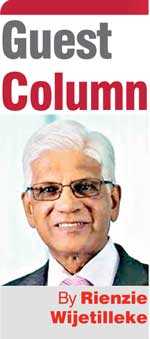 They went to the extent of throwing about computers and chairs, etc., which are public assets. Which I believe would not have been tolerated by our society under any circumstances.

Our Parliament has about 30% representation from each of the two main political parties and around 10% from the ethnic groups mainly from the north and east which leaves another 30% of voters who do not belong to either party but take their decisions just before casting their votes. Past experiences have shown that this 30% is always the decisive factor. I especially appeal to this group to take a careful view of whether we should, irrespective of parties, give our valuable votes to any of these culprits who do not deserve to be anywhere near our "August Assembly".

I mention below an experience I went through in my young days when Stanley Thillekaratne was the Speaker under the Government of late Sirimavo Bandaranaike and Dr. Colvin R. De Silva was in the Opposition.

I happened to be in Stanley T's Office one morning for a personal matter as the MP of my area (Kotte). In my presence he received a call from Dr. Colvin R. De Silva over an incident that had taken place in Parliament the previous day. As explained to me by Stanley T., Dr. Colvin R DS was pleading with him to reconsider a decision he has taken as Speaker during the previous day's proceedings on 'ruling out' an MP.

During that time I believe Dr. Colvin R. DS was a more Senior Counsel in the Bar and Stanley T. was much junior to him. Despite this scenario I vividly recall how firm Stanley T. was on the phone when he told Dr. Colvin that he will not change his decision.

Having read a headline in today's papers where the present Speaker speaks about the decline in social and cultural values, I wish to respectfully remind him, although it may be too late now, that he should have taken more stricter action during his tenure in Parliament to prevent the deterioration of such values within the "August Assembly".

Having followed Parliament proceedings from my young days, I honestly believe that more the 50% of those in the present Parliament should have been 'ruled out' for periods depending on the offences committed. I am confident that the voters in the coming elections will 'rule out' most of them from the Parliament for good.