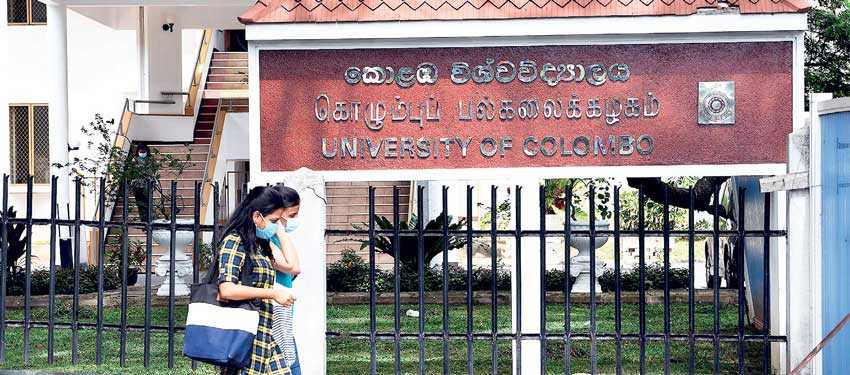 The pertinent question is how Sri Lanka, with an ailing economy could afford to expand existing universities and also to establish 10 more universities without severely compromising the quality outcomes – Pic by Shehan Gunasekara 
---
There were significant positive responses to my two-part Daily FT article on 'Educational Freedom'. In my article, I emphasised the need of qualitative improvement to the higher education sector and the need of having a strategic plan for bringing local universities into the pathway towards the exclusive list of globally recognised high-ranked universities. This is an attempt to expand my views further on the quality assurance systems which should be an integral part of university administration.


Educational crisis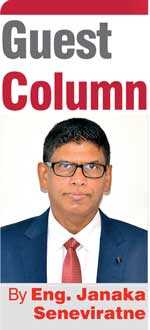 Having witnessed the recent changes to Sri Lanka's executive leadership and the elected Government which was characterised by overwhelming endorsement of the vision of executive leadership, people have renewed hope on well-overdue changes to the ailing public service sectors. Education was one such sector which needed urgent surgically precision dissection and process re-engineering.

Ostensibly, the problem has been depicted as insufficient number of placements in state universities for eligible students. However, the situation is graver and much deeper than a quantitative crisis.

Anyone who has read my previous opinion pieces on education may have realised that I observed service level degradation for a long time. I attributed its root cause to the lacklustre behaviour of professionals including academics. Recently, I got personal invitations to be a participant of two brainstorming sessions. The facts, figures and information gathered during two sessions proved beyond any doubt that my personal interpretations on educational crisis were a true reflection of ground situation.

One invitation was from the National Science Foundation, Sri Lanka to participate in its first webinar on the digital platform for harnessing expertise of Sri Lankan expatriates for national development and to discuss how professionals living in Australia could contribute to the Sri Lankan research and development initiatives. During the discussion, many Australian Sri Lankan professionals have commented on the lack of interest for two-way communication and on reluctance to seek external help by the Sri Lankan professional counterparts. 



The National Science Foundation is planning to identify multi-disciplinary expertise available with Sri Lankan expatriates and develop communication conduits to exchange ideas on national issues. I could see the hunger and enthusiasm of the Australian participants, who were desperately waiting for opportunities to help motherland for a long time. 

The second invitation was to participate in the 5th Educational Policy Dialogue specifically on higher education, organised by the Education Forum, Sri Lanka which is a brainchild of the eminent educational policy scholars Dr. Tara De Mel and Dr. Sujata Gamage. This was to discuss roadmap developed by the Presidential Educational Task Force and to find answers to the question 'Can we have both world class universities and universal higher education, same time?' It was a question about the quality over quantity. The facts presented were quite alarming. 

The current intake capacity of state universities is only 32,000 and that of private universities is 24,000, while 180,000 students fulfil the minimum eligibility criteria for university education selection. This eligibility pool will climb to 240,000 by year 2023. How about the contribution to the economy by the graduates? On average, only 45% of the state university graduates are employable while this figure is 90-95% for the private university graduates.

The high employability rate of private university graduates is understandable as it is an essential business viability requirement. The most concerning issue was the low employability rate for the graduates from state universities. It was an indication of out of sync academic programs with economic needs. The students, who are not selected for university education, usually join the national labour market through various technical and vocational study pathways.

It was revealed that only 30% of the labour force in various industries had the necessary skills and another 40% of them had only partial skills. This means that the remaining 30% had none of the required industry skills at all. Hence, staggering 70% of workers are literally delivering sub-standard outputs. No wonder, we are still a developing country. Who are collectively responsible for this dire situation?

President Gotabaya Rajapaksa has clearly identified this crisis just in time and appointed the Educational Task Force headed by the then secretary to the Ministry of Higher Education, D.M.A.R.B. Dissanayake. The introduction of a single ministry encompassing all educational sectors was a suggestion of the President and it had been endorsed by the Task Force. 

This Task Force has 26 members which include several Ministry Secretaries, the Chairman of University Grant Commission (UGC), Vice Chancellors of State Universities and Principals of leading public and private schools. Their mission is to study the primary, secondary and tertiary education systems in the country and develop a roadmap to meet economic and social needs of Sri Lanka while embracing the global technological advances in learning and teaching.
Demand and supply
It is fair to say that the public representatives, commonly called 'the politicians', react to the public demand. However, I see a difference this time around. President Rajapaksa is responding rather than reacting. This means that he wants the educational professionals to investigate, develop different options and then make informed decisions. I am happy to see, this kind of professional approach from a political figure. Anyway, he was not a career politician which was a blessing for the country. 

He not only asks for professional opinions but also practical solutions, not just theoretical solutions. The end solution is in his mind. To meet the demand, he insists establishment of more universities. The whole country demands it. How do we deliver more universities and keep quality intact? It is a job for the professionals and academics.

At present, only 18% of eligible students could enter state universities. If the government follows "do nothing" option, a well-known option practised in public sector, this percentage will drop to 13% by 2023 as the demand would be around 240,000. Hence, the Government is justifiably anxious and decisive on immediate, short- and long-term actions. 


The strategy
The government wants to expand existing state universities first by introducing modern technological faculties. Accordingly, 12,000 additional student placements would be available in state universities by 2024. In addition to the expansion of existing universities, 10 new universities will be established in 10 districts. The intention is to deliver engineering technological, information technological and bio-technological courses, in line with the economic demands of the country. This option will add 15,000 new placements.

It was revealed that the Asian Development Bank (ADB) has already expressed willingness to offer financial support in principle and even ADB has already provided funds for the feasibility studies. So, at the end of this endeavour, current university intake would be closer to 60,000. However, it must be reminded that the demand is also ever increasing and will also be around 240,000 by 2024. 

Hence, this strategy has been coupled with another plan to upgrade technical and vocational colleges as university affiliated colleges and introduce pathways for students in university colleges to enter private universities under an interest-free government sponsored loan scheme. The university affiliated colleges would be in the path of becoming fully-fledged universities during the next decade.

In this whole scenario, our calculations are based on a high number of eligible students. My personal view is that we derive this figure based on a wrong benchmark. In late seventies and early eighties, students had to sit for four GCE Advanced Level subjects. At that time, students with four 'A' grade passes were rare. Only exceptionally brilliant students could achieve that feat. Even at that time, having four 'S' grade passes (one subject even with lower-bound marks) for all subjects was the technical eligibility criteria for entry. 

After four decades, we still talk about three 'S' grade passes for subjects and a 30% above marks for a common paper as the eligibility criteria. How is this sustainable? Even students with three 'A' grade passes are so common now and some of these "exceptional" students from districts such as Colombo district are not even guaranteed placements for high demanding courses like medicine. How does no one propose that the eligible criteria or the benchmark should go up with the same devaluation trend of the 'A' grade pass? 

Here, we are fooling ourselves. No one is dared to touch this benchmark. I cannot comprehend the benefit of declaring 180,000 students are eligible for the university entrance using such a low benchmark except it serves the "feel good" factor for the country to boast about high literacy level. At least, two 'C' passes, and one 'S' pass should have been the eligibility benchmark by now. This benchmark should be revised gradually to increase bench mark every five years, advising staff. Statisticians can calculate the number of eligible students using above proposed benchmark. I doubt the number would be more than 120,000. Three general passes benchmark could still be used for the entrance to the proposed university affiliated technical colleges. 

Recently, the government has instructed UGC to increase student intake to state universities by 12,000 immediately. It is not clear to me whether this is the same figure the educational task force intends to achieve by 2023 or whether this is an additional allocation altogether. My personal understanding is that this is an additional provision, hence, immediate instructions were given to UGC to attain this target using existing infrastructure facilities and resources. 

UGC indicated that they have the immediate capability to accommodate 7,000 additional students. However, the Government wanted 5,000 more placements above the UGC offer. My question is, if UGC had the capacity to accommodate 7,000 more students, why it waited until the President directed them to do so. In a way, it is good that the President asked more by pushing UGC out of its comfort zone and by forcing UGC to be innovative. Nothing is impossible if there is a will and a comprehensive tactical plan. 

This a challenge for the academics to re-engineer current processes, introduce new technological teaching methods, reconfigure resources allocations and reduce wastage to meet this immediate target. COVID-19 has taught us this lesson. Australian universities are well ahead of this game by fully implementing remote teaching and alternative academic assessments. Australian university students are doing more learning activities online than face to face. Their academic activities, contribution to completing assignments and group activities are digitally observed and recorded online to force students to do genuine academic works. This innovative teaching and learning methods will allow additional number of enrolments for certain university courses.

Assuming I got the figures right and interpreted the message got from the discussion forum and news media right, after the whole strategy is implemented, the state universities will have 75,000 student intakes as a response to the estimated demand of 240,000 by 2024. Again, I would revise this eligibility figure to 180,000 using my revised eligibility benchmark. 

If my revised figure is a reasonable assumption, 41% of eligible students will have a chance to enter state universities by 2024. If private sector can double their intake using government tax incentives, it can accommodate 22% of eligible students. Other 37% will be left with the option of entering university affiliated colleges to follow a longer path towards university education if they wish to do so. Otherwise, they could obtain skilled labour force positions in Sri Lanka's corporate sector, after completion of university college education. If all politicians and professionals could work together, this is a dream that could be realised.


The resources plan for the strategy
The pertinent question is how Sri Lanka, with an ailing economy could afford to expand existing universities and also to establish 10 more universities without severely compromising the quality outcomes. The easiest option is to borrow money from international funding agencies such as Asian Development Bank or World Bank. However, without any form of return for the money spent, sticking with this funding option alone is a short-sighted approach. Hence, the establishment of universities cannot be an isolated development project and it must be coupled with other revenue generation options encouraging corporate sector to investment. 

I was happy to hear that the Government is planning to establish an International Education Zone in a suburban town, near and dear to my heart, being my home town, covering 700 acres, encouraging international universities to establish their overseas branches, only targeting fee paying international students in South Asia. These universities are not for the local students. If the government gets the tax and investment formula right, this will be a continuous revenue generation stream to fund the operation and maintenance of the state universities. 

When we consider the establishment of associated essential infrastructure facilities like hostels, hotels, food outlets, transport facilities, entertainment venues, sporting and physical fitness establishments by the private sector investors to serve the community of fee-paying international students, the local and regional economic activities would get a tremendous boost. 

The other obvious advantage would be the collaboration between the state universities and the foreign branch universities under on exchange of academics for teaching and joint research activities. This will enhance performance level of state universities and induce an international flavour to the academic activities. This will serve well in the quest for moving up in the global ranking ladder.

As a personal wish, I would like to see the foreign branch universities are open for fee-paying local students at a later stage if payments could be made in acceptable foreign currencies. Such enrolments could be justifiably counted towards the percentage of students gained to university education as the Government facilitated this venture.

Although, it would be a controversial proposal agitating ideological left-wing politicians, I would like to propose a small allocation of international students in state universities as fee-paying students. Having foreign students in state universities will enhance reputational index of our universities and it would serve well when international rankings of state universities are calculated. 

However, realistically we are not yet there as there will not be such a demand in short-term due to relatively very low global rankings of our universities. I request left-wing politicians to be more realistic with global open economic realities and support such moves for the benefit of public. 

We need to develop a modern, an open educational policy and get it approved in the parliament using two-third majority representation to lock it in for long term implementation. Such policies should only be changed by a similar mandate in the parliament.
(Part II of this article is on the quality assurance aspects.)
---
(Eng. Janaka Seneviratne is a Chartered Professional Engineer, a Fellow and an International Professional Engineer of both the Institution of Engineers, Sri Lanka and Australia. He holds two Masters Degrees in Local Government Engineering and in Engineering Management and at present, works for the Australian NSW Local Government Sector. His mission is to share his 32 years of local and overseas experience to inspire Sri Lankan professionals. He is contactable via [email protected].)
---