As per the 2018 annual report of the Finance Ministry, there are 230,000 entrepreneurs, which is recorded as 2.8% of the total workforce operating in Sri Lanka. If we take examples from Vietnam and Thailand the index is 19.6% and 27.5% respectively
---
Governments across the world have recognised the importance of State intervention to encourage private sector innovation towards strengthening entrepreneurships in order to capitalise on comparative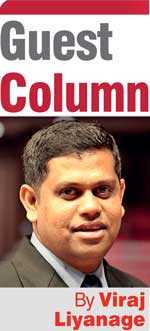 and competitive advantages. The main pillar of entrepreneurship is innovation although most of new products and unique services are seen through brands eventually.

The majority of the Sri Lankan population is still living in rural areas and that percentage is around 75%. Small industries are the primary players in these areas, and they are directly contributing to large industries who are catering to local and export markets. Therefore, it is important to encourage the entrepreneurs mostly in rural areas who could turn their innovative ideas into real business from small scale to medium or large enterprises.

As per the 2018 annual report of the Finance Ministry, there are 230,000 entrepreneurs, which is recorded as 2.8% of the total workforce operating in Sri Lanka. If we take examples from Vietnam and Thailand the index is 19.6% and 27.5% respectively. Bangladesh records 11.6% and China 7.5% as countries with high densities. This shows seriousness of the issue that needs to be addressed in Sri Lanka without any further delay.

Sri Lanka faces major challenges in the development of entrepreneurship in pragmatic sense due to lack of entrepreneurial knowledge, entrepreneurial mindset, fear to failure, poor finance handling and lack of knowledge, management skills, training and development, labour availability, raw material availability, and ability to do minor feasibility study to start business, as well as technology issues and government institutional support.

Among all these prerequisites one such essential element is the education. The entrepreneurial education is the main pillar of entrepreneurship development in Sri Lanka.

The entrepreneurship should begin with practical education with awareness through creativity and innovation at primary, secondary, tertiary and university education. The focus of the education of the country must be to create entrepreneurs rather than making employees (intrapreneurs) for organisations.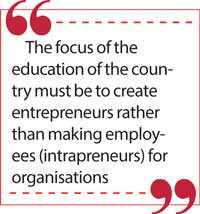 First is to change the mind-set among the rural youth that the 'sky is the limit' if one's business succeeds after exploring and working on ideas with calculated risks. In this regard entrepreneurial education plays a key role which encompasses entrepreneurial education on idea generation, preparation of business plans and utilising credit facilities etc. The education should also include the services entailed in bank portfolios which support entrepreneurs to avoid risks in their ventures.

Government should promote, facilitate and support entrepreneurship development and build capacities in schools, universities, technical and vocational training institutions for entrepreneurial education by focusing on youth and women with training and skills development on entrepreneurship.

The Ministry of Higher Education, Ministry of Education and Ministry of Skills Development and Vocation Training, Ministry of Science and Technology, Ministry of Agriculture, National Enterprise Development Authority through their agencies have a responsible role to play in this venture through implementing agencies such as National Enterprise Development Authority (NEDA), Industrial Development Board (IDB) and Small Enterprise Development (SED), Industrial Technology Institute (ITI).

We must commend the initiative taken by the Ministry of Education and Ministry of Skills Development for the introduction of vocational modules to continue in school which is an alternative to Advanced Level. However, the respective institutions have already faced difficulties when implementing this scheme. This needs to be attended as early as possible.

There are local universities conducting entrepreneurial development programs. Entrepreneurship seeks to provide students/existing entrepreneurs with the knowledge, skills and motivation to encourage entrepreneurial success in a variety of settings.

Entrepreneurship is now accepted as a core concentration or major area of study at both graduate and undergraduate levels in many local universities. The University of Sri Jayewardenepura has established a Small and Medium Enterprise Development Support Unit (SMEDSU) Under Department of Entrepreneurship to provide academic programs to develop the entrepreneurial knowledge, skills and attitudes of potential entrepreneurs. At present the SMEDSU is conducting programs such as certificate level, diploma level, advance diploma level, and the Master's degree.

Apart from this, there are foreign universities, institutions and governments of foreign countries expressing their support to develop entrepreneurial skills in Sri Lanka. Sri Lanka can learn from their existing education systems to develop entrepreneurship and previous experiences. There are organisations which give donations and consultancies to develop an entrepreneurial culture in countries and these opportunities must be grabbed.

While the education is strengthened and with successful emergence of entrepreneurs, there will be a shift towards project-based lending over collateral-based lending with more priority for R&D functions in financial institutions. Therefore, the entrepreneur education can be harmonised with SME education which would mean more innovative and creative thinking will be infused into the system for future.

Therefore, Sri Lanka needs more entrepreneurial education at various stages to make a positive contribution to the economy through SME schemes. The writer suggests measures beyond financial assistances, soft loans etc. towards education thus effectively confronting today's sustainable needs where life styles are rapidly changing.

The closest model Sri Lanka could apply would be Bangladesh while the methodologies adapted by developed countries like Japan and Germany helped these countries together with industrialisation. If one studies the Entrepreneurship index in Bangladesh, it reveals many strategies they had deployed at state and private levels to bring the country where it is today.
(The writer is a MBA Alumni of University of Sri Jayewardenepura, Assistant Manager of NSBM Green University Town and a researcher in entrepreneurship development. Please forward your feedback comments to virajhl@gmail.com.)