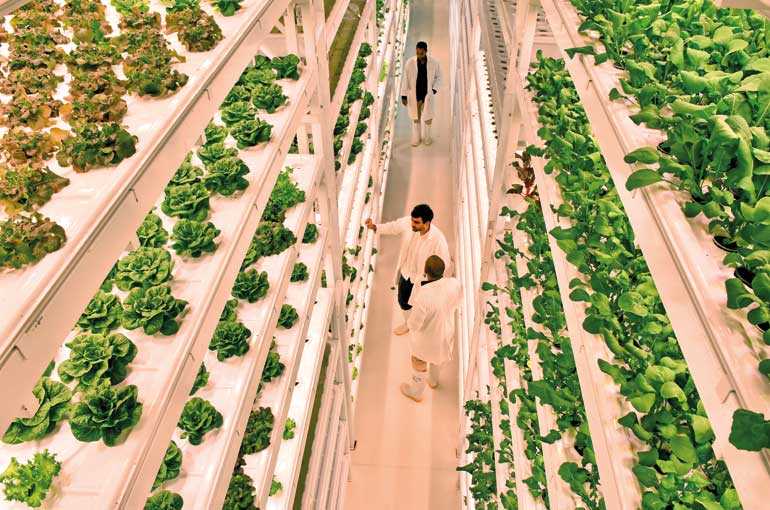 In supermarkets, the shelf space is taken up more by non-organic vegetables rather than organic vegetables, which means the demand is a lot more for non-organic vegetables. Most are not willing to pay a premium for organic vegetables, despite being aware of the health benefits of organic vegetables – Pic by Indraratne Balasuriya
---
Do we buy organic vegetables? Or are we cost conscious and buy the regular vegetables? Would we rather live in United States or United Kingdom which have higher air pollution levels, or would we live in Myanmar or Nepal where the air pollution levels are much less?
Economic development determines concern on health/environment
The answers to the above questions are obvious. In supermarkets, the shelf space is taken up more by non-organic vegetables rather than organic vegetables, which means the demand is a lot more for non-organic vegetables. Most are not willing to pay a premium for organic vegetables, despite being aware of the health benefits of organic vegetables.

Similarly, most migrate to countries such as USA or UK due to economic and financial benefits. Hardly anyone would migrate to Myanmar or Nepal where the environment is much less polluted, yet economically significantly backward.

The approach of course would be quite different if you are Bill Gates. He could afford to live in Nepal or Myanmar as he has the financial strength to ensure all the necessities are in place for him to live comfortably. Similarly, the financially richest segment of Sri Lanka could afford to buy organic food.
Cost of being environment/health friendly
The simple logic is, deep down, people's decisions are made predominantly based on economics and financial attractiveness. Once one reaches a satisfactory level economically or financially, would one focus more on the environment and be more health conscious. This is true for individuals, and it should be true for countries. In that sense, it is worthwhile understanding where Sri Lanka stands.

It should be understood that on the way to development, most developed countries have polluted the environment. The CO2 emissions of USA and UK are ample testimony of that. It is an unavoidable cost of economic development.

For example, coal based power plants would have provided low cost energy in the past despite their negative impact on environment, which is the reason why developed countries such as USA depended on such sources. Environmentally friendlier technologies would be more expensive and therefore less affordable for developing countries such as Sri Lanka. This is a fact that we need to understand to determine the way forward.

A glance at the above table clearly shows where Sri Lanka stands in the world stage. Developed countries are much worse polluters of the environment. In other words, Sri Lanka could afford to increase the per capita CO2 emissions in its quest for economic development. That's what the people need (although either they may not realise it or wouldn't admit it). In terms of economy vs. environment trade off, Sri Lanka is still very much tilted towards the environment rather than economic prosperity.
The common view is based on ignorance or hypocrisy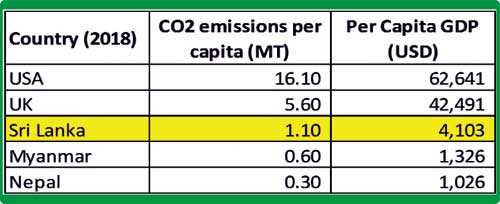 The recent incident of an environmental officer standing up to a politician was adored in social media. It was certainly heartening to see the courage of the individual. However it is not clear whether it was the fact that she was standing up to a politician or whether the fact that she was speaking for the environment that really impressed the social media community. I would tend to think that it was the former. We tend to take high ground when it doesn't involve us. Do we put ourselves into the situation and try to empathise? If the school where our children attend to, does not have a playground, would we mind if they clear up a part of a nearby forest to put up a playground? It is easy to take the high ground, when it doesn't affect us.
Noble intentions or ulterior motives
The truth is, even environmentally friendly technology is commercial in nature and is a business. The proponents of those, tend to preach about environment, although their true motives could be purely financial. Whether it's environmentally friendly energy generation, emission testing or any other segment, this could be true.

Therefore one would do well to listen from their heads rather than their hearts when one hears various slogans from various quarters. We also need to be careful not to comprehend an aspect at surface level but to dig a bit deeper to understand the issue properly.
Importance of knowing cost vs. benefit
This is in no way to undermine the importance of safeguarding the environment. Its importance goes without saying. However we need to be aware of its cost, and whether we are in a position to afford costly measures. We should also explore ways of economical and cheaper ways of protecting the environment and remaining healthy, without getting carried away by emotion or various groups with vested interests.
(The writer can be contacted on [email protected])