The unprecedented drama of the 26 October is the cumulative result of decades of mismanagement and poor governance by all political parties. Where is Sri Lanka headed? Is Sri Lanka a clicking time bomb about to explode or sitting with its back on a cliff, about to fall off the precipice? – Pic by Shehan Gunasekara
---
Sri Lanka's political scene has always been in turmoil. The sacking of the Prime Minister Ranil Wickremesinghe on the 26 October 2018 was unprecedented in Sri Lanka. This is yet another sign that the cascade of policy failures in Sri Lanka will continue to accelerate. Just when one scandal recedes from the headlines like the bond scam, another pops up unexpectedly, such as the event on 26 October.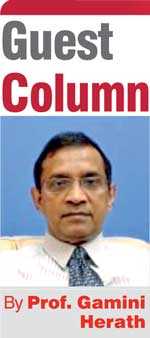 The Sirisena-Ranil Government failed to usher in an era of good governance. The rampant corruption, nepotism, shrinking civil space, lack of voice for the people, declining democracy, civil liberties, weaker political participation and political culture are comprehensive failures of the State. Democracy and development cannot be taken for granted, and radical and inclusive approaches are urgently required to ensure that democracy survives in Sri Lanka.

The unprecedented drama of the 26 October is the cumulative result of decades of mismanagement and poor governance by all political parties. Where is Sri Lanka headed? Is Sri Lanka a clicking time bomb about to explode or sitting with its back on a cliff, about to fall off the precipice?

For nearly 70 years, Sri Lanka's developmental achievements have not been outstanding compared to countries like Singapore, Malaysia, China and Thailand, which had the same level of underdevelopment in the 1950s. These countries carved out an unassailable niche for themselves while Sri Lanka still wallows in the sewer of power grabs, corrupt politics, infighting and and communalism. Sri Lanka reached the lower middle income status due to globalisation policies in the 1980s, but is now caught in the middle-income trap. We really need politicians with competence, charisma and leadership and a clear vision to push the country forward.

The highly charged repudiation of democratic principles implicit in the sacking of Ranil Wickremesinghe has generated many opinions on the future politics of Sri Lanka. The popular press is replete with doomsday predictions about the imminent collapse of democracy in Sri Lanka. The legal and non-legal implications of the sacking have ended at least for now, with the Supreme Court decision on 13 December. But the fundamental questions remain.

Many politicians demand general elections as a solution to the impasse. But an election is not a panacea for the deep-rooted ills of Sri Lankan politics. Elections will not change the political culture of the country until we get leaders with vision, charisma and critical leadership qualities. Election is a blunt instrument, and in a corrupt society, cannot simply transform the collective will of the people into effective government. As voters re-engage with politics after the brutal events of October, they will focus on issues vital to their families' future and that of the nation, such as economic and tax policies, job growth and food prices.

However, it is worrying that personality politics are grabbing the spotlight specially in the media. Politicians are cherry-picking populist issues and coveniently ignore economics and jobs. Countries with enlightened leadership such as Singapore, Malaysia, Korea and even China experienced advanced development while those with poor leaders ended up in misery and squalor. Sri Lanka is a good case in point. Corrupt politicians adopt every conceivable form of manipulation to increase election chances. Sri Lankans have nothing but contempt about the uselessness of our politicians who are overpaid and self-interested moral cowards. Sri Lanka must understand the fundamental problems that afflict the country before any transition to a new government where democracy can thrive and prosperity can be assured.

The poor quality of leaders in Sri Lanka is the major cause of failure of the democratic process. Sagacious leaders implement policy measures to support the hopes and aspirations of every citizen. Sri Lanka did not have real leaders who clearly understood the basic fundamentals of development, governance and effective policy-making. Competent politicians can handle a wide range of responsibilities.

The selection of leaders and ministers is not based on competence and we thereby create weak political systems that are ineffective on policy and therefore on the standing of governments. Meritocracy is conspicuously absent in the lexicon of our politicians. The current older generation of political leaders in Sri Lanka were nourished on a diet of division and hate, constitutional crisis, insurrections from the north and the south, racial violence and massive crossovers using ill gotten gains, and thus are ill-suited to modern-day realities. They put personal gain ahead of progress of their citizens. They should retire or be forced to retire by the voters.
Generational change is needed
The craven subordination of people to the egoistic and power-hungry political ambitions of a few senior politicians in Sri Lanka is the gravest threat to economic advancement within a democratic framework. This anachronism must be wiped out giving way to fresh ideas and perspectives through a younger generation of politicians. Sri Lanka urgently needs a generational change in politics where young leaders can defend the populations' interests better, based on respect for people, State institutions and the rule of law. The young leaders often are tech-savvy, well-educated and abhor the prevailing mindset that abuses power, undermines economic development and social inclusion. All political parties must bring young, educated candidates with greater sensitivity towards underprivileged social groups. They can easily connect with people. The future must belong to the young with a better social vision and share a common interest, and embrace the rapid changes in technology.

Barack Obama was only 47 years when elected, President Macron of France was only 40, Teresa May 62 years and Justin Trudeau of Canada is 46 years old. Obama positively impacted the US public in no small measure through his personal charisma and leadership and unique capabilities. This can be achieved only by influencing the public positively and decisively. Barack Obama managed the political challenges of a country infinitely larger than Sri Lanka cutting across the racial divide. Chinese leader Deng Xia Peng (not young but had good vision and leadership qualities) with his bold economic reforms in 1978 lifted 700 million people out of poverty. This was done under State capitalism and hence ideology was pushed aside.

Think again. Sri Lanka has a population of only 23 million. Nearly 25% of the rural schools have no toilets but some schools in Colombo and other urban centres get swimming pools, many school children get killed by wild elephants, 23% of the pristine forest and biodiversity are destroyed, starving children walk into police stations asking for food, young school children stab friends to death, 90% of the politicians own Sri Lanka's bars, school children still need uniforms from the Government because they cannot afford them. Around 84 doctors who qualified in SAITM did not have the requisite minimum advanced level qualifications and how did they wriggle through if not for an unbelievably corrupt system. In 2016, Sri Lanka's corruption index (CPI) was 95, which is a drop of 12 points for the 2015 index according to the Transparency International but this drop is not significant. The young can change this scenario.

The young can bring energy, creativity, new thinking and innovation into politics which is essential for the emerging digital age. The young use the internet and social media as their primary voice outlet and in a digitised world they are an untapped resource for economic development. Present-day leaders are far behind these new developments. About a month ago, in Parliament, Rajitha Senaratne attacked Wimal Weerawansa for not having obtained even the GCE (ordinary level) qualification and his inability to even retrieve information from his mobile phone. This is very true but it applies to many other members of Parliament.

Many senior politicians are far behind in the digital age, although they know how to watch blue films online. Internet and social media have expanded information sharing, and economic development will strongly be influenced by technology. Communications technology helps civil society monitor service delivery and public management. Even electoral processes are increasingly run using technological systems. Voting must be done electronically in Sri Lanka, which can reduce rigging and other manipulations. Even some African nations have already adopted electronic voting. Sri Lanka needs to work with other countries and digital technology is unavoidable for progress.

An increase in the level of women's representation in Parliament is another facet of this same change that is highly desirable. Women can spearhead a different style of parliamentary politics and add new dimensions to the policy agenda, specially on gender issues. Women representatives can create greater concern with grassroots politics. According to the Department of Census and Statistics, in 2012/2013, of 5.2 million households in Sri Lanka, an estimated 1.1 million households (23% of households), are female-headed. We must do everything to shore up the pipeline of women into Sri Lankan politics. Special efforts are needed for public institutions to provide support in minority rights and innovation. Our leaders must make an impression on the world's publics.

Politics in Sri Lanka must set the bar high to ensure that fundamental liberties for all regardless of politics, opinions, religion and ethnicity are preserved. Politicians must first understand that their people desire peace, prosperity and nonviolence. True leaders abhor gender and racial discrimination, environmental destruction, and other political and social pathologies that afflict the nation.
Need for capable politicians
The Parliament is a repository of knowledge where the country's best and the brightest are supposed to be voted in as legislators. Sri Lankan political leaders are quintessentially short-run populists and would like to entrench themselves for the longer term by amassing political capital using short-term policies. The short-termism leads to many poor candidates.

I like to quote actress Geetha Kumarasinghe who says in a recent paper: "Now, I would like to ask Machang Piyasena are you feeling better now? Piyasena, come and face the election you thief" (Piyasena, machang umbata dan saneepada? Piyasena machang, waren chandeta). "Now you cannot say that I have a dual citizenship. Think you can sleep well now. I removed my Switzerland citizenship and I have done my work."

This reflects appalling display of naivety. Geetha thinks that she is acting in a movie. Will senior political leaders bring cricket maestro Dishan Tillekeratne and film actress Geetha Kumarasinghe into politics.? Have we not learned from Sanath Jayasuriya (this week the ICC banned him for two years form any cricket activity), Arjuna Ranatunga (tallest christmas tree fame), Malini Fonseka, Upeksha Swarnamalee (Paba). Rukantha Gunatilleke has already been appointed as the Chief Organiser for Dambadeniya by the UNP, a very bad decision. Sure these people have talent, but not in the Parliament which is destined for more suitable aspirants.

Sri Lankan politicians are deaf and dumb and continue to do the same thing year after year each time expecting a different result. Einstein calls this "stupidity". The recent appointment of the Cabinet by Ranil Wikremesinghe (two ministers are more than 75 years old) is an appalling display of insensitivity to the needs and desires of the country and the people even in the midst of one of the most serious political crises we have faced. Will Sri Lanka ever learn?

Ranil is a millionaire, and so is Lakshman Kiriella (Rs. 400 million in the bank according to his own admission). Ravi Karunanayake is a millionaire and purchases an apartment for Rs. 165 million for his comfort. Rajitha Senaratne organises a lavish wedding for his parliamentary son, spending millions using Temple Trees as the venue. Kabir Hashim and many others like Malik Samarawickrama are more than millionnaires – perhaps billionaires.

Mahinda Rajapaksa's son declares love to his fiancé in Kenya (how many can do this?) and invites 5,000 people for the wedding. Also invited were Arjuna Aloysius of Central Bank fame and Ranil Wickremesinghe. Kumara Welgama, a Presidential aspirant, a bit of a Casanova (by his own admission), purchased an Aston Martin last week (they are not cheap). My simple question for all Sri Lankans is: "Can the above people ever understand the life and circumstances of an ordinary Sri Lankan who gets less than $1.9 per day, which is the current definition of absolute poverty? Can they ever formulate strategies to overcome such poverty?"

They cannot, because they do not understand poverty.

Poverty policy must put the individual, human rights and social justice at the centre. Many governments adopt direct support programs since the 1960s and 1970s beginning with the free rice programs of the 1960s which was ineffective. If they had worked, there should be no poverty in Sri Lanka by now. These support programs have become permanent, cemented social divisions, encouraged mediocrity in policy making and poisoned political discourse. As proper policy towards job growth falters, the clamour for direct support programs such as Samurdhi will increase.

As the joke goes, Sri Lankans do not cast the vote but vote the caste, the caste being the group of people who continue to receive direct financial support from the Government. The indirect methods of poverty alleviation through empowerment of the poor do not appeal to democratic politicians, for they not only have to understand the arguments but also must try to carry constituencies with them and renew mandates in a relatively short time. Indirect policies lack political visibility, which short-sighted politicians desire. Sri Lanka must build education systems, good schooling for all children, skills training, innovation capabilities, eliminate gender inequality, etc. towards empowering people. Many successful countries care about equality of opportunity and less about jerry-rigging the equality of outcomes.

Development needs to be conceptualised correctly because it must have the potential to offer tangible change. We need challenge-led research which broadens the disciplinary expertise. The exploitation of natural resources have created serious resource scarcity. Development is not monolithic and integrated thinking is critical, as sustainable development deals with the intersection between environment, society and economy, all of which are highly interconnected. Our politicians just do not get this.

A better understanding of the dynamic and multidimensional nature of poverty, and comprehensive tools such as the Human Development Index and the Multidimensional Poverty Index are essential. These ideas stress that poverty is caused by inequalities of their achieved rights and abilities, such as education, health, job, policy and so on. Development is not the accumulation of wealth, where the poor are regarded as labour inputs to production. But wealth is an input to improving human welfare, and our policy goal should be to provide lives of comfort and dignity to all human beings.

Prof. A.K. Sen of Harvard University, who received the Nobel Prize for Economics in 1983, argued that development is about the development of human capabilities, not the accumulation of wealth. My wife and I met him in Harvard in 2015, during which he asked me about Sri Lanka. I told him the truth. The World Bank shows that most of the wealth on this planet is generated by skills and capabilities of human beings, rather than natural resources or accumulated capital. Thus the poor are the most valuable resource in the process of development, and providing for them adequately is the key to rapid economic growth.

Experience with many development programs based on conventional ideas after many decades of development shows that we try to increase GDP to take care of poverty but we must take care of poverty as this will raise our GDP. Nearly 40% of the population are 'near poor' and welfare benefits such as Samurdhi and Gramashakthi are not effective for poverty alleviation because they are direct support programs, which are politically visible but do not empower the poor. Bhutan made unprecedented progress in poverty reduction over the last two decades. It is the fastest relative reduction to that of other countries in the South Asian region. Bhutan is one of the fastest growing economies, with an average annual growth rate of 7.5% between 2006 and 2015, halving extreme poverty.

Bhutan had 11 successive Five-Year Plans with varying initiatives targeted toward addressing poverty and raising socio-economic standards. One is the Rural Economy Advancement Program (REAP), which identified 75 villages targeted for support. With Gross National Happiness at the heart of its development philosophy, Bhutan adopted multifaceted initiatives. The 1629 legal code of the country reads: "If the Government cannot create happiness for its people, there is no purpose for the Government to exist." The legitimacy of the government is predicated on maximising the happiness of its people. Sri Lanka can learn a lot from these small nations.

But the highly conflictual, divisive and controversial political system where politicians fight with each other in Sri Lanka cannot advance the nation. We saw the bitter fight between Sarath Fonseka and Palitha Thewarapperuma, Wijedasa, Ranga Bandara, and many others. In fact, Sarath Fonseka and Palitha Thewarapperuma were the Minister and Deputy Minister of Sustainable Development. Do these two people even understand the meaning of the phrase "sustainable development"? I am sure they don't. Most ministers are overwhelmed by important issues because they do not have a faintest idea of what to do. The spectacular display of pugilistic prowess of our parliamentarians in the Parliament in November 2018, brandishing knives and pepper spray, is simply uncivilised. Given this uncertain and chaotic appointment of ministers, what can they do other than posturing and issuing press releases and trying to win elections?

In the recent clashes in Parliament 59 people were found guilty and may face Supreme Court action, which most appropriate, and some of them should be banished from Parliament. Twenty four members take cocaine, according to Ranjan Ramanayake. Drug abuse in Sri Lanka has reached epidemic proportions and is a top priority on the government's agenda. Makandure Madush, Welesuda and others are now in jail. But this could have been accomplished 10 years ago if we had decent politicians. But punishing these people is a distant dream for Sri Lankans because the long arm of the law is in a permanent sling. However, the voters can punish the politicians.

University of California, Berkeley Prof. Carlo M. Cipollo says that, "humanity's greatest existential threat is stupidity." Stupid people, Prof. Cipollo explained, are "abundant, irrational, and cause problems for others, thereby lowering society's total well being. There are no defences against stupidity and the only way a society can avoid being crushed by the burdens of its idiots is if the non-stupid work even harder to offset the losses of their stupid brethren."

Former Minister of Education Bandula Gunawardena has recently said that he will never accept the education portfolio. This is extremely good news for Sri Lanka's education and it is the best contribution that he can make to education in the country because his stupidity sadly has no end. He argues on every issue and more he argues, more he sinks. The newspapers reported yesterday that the High Court ordered him to pay Rs. 12,000,000 for not honouring an agreement. Again he had a stupid answer to the judge – he said that he did not know that he was signing a mortgage document. Can this man ever be a minister in Sri Lanka? Remember, he was a tuition master in economics. The other parties like the SLFP, SLPP must be rubbing their hands in glee hoping for a political comeback. Will that change things? No, because they are even worse and many of them have been charged for criminal offences. Sagacious political leaders must nominate decent educated candidates to the Parliament to shore up its sagging image.