It is a daily experience to see many places in India displaying gigantic images of Trump and Modi stating the true friends of democracies. What you can see is that triumphs of ruling parties are on the façade while fire underneath is deteriorating the social order in the system
---
The infamous phrase, 'Nero fiddled while Rome burned', is pertinent to understand the political leaderships in all times, though Nero, according to historians, has not played the fiddle while Rome was burning as fiddle did not exist at the time. The fiddle was invented in the early 11th century and it came

as one of the common musical instruments in the early 16th century, rational accounts of historians asserted. The story for this phrase on Nero is almost certainly a myth.

It says Nero is quite unpopular among elites in Rome. They have been engineered innuendos against him to culminate the delusory picture among the public. Moreover, Roman historians lived during Nero's era were opposing him due to various reasons; therefore, they have manifested the phrase to undermine his leadership and public image.

However, the phrase is playing an essential and elegant role in everyday political discourse. What are the implications of what the world witnessed a few days ago when Delhi was turned into a nightmare due to communal violence while Prime Minister Narendra Modi was enjoying his true friendship with Trump? Isn't it fair to say both leaders fiddled while Delhi was burning? Mahatma Gandhi's fundamental question is whether hatred essential for nationalism, is echoing in daily life in India today.

Hundred thousands of people were waving and perfuming traditional dances at President Trump, who landed the largest democracy in the world to impress his "true friendship" with Prime Minister Narendra Modi while thousands of protestors gathered in New Delhi to protest against Citizenship (Amendment) Act.

It was Trump's first time in India. Dozens of people including a policeman have been killed and many more wounded on the day Trump was mesmerised by the crowd at the Motera Stadium in Ahmadabad, India. In one instance, an intelligence officer was beaten to death, and pieces of his dead body floated near the drain. Once the land of non-violence which gave birth to the fathers of non-violence, Gautama Buddha and Mahatma Gandhi, is now turned into a land of inevitable violence and hatred.

Home Minister Amit Shah, the man who is on headlines in Indian media for controversies finds his comfortable seat at Motera Stadium, while another corner of the country is burning due to the violent outrage. Delhi is suffering the worse communal violence since the early '80s.

Meanwhile, politically bankrupted, the Congress trying hard to revive, urged the President to demand the immediate resignation of Amit Shah for his remissness of duty to maintain social order in the republic. However, Amit Shah, Modi's confidante will hardly be accountable or take responsibility for the carnage.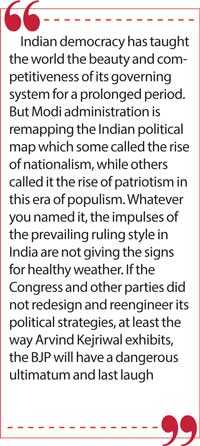 Interestingly; the judge who criticised the way the Delhi police handled the outrage received the transferring order from the union law and justice ministry. Though, the transfer is part of the rotating system in the Indian judiciary, the nature of Justice S. Muralidhar's transfer conducted came under severe criticism. Some of the key level bar members did not hesitate to identify this order as an act of mala fide and punitive to whitewash BJP leaders allegedly cultivated racial remarks to instigate violence.

"We should never allow another 1984...especially under the watch of the court and under your (Delhi Police) watch… We have to be very, very alert," the bench of Justice Murlidhar and Anup Bhambhani observed during a midnight hearing on a night at his residence. However, Justice Murlidhar will be leaving behind communal flames in Delhi as a newly appointed judge of the Punjab and Haryana high court.

What an irony of democracy; on the one hand, hundred thousands of people are cheering for the achievements of Modi administration and his "true friendship" with the man on the top in so-called Super Power. On the other hand, thousands of unarmed innocents are struggling to find justice for violating their very rights guaranteed and ensured by the constitution of the republic. The government decided to close several parts of Delhi by imposing section 144 in the Indian Penal Code to prevent further escalation of violence. However, political and social uncertainty due to the Citizenship (Amendment) Act is continued. Consequently, the social order in Delhi is limping to be normal.

It is a daily experience to see many places in India displaying gigantic images of Trump and Modi stating the true friends of democracies. What you can see is that triumphs of ruling parties are on the façade while fire underneath is deteriorating the social order in the system.

In a democracy, as long as the opposition parties are playing the vacuous role, the ruling elements will get stronger while evaporating the opportunity to have accountability and transparency. The beauty of democracy is always lying on the balance of power in the legislature. If it loses the balance, then we will have nothing but a distorted version of democracy.

Indian democracy has taught the world the beauty and competitiveness of its governing system for a prolonged period. But Modi administration is remapping the Indian political map which some called the rise of nationalism, while others called it the rise of patriotism in this era of populism. Whatever you named it, the impulses of the prevailing ruling style in India are not giving the signs for healthy weather. If the Congress and other parties did not redesign and reengineer its political strategies, at least the way Arvind Kejriwal exhibits, the BJP will have a dangerous ultimatum and last laugh.

Democracy in India is suffering from malnutrition, not because of Modi's way of administration but the internal disunity within and among the opposition parties, and their incapability to understand the true sentiments of the general public. What Modi did is address the emotions of the general public to romanticise them then he would ensure legitimacy.

What is the most important political lesson to be learnt from Indian Prime Minister Narendra Modi? He knew where to nail, how to nail, and when to nail. Modi, the man, who 'remains the only person ever to be banned to travel to the United States of America under the International Religious Freedom Act (IRFA) provision of US Immigration and Nationality Act (INA)' due to his alleged involvements in crimes against humanity over the shameful events during the retaliation in Gujarat known as Gujarat riot, is now recognised as a true friend of USA.

Life of Modi is one of the wonders in India. Decades ago, a boy walked barefoot hundred miles from his village and worked as a tea boy (chaiwala) while helping his father to make tea at Vadnagar railway station in Gujarat, sensing nothing but grim of poverty. Like many others, this boy was humiliated and sidelined many times in a society where the caste and wealth are the decisive factors of designing and deciding the fate of a person. But he took every opportunity to overcome all challenges that crossed his way and climbed as the strongest leader of the largest democracy of the world.

Prime Minister Modi is re-shaping not only Indian politics but the South-Asian sub-continent for good or bad. He is reviving the ideology that pursued him to gain power. He is the man on the street. Hence, he knows the taste on the street better than anyone in Indian politics today. He has proved his political capacity just a few days ago. Thick hug and romantic body languages tell the world they were looking for years to meet each other and finally, they have got an opportunity to cross the planet together.

Trump organised 'Howdy Modi' and Modi organised 'Namaste Trump'. Both events have nothing to do with diplomacy but the notable events in rise of populism. If Trump wins his second bid to the White House this true friendship will deliver more to reshape the political map in South Asia. But, in that project, it is unclear where the basic human rights including individual liberty and equal rights for all guaranteed by the constitutions of each sovereign nation in the region are going to be placed and respected. Agony and nightmare during communal violence in Delhi could be an early warning of future danger.

Is India, the largest democracy in the world reaping the harvest of short-sighted nationality as nationalism? As late B.R. Ambedkar, the architect of the Indian constitution noted, "There is difference between nationality and nationalism. They are two different psychological states of the human mind… Nationality does not in all cases produce nationalism." Have the ruling elements in Delhi misunderstood the nationalism, which Ambedkhar distinguished? Is India passing Modi's Nero moment? Events prevailing day-to-day life in India are giving taste to experience and understand the ground reality and the future of the largest democracy on the planet.



(The views expressed in this article are the writer's own and do not reflect the official policy or position of any other organisation or employer he is affiliated to.)