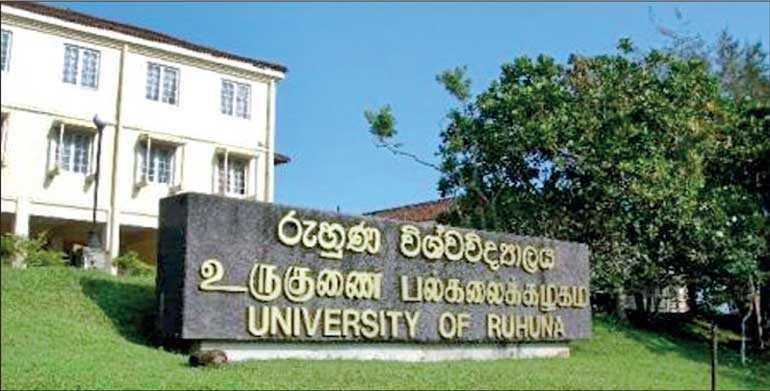 UOR is supporting the GOSL to control C19 wholeheartedly and limit the spread of C19 to the community. Decisions are taken with careful consideration into all aspects of the problem including the limitations of the health system capacity
---
By Prof. Sujeewa Amarasena

We understand that there is a misinformation campaign against the University of Ruhuna (UOR) and its administration via social media during the last few days. This statement is issued in response to the contents of the emails, Facebook and other social media posts as a socially responsible university.

The University of Ruhuna has 10 faculties which were functioning in different capacities prior to the Sinhala and Tamil New Year. Two faculties namely Medicine and Allied Health Sciences were functioning at nearly full capacities. All the other faculties were functioning at 50% capacity or less prior to the New Year. There was a plan to expand the capacity of functioning for in-house teaching learning activities soon after the New Year.

UOR informed all the student through their LMS to be in a self-imposed travel restriction plan for the New Year, adhering to health guidelines issued by the Ministry of Health and to be within a bio bubble. With that arrangement, some additional batches were taken in for in house teaching on 17/18 April after the New Year.

Faculty of Medicine (FOM), Faculty of Fisheries and Marine Sciences and Technology (FMST) and Faculty of Allied Health Sciences (FAHS) became 100%, Faculty of Engineering (FOE), Faculty of Agriculture (FOA), Faculty of Technology (FOT) and Faculty of Science (FOS) planned and brought in 50% of student populations on 19 April.

The Faculty of Management and Finance (FMF) and Faculty of Humanities and Social Sciences (HSS) conducted the examinations physically for all the batches over one-month period in a staggered manner prior to the NY and was having academic holidays. The FMF brought in 25% of students on 19 April and HSS was planning to bring in the students on 27 April.
New wave and actions taken
The VC became aware about the potential new wave on 19 April 2021 and by this time the students who were asked to stay at home for two weeks through LMS prior to the New Year had arrived. We do believe that the large majority of students stayed with university directed, self-imposed travel restrictions to commence their university education despite COVID-19.

It must be obvious to all people of this country that we cannot turn them back immediately and send them home with the new development without assessing the risk of COVID-19 spreading into community from this cohort of undergraduates (a University of

Ruhuna Cluster).

Soon after the news the UOR swung into action and took necessary measures to minimise the impact of the new wave immediately. The learning was converted to online mode and limited in house TL activities were conducted while adhering to health guidelines. No more new batches were admitted taken in as planned. The potential risks were identified by competent staff and precautions were taken.

Total screening or random PCR/RAT tests were done in different faculties after seven days of arrival while the same was done in students with any symptom related to COVID-19 at any time.

On 26 April two students with COVID-19 were identified among 550 students who arrived in FOE, and sent to hospital, while 45 potential contacts were quarantined inside the UOR FOE hostels while others were isolated inside hostels with severe travel restrictions to date. The PCR tests of the cohort of contacts remain negative to date.

The FOM, running at 100% capacity, also had one out of 1,120 with positive PCR. The student was sent to the hospital, 40 contacts were quarantined while other are in the FOM isolated with travel restrictions. This student has refused the vaccine, something that was organised by the UGC and UOR with enormous difficulties when there was a shortage of vaccines. Hence the student remains unsafe for rest of the student community. However, 660 other students have been vaccinated in the FOM. All quarantined students had their first PCR and all are negative.

The FAHS is functioning at 100% capacity and one student is quarantined for high risk exposure inside the hospital due to student's refusal to accept the vaccine despite the offer. The FOT has one non-academic staff member contracting COVID-19 from own home in Colombo District and 40 staff contacts are quarantined inside the Faculty.

One student in FOA became positive on 1 May after getting exposed to the community from home. The contacts were traced and quarantined. There are six students in FMF, eight FOS affected with COVID-19 and no students in FMST and HSS are affected with COVID-19. One temporary staff member in HSS has contracted the disease from home and her contacts are being quarantined.

Therefore, the students who arrived on 19 April were not sent back home after the third wave erupted for scientific reasons. They may have become infected before, during or after arrival in UOR. Sending them back to the community will result in a grave danger of C 19 spreading in the community in large numbers.
Preventing community spread
PCR and RAT do not exclude the disease and doing these tests are not helpful to make decisions at times. Sending them back would have therefore needed quarantine at home for more than 3,000 students and their families and this number is beyond the supervisory capacity of PHIs in this country.

Without the supervision of PHIs and security forces, the people's behaviour is not good as seen in the past few weeks. Therefore, the UOR sought advice of the health authorities and decided to quarantine or isolate them with the help, advice and support of the MOH and other health authorities without letting the disease spread in the community or homes of students with elderly parents.

We believe this approach will be helpful to create a bio bubble of university students and staff to start TL activities early to produce graduates for post-COVID-19 development drive. UOR is proud to have conducted two Final MBBS examinations from March 2020 up to now and seen 350 doctors graduate and over 100 AHS graduates for the health system apart from other graduates.

UOR also conducted the convocation 2020 physically on 26 March for 2,174 graduates with no cases originating from a crowd of 6,000 students, parents and staff in four sessions. UOR was very strict in adherence to health guidelines and sought the help of MOH, Police and security forces in doing so. The effectiveness of wearing a mask, washing hands, maintaining a social distance in preventing C 19 spread is well demonstrated by this.
UOR in line with GOSL's COVID-19 fight
UOR is supporting the GOSL to control C19 wholeheartedly and we will limit the spread of C19 to the community. The decisions are taken with careful consideration into all aspects of the problem including the limitations of the health system capacity. UOR never had a single case of C19 originating from its premises including FOM and FAHS.

The infected students always came from outside and all the occasions we were able to prevent the spread within the UOR among students and staff and into the community. None of these cases ever resulted in a cluster subsequently. This task has been difficult and tough but it is a challenge all faculties in the UOR are capable of handling according to the guidelines, circulars issued by the GOSL.

UGC has given the final authority to implement these guidelines based on the local situation to VCs or heads of higher education institutions. This is logical as the ground situation is the familial territory of the local university rather than UGC.
Measures to tackle COVID-19
Currently, UOR has a quarantine centre for high risk exposures, intermediate care centre to isolate students with fever before testing with RAT or PCR and isolated hostels where the students are not free to move around at will except under supervision. A large majority of students understand the need for such restrictions after education several times by medical teams, psychologists and student counsellors.

Student canteens have been a perennial problem in the entire university system. The quality of the food had been not good for decades even before the C19 due to the subsidised food packs. The limited number of canteen suppliers even before the C19 outbreak and the increased prices of raw materials has made the issue worse.

The entire country must understand that a packet of rice cannot be given at a rate for Rs. 40-50 in the current economic context of the country without compromising the quality. The student unions capitalise on this but the same organisations maintain this system without allowing administrators to change it.

UOR has gone out of the way to maintain the supply chain for isolated or quarantined students and this article does not provide me the required large space to write the steps undertaken by both academic and non-academic staff in detail and it would be unfair for me to write a few sentences on this.

As VC I am very proud of my staff and majority of students who understand, comply and support the entire process to protect our students, staff and the country from COVID-19. This include a large majority of sub wardens, security, janitorial services, medical and health staff, DVC, deans, academic, executive and non-academic staff who even risk their own health to comply with the needs of the crisis situation. I salute all of them.

This situation is likely to change at the end of this week where we could decide to send the students home or commence limited academic activities under a bio bubble by 10 May. These decisions will be made with the concurrence of the MOH, local health authorities and COVID-19 tech committees in the UOR and individual faculties.
Undesirable incidents
There was one student who ran away from a hostel to go home and came back in a week after getting a PCR without even informing the sub warden. There was a security lapse and subsequently her PCR report was found to be positive. These are the situations we have to face in life with young, intelligent but irresponsible people. We had to quarantine few students due to the behaviour of this one student. One could imagine incidents happening in the country with 3,000 quarantined families without PHIs being able to monitor.

Many of our administrative staff have received over 100 threatening, abusive and filthy telephone calls, and false reporting of ground situation to political authorities, UGC, MOHE, Police, Army and COVID-19 Management Centre despite the awareness that such calls and spreading false information is illegal and punishable under the new laws applicable to COVID-19. We have not taken any action regarding these calls as these are made under the misunderstanding of the situation and emotional reactions.

However, we do not think the same about the systematic campaign by the IUSF, self-appointed President of the Maha Shishya Sangamaya, political elements who tarnish the image of the university and their followers. The UOR has taken a decision to report these to Police for legal action unless this campaign stops immediately, as we believe overburdening the Police and security forces with these issues is not the right step during a serious crisis the country is facing at the moment.

We thank the MOH, local health authorities, police, security forces, UGC, MOHE and political authorities for understanding this situation and giving credit for the UOR for doing what it did.

I request the people of this country not to get misled by social media posts and adverse publicity against UOR by a group of defeated student union leaders with a political background supported by some elements of disgruntled group of individuals.

As UOR we take responsibility for lives of students and staff as a primary duty and request parents of students to be vigilant and to follow information from reliable sources.

Our challenge and priority is to defeat C19 by out-thinking the virus with a smart and scientific decision-making process, unlike these social media blown up and swollen-headed forces. UOR understands this very well.
(The writer is Vice Chancellor of the University of Ruhuna.)