---
Historical background of co-operatives
---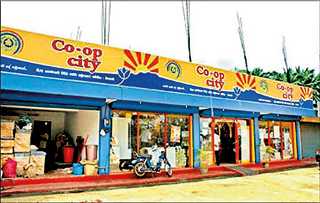 Most of the Government food rations and services were distributed through Co-operatives and to become a Manager in a local Co-operative was a luxurious position at that time while corruption in the Co-operatives was also widely publicised
---
A co-operative is a member-based people's business model that originated in UK in the 19th century. In fact, there are examples of similar models operating in some other places. During the industrial revolution, workers were exhausted and paid marginal but they had to purchase goods at the same rate as their masters. Driven by the inequality 'Rochdale Pioneers' established Rochdale Society of Equitable Pioneers. Founded in 1844, it was an early consumer Co-operative, and one of the first to pay a patronage dividend, forming the basis for the modern Co-operative movement.

In the meantime, Friedrich Wilhelm Raiffeisen who was a German mayor, pioneered the credit union systems, and Co-operative banks have been named after Raiffeisen, who pioneered rural credit unions.

British colonials introduced the Co-operative business model to Sri Lanka in 1906 as Thrift and Credit Co-operative societies to tackle rural poverty. Because, at that time the poverty in Sri Lanka was so high, the British feared a local uprising. First Credit Co-operatives societies were established in Dumbura and Waligampattuwa. The first Co-operative law was enacted in 1911 and later they established the Co-operative Development Department led by Co-operative Development Commissioner and Registrar of Co-operative Societies.


Co-operative shops societies became prominent during the Second World War to distribute food rations among people of Sri Lanka. Currently Sri Lanka consists of Multipurpose Co-operative Societies, Thrift and Credit Co-operative Societies (SANASA), Co-operative Rural Banks and various other types of service and Agricultural Co-operatives numbers close to 10,000. One important decision that affected Co-operative was, by 13th amendment to constitution devolving Co-operative subject into provincial level. Therefore, regulation of Co-operatives currently devolved into provinces that caused a lot of disarrays.


Rise of the Co-operatives in Sri Lanka

Co-operatives became an important Government service delivery under Prime Minister Sirimavo Bandaranaike's Government in 1970-77. Most of the Government food rations and services were distributed through Co-operatives and to become a Manager in a local Co-operative was a luxurious position at that time while corruption in the Co-operatives was also widely publicised. However, subsequently President J.R. Jayawardena's Government policy on open market economy hardly hit on Co-operatives and lost the prominent position given to Co-operatives by the Government.

Co-operative leaders like Vincent Subasinghe from Sadalankawa greatly influenced on reviving the Co-operative movement. People's Bank also originated from Co-operative movement and Subasinghe became first Chairman. A number of Thrift and Credit Co-operatives expanded from 923 to 8,423 from 1978 to 2010 under the leadership of Dr. P.A. Kiriwandeniya since 1978. President R. Premadasa's 'Million Housing Program' in 1986 helped to form new Thrift and Credit Co-ops where loans to build new houses distributed through co-ops. However, same backfires with the President's own words on cancelling recovery of loans affected the repayments, led to collapse of some of the Thrift and Credit Co-ops. Dr. Kiriwandeniya led to form SANASA Development Bank in 1997, which is fully funded by Co-operative members in Sri Lanka. Unfortunately, Government policy on listing Banks in Colombo Stock Exchange diluted the Co-ops ownership of same bank less than 30% by now.


Importance of Co-operatives

Co-operatives and its services discussed heavily when disasters has stricken the country every time. It was obvious how Co-ops supported its members and public at large during WWII and thereafter distribution of goods and services to members and public when floods and currently the COVID-19 pandemic.

People tend to think Co-ops are Government institutions. Nevertheless, they are not. They are members, generally publicly-owned. Anyone aged above 18 can become a member of the local Co-op society whether it is a financial Co-op or Multipurpose Co-op Society (MPCS). Regardless of the number of shares you owned, you have one vote at the general body. This will keep Co-op decision making unbiased on the capital you owned contrary to companies. This will give an opportunity of its members for equal rights to take part in the decision making process. Therefore, Co-ops are important vehicles for transforming monopolistic businesses to people-owned businesses, its services more towards the benefit of the wider community. To do that, the regulator should provide strong monitoring and advocacy. Unfortunately, the role of the Department of Co-operative Development is lacking in the sense that we heard a lot of corruptions and collapse of financial co-operatives. That is not an issue of Co-ops business model but it is an issue of monitoring regulating process.


Global presence

Mostly people are unaware of Co-ops' outreach. Currently Co-ops members worldwide amount to 2.3 billion approximately close to one-third of global population. 12.6 million employees work in 770,000 co-operative offices and outlets worldwide. $ 20 trillion in Co-operative Assets generate $ 3 trillion in annual revenue (Source: United Nations). Combined the global Co-operative economy is larger than France's economy and places right behind Germany's economy as the fifth largest economic unit if it were a united country. However, Co-operatives are generally locally owned and operated enterprises. At a national level, the Co-operative economy comprises over 10% of the Gross Domestic Product in four countries in the world (New Zealand (20%), Netherlands (18%), France (18%) and Finland (14%).


Current situation in Sri Lanka and way forward

It is unfortunate that such an important business model has been given less attention by Sri Lankan policy makers and think tanks. Most of the developed countries' Co-operative enterprises play a major role in the countries' GDP, employment and overall wellbeing of the economy. Asian giants like China, India, Japan and Korea are also the same. One plus factor of current Government is to allocate a state minister (Lasantha Alagiyawanna) to the subject. In fact, there is a lot to be done and I hope the minister and officials realise the importance of the Co-operatives in the local economy.
---
(The writer is a professional in the Microfinance and Development Sector who served as CEO/Director level in the Co-operative Enterprises. He can be reached via [email protected].)
---