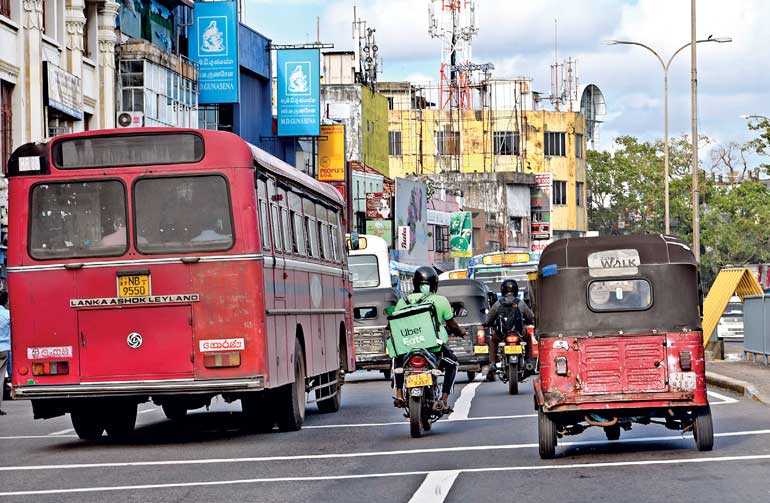 Although buses and trains provide cheapest transport, narrow roads congested with three-wheelers and motorcycles make traffic slow and dangerous – Pic by Shehan Gunasekara
---
President Gotabaya Rajapaksa has directed the Ministry of Transport to terminate the agreement signed in March 2019 with Japan International Cooperation Agency (JICA) for the Light Railway Transit (LRT) project with immediate effect.
Secretary to the President Dr. P.B. Jayasundera has said: "The project is very costly and not the appropriate cost effective transport solution for the urban Colombo transportation infrastructure. A suitable transport solution could be worked out in consultation with the Ministry of Urban Development and Housing and the Department of National Planning of the Ministry of Finance."
Following the Government decision, Japan has informed of its inability to continue with the promised 220 KW underground power cable project connecting Kerawalapitiya to Colombo Port.
Need for additional transport mode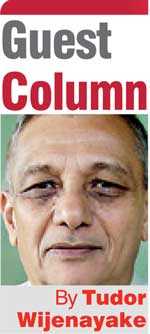 During the British rule, Government and private sector offices were located in Colombo Fort and Pettah the commercial area. British commenced on a north-south Colombo by-pass road project from Moratuwa to Kelaniya. But after independence the progress slacked and presently halted (more later).
With Colombo getting congested, J.R. Jayewardene shifted the Parliament to Battaramulla and Government offices followed. The region separated by large marshes was poorly populated and land prices low. With opening of roads, area became popular and a large populace moved over. Today, with Government staff having to reach their offices and the private sector traveling to Colombo, Battaramulla-Colombo road is congested both-ways, needing nearly two hours during rush hours to travel 15 km.
Finding a solution
To find a solution to Colombo's transport problem, the Mahinda Rajapaksa Government in 2012 requested assistance from Japan and the Colombo Metropolitan Transport Master Plan was presented on 20 November 2014, prepared under JICA Technical Cooperation.
Urban Transport Master Plan
The master plan prepared by Oriental Consultants Co Ltd under JICA is available at https://openjicareport.jica.go.jp/pdf/12176665.pdf; the plan proposes developments up to 2035.
The report highlights the critical nature of current road system in and around Colombo and warns of possible transport deadlock, if no timely action be taken. As a solution to the envisaged traffic problems the report proposes development of roads, mono-rail systems and railways, among them are:
1. A 4 lane Port Access Road, elevated over port premises 5 km long, also a two-lane connection to Fort Station 0.8 km.
2. A mono-rail system (an elevated railway) from Malambe-Fort 15.7 km.
3. Mono-rail system Borella to Homagama 23.1 km over the High Level Road.
4. Middle Ring Road (30.2 km) a six lane road for BRT (Bus Rapid Transport) corridor connecting Wattala, Kelaniya, Battaramulla, Maharagama, Ratmalana.
5. Base-line road extension from Kirilapone to Ratmalana as a six-lane road (6.2 km) to allow BRT.
6. Extension of Marine Drive from Dehiwala to Ratmalana East as a two-lane elevated road over the railway.
The projects list continues for 25 projects.
Port Access Road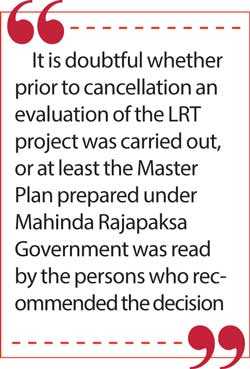 The construction of the 5.3 km long elevated Port Access Road from Kelani Bridge to Galle-Face commenced in September 2019 with JICA financing the New Kelani Bridge costing $ 342.73 million. Asian Development Bank is supporting the road section with $ 300 million. The completion of Port Access Road in three years will reduce the travel time from Galle-Face to Peliyagoda to a mere four minutes.
Light Rail Transit Project
The LRT project proposes an elevated railway from Colombo Fort to Malabe via Battaramulla, 15.7 km long with 16 stations reducing travel time to approximately 30 minutes.
Having received Master Plan in November 2014, LRT project dragged on, due to:
1. In July 2016, the GOSL requested financing from JICA for the implementation of the Light Rail Project.
2. Megapolis Transport Master Plan of 2017. According to report, Bus Rapid Transport system was not sustainable to meet the demands of next 20 years.
3. In 2017, in another feasibility study for the Malambe corridor, JICA found that the Economic Internal Rate of Return (EIRR) was more than 20%, even though the Financial Internal Rate of Return (FIRR) is not.
4. In April 2018 the Environmental Impact Assessment report for the Colombo Light Rail Transit (LRT) Project was published.
5. Basic work for land acquisition commenced in July 2018.
6. The loan agreement was signed in March 2019 between JICA and Sri Lanka for a JPY 200 billion ($ 1.83 billion or Rs. 347 billion) to build the system. The cost would reach $ 2 billion with land acquisition costs.
The loan provided under the Special Terms for Economic Partnership, carry interest rates of 0.1% per annum for civil works and equipment cost, 0.01% p.a. for engineering services cost, with a 40-year repayment period.
7. The project was launched on 3 July 2019 in the presence with PM Ranil Wickremesinghe, Minister of Megapolis Patali Champika Ranawaka and Ambassador of Japan Akira Sugiyama attending the ceremony.
However, the current estimates have disclosed that the project cost could be substantially lower than the initial estimate.
The most expensive project
When the President ordered the project cancellation, his Secretary claimed the project would be very costly and not the appropriate cost effective transport. After the approval the Cabinet Spokesman informed: "An evaluation of the LRT in its current format has found that it is very expensive, in fact it is more expensive than any other investment project signed by Sri Lanka. Therefore we have to ensure that it brings the best returns. A large number of buildings will have to be destroyed, including many houses and businesses, which is not practical."
The project cost includes land acquisition, design, construction, supply of electricity, train costs, a train parking area and a workshop for maintenance, not included in any other project. But the land requirement is only one road lane and is minimal.
It is doubtful whether prior to cancellation an evaluation of the LRT project was carried out, or at least the Master Plan prepared under Mahinda Rajapaksa Government was read by the persons who recommended the decision.
Are the loan payments beyond the country?
According to the Report in Colombo Metropolitan Area, 6.9 million vehicle trips are made each day and estimated to grow to 12.2 million trips in 2035, over 75% increase. In addition, roads lack pedestrian space and vehicle parking causes serious issues.
The LRT project costs $ 1.830 million, would require an annual payment of $ 1,830/28 = $ 65.3 million per year. Will such payment after the 12-year grace period, be beyond the country's means, especially after the developments expected?
The completion of Port City would provide employment to 92,000 persons. If one-third uses Malambe road, half (15,000) would use the LRT due short travel time (Malabe to Fort in 30 minutes).
At peak times morning and evening, trains are planned to run every two to three minutes (each way), with each four-carriage train carrying over 250. During the two-hour peak period the trains are capable of carrying over 10,000 persons one way.
Most travellers today are vehicle owners and if they travel by train to save time and avoid parking problems, their next vehicle purchase will get extended by few years. Thus vehicle purchases would come down saving the country beyond $ 65 million a year spent on car imports. The savings on fuel and environment would be a bonus to the country.
Immediate alternate solutions
Currently, Police are struggling to improve traffic movement supporting the Bus Priority Lane. But a proper system needs a three-lane dual carriageway road, unfortunately Colombo does not have even 20 km of such roads. Most major roads are four-lane and when a lane is reserved to buses, cars, three-wheelers and motor cycles become confined to the other lane, leading to heavy traffic jams.
Megapolis Transport Master Plan report of 2017 concluded that a Bus Rapid Transport system is not sustainable to meet the demands of next 20 years.
The Master Plan proposes six-lane roads for BRT (Bus Rapid Transport), but the Kirulapone to Ratmalana section and the corridor connecting Wattala, Kelaniya, Battaramulla, Maharagama, Ratmalana need to be built.
Failure to develop of roads
The vehicle travel is hindered by inadequate development of roads after independence, due to lack of fore-sight among RDA engineers, poor funding and unnecessary interference by the politicians. Resulting traffic congestion leading to engine wear and tear, increased fuel consumption, pollution and time wastage, at a heavy cost to the country.
When the construction of Southern Expressway commenced from Kurundugahahethekma to Matara, a group of ADB officials visited the construction on their annual inspection. They were shocked to note that the expressway was designed as a two-lane road. The team immediately intervened and the highway was improved to a four-lane dual carriageway. But with increased costs the contract had to be limited to Galle. RDA engineers who planned the road were under the impression that the motorists would be reluctant to use the highway paying a fee, when a toll-free alternate is available.
Baseline Road construction
Prior to award of independence, British planned a Colombo by-pass from Moratuwa to Kelaniya. The proposed route was earmarked and the right of way identified for the entire road. The British commenced work at Moratuwa (present Galle Road) and awarded the contract for the Kelani bridge completed in the early 1950s. After independence, poor allocation of funds delayed road widening to reach Ratmalana to over a decade.
In the late 1980s when the country was gripped with JVP insurgency, the Dehiwala-Mt. Lavinia Municipal Council claimed that the extension of Galle Road over their Municipal area towards Kelani bridge would never materialise and passed a resolution cancelling the right of way reservation and allowed property owners to build.
The action shocked RDA engineers to commence Baseline Road construction from Kelani Bridge to Kirulapone. The construction work was only possible with funding from JAIC aid package for the flyover over railway lines and completed in 2002.
Baseline Road extension
With the loss of reservation, RDA proposed a number of alternative routes from the early 1990s. Each proposal was opposed by residents en-route challenging in courts as well as under environmental issues.
Finally, RDA came up with a route suggestion, a straight line from Kirulapone Junction to Belekkade Junction (at Ratmalana). This route circumvented Bellanvila Temple, Maliban Factory and Air Force Buildings, but others en-route need to make way and years later RDA managed to get the environmental clearance.
But nearly six weeks prior to the 2010 Presidential Elections, representatives from affected persons met the President, requesting a route change. Few weeks before elections, RDA in a press notice informed the public that the proposed road construction commencing from Pamankada-Kohuwala Road (120 bus route) to Ratmalana had been discontinued and the moratorium against building had been lifted.
Expressway connectivity projects
Under above with ADB funding, improvement of Kottawa exit-Kirulapone road and Kahatuduwa-Pamankada road as two-lane, dual carriageway roads commenced. But the former failed to achieve expected standards as some road-side residents with political connections refused to release their lands. Today the cycle-lane is deleted and centre median is only in some sections. Kahatuduwa-Pamankada road improvement ended at Pepiliyana junction although the acquisitions were marked and valued. The most important sector traffic wise Pepiliyana-Pamankada is yet to be widened.
But after over 50 years, the narrow road section from Pamankada bridge to Havelock Road has commenced construction few weeks ago, possibly due to the President taking the route occasionally.
Improving public transport
Currently, buses and trains are packed and railway is used almost exclusively by Government staff, with their season-tickets paying only a pittance, making the railway run at a loss.
Inducing vehicle owners to use public transport would require air-conditioning and comfortable seats and they would pay a reasonable charge. If two A/C compartments are offered (similar to up-country trains to tourists) would attract paying travellers from their cars. With the scheme gaining popularity separate trains could be offered on the dual track regions.
The private bus owners have proposed luxury low-level buses to attract car travellers. The problem would be the congested narrow roads. Thus most important issue is the improvement of existing roads, proposed under the Urban Transport Master Plan.
Other projects from Master Plan
Baseline road extension from Kirulapone to Ratmalana is proposed for development as a six-lane road in the Master Plan. The section from Kirulapone to 120 bus route has no obstructions can be commenced immediately, balance needing acquisition.
Currently High Level Road barely handles the existing traffic. The proposed mono-rail from Borella to Homagama would require a space of one lane width and additional acquisitions earlier neglected.
Wellawatta canal is a major bottleneck to traffic. 1. Havelock Road on A 4 becomes two lane over the bridge over Wellawatta canal with a bo-tree. 2. Duplication Road ends abruptly at Wellawatta canal and 3. The Marine Drive, a four-lane divided road, becomes two lane at the bridge over Wellawatta canal.
The implications of cancellation
The President ordered cancellation of the Japan-funded LRT project agreement. The penalty payment on cancellation would be around $ 100 million. The Secretary wishes to work out a suitable transport solution. He may not be aware of the previous report and a new report would delay addressing the problem by minimum five years, also price escalations. The current situation arose due to postponements and interference on projects by the politicians. Proposed cancellation would be the biggest blunder ever.
Relationship with Japan
Sri Lanka enjoys a long-term cordial relationship Japan and has received a number of low interest development loans; meanwhile almost all project assistance from China has been on commercial terms.
Most roads around Colombo need widening and improvement, requiring acquisition of properties objected by owners. Meanwhile elevated highways and railways need much less land requirement. Both are identified in the Urban Transport Master Plan.
Since independence our investment on road development around Colombo had been minimal, claiming lack of finances. With the Transport Plan, Japan is currently funding the bridge over Kelani, agreed to fund the LRT project and would be willing to fund others as well, at the best terms imaginable. We need to handle the Japanese with respect.
Discussion
The poor quality road network around Colombo has forced citizens to waste time and money. Recent developments on expressways have presented convenient access to distant locations. The Road Master Plan presented after detailed investigations has highlighted the problems and recommended possible solutions.
Although buses and trains provide cheapest transport, narrow roads congested with three-wheelers and motorcycles make traffic slow and dangerous. Meanwhile, public with rising living standards wish for comfortable air-conditioned transport and are moving over to cars. Low-end workers have acquired motorcycles, allowing them fastest travel.
The implementation of proposed solutions recommended in the Master Plan requires acquisition of properties and would take time. Best would be simultaneous implementation of most proposals with Japan offering cheapest imaginable funding.
The improvement of roads got delayed due to political interference. The cancellation of the LRT project will reduce further Japanese assistance and would be the biggest financial and political blunder ever. It is still not too late for the President to apologise to Japan and resume the Light Railway Transport project, a win-win situation for both countries.