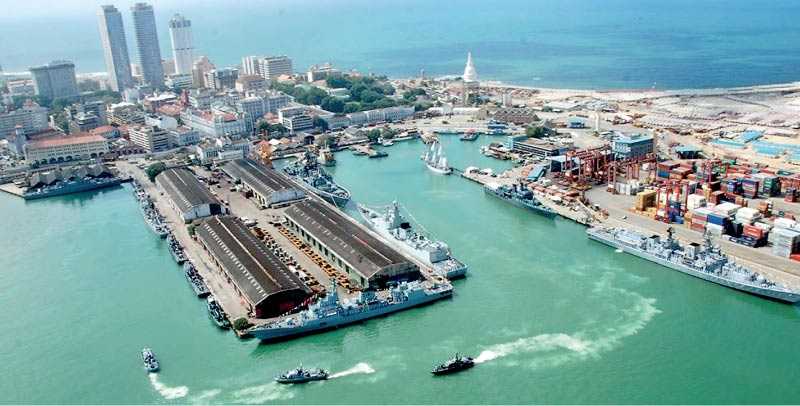 It is clear that port unions foresee regaining their lost power, by getting SLPA to own and run ECT, fulfilling their dreams. Their selfish needs are beyond their love for the country and are supported by JVP politicians who lost their voice in parliament. The unions claim that the port is running at a profit and would be able to fund the project, without Indian assistance
---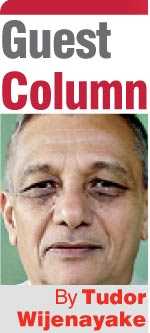 President Gotabaya announced in public his intention to hand over the East Container Terminal (ECT) to India. What he failed to mention in his original statement was that he is honouring the agreement made between Governments of India and Sri Lanka in May 2019, to run the ECT jointly with 51 and 49% between the two countries, with major share owned by SL. Also, that Adani Group is the nominee of the Indian Government. In the second agreement signed between India, Japan, SL, and Japanese Government, the Japanese agreed to finance $ 500 to $ 700 million at low interest for port development.


Reactions from port unions

A couple of weeks prior to general elections, a set of container handling cranes arrived in the Colombo Port unannounced. The cranes were ordered by the Minister for Port of the previous Government, based on a Cabinet acceptance of extending the Jaya Container Terminal owned by SLPA and importing required gantry cranes. Although the JCT was not extended, cranes arrived in Colombo. The cranes were unloaded at the ECT and SLPA workers demanded ECT should commence operations with the arrived cranes. When the Government was reluctant, SLPA workers stopped work bringing the port to a near standstill as container movement between terminals got disrupted. With the general election around the corner, the PM had discussions with trade unions and the strike ended. ECT commenced operations with the arrived cranes. Trade unions claimed the PM agreed not to hand over the ECT to India, but without comments from PM.


Colombo Port

The ancient Colombo port commenced handling containerised cargo in late 1980s and the port attracted main shipping lines. The main channel entering the port was deepened to 15 meters and in 1996 handled one million container TEUs. But with the arrival of mega container carriers, limited port depth prevented further expansion.

In 2008, the port commenced building the breakwater for south port and deepened the port to 18 m, at a cost of $ 1.2 billion enabling handling largest container ships. Tenders were called for the development of South Container Terminal and China Merchants Holding won the tender and completed terminal construction well ahead of schedule. With the new terminal, port improved handling to 12 million TEUs and currently ranks among the top 25 ports in the world.


East Container Terminal

The development of ECT commenced in 2013 and the first 400 m of the 1,340 m long jetty was completed and tenders were called for container handling cranes. But with the government change in 2015, the new Minister of Ports cancelled the tender.

During the previous Government although a number of proposals surfaced to develop ECT, nothing materialised possibly due to shortage of funds. With this background in May 2019, SLPA signed a Memorandum of Cooperation with India to jointly develop the East Container Terminal.

Today, with the delay in ECT coming into operation, Colombo Port is struggling to meet the container traffic and if no early solution is found, would lead to delays and ships be forced to by-pass Colombo Port.

The Government's proposal to jointly develop the ECT with India is opposed vehemently by the port unions, who are preparing to take action against the 'sellout of national asset' as they claim. Port unions say a decision would be taken early on the line of action.


Port unions

The public would recall the days prior to private investments in Colombo Port, when all operations were handled by SLPA, work stoppages, go-slows were rampant, mostly for petty reasons. The ships queuing outside the harbour was the norm, with the country having to settle heavy demurrage payments. Trade unions were powerful and called the shots.

It is clear that port unions foresee regaining their lost power, by getting SLPA to own and run ECT, fulfilling their dreams. Their selfish needs are beyond their love for the country and are supported by JVP politicians who lost their voice in parliament. The unions claim that the port is running at a profit and would be able to fund the project, without Indian assistance.

Meanwhile, the Minister for Port and Shipping participating in a 60-minute TV conference informed that the SLPA's income arises from four sources 1. Bringing ships in and out of the port, 2. Local supplies as water and fuel, 3. Transport of containers between terminals and 4. The operation of Jaya Container Terminal (JCT). The Minister disclosed that the SLPA operations were running at a loss, but showed an overall profit only with their share of profits from privately operated Chinese owned CICT and South Asia Gateway Terminal (SAGT). He questioned under these circumstances can the SLPA be trusted to run ECT at a profit?

The losses of SLPA are mostly due to high salaries, allowances and perks to employees, but the workers are extremely lazy with poor output. When CICT commenced operations, they employed locals as gantry crane operators. Gantry cranes are the most critical item as only few cranes are engaged in unloading/loading containers to and off ships. Our operators demanded their lunch hour and the tea time. Chinese brought in operators from their country and discontinued locals. Chinese operators climbed the crane with food, water and an empty bottle. They had snacks, drank water while continuing work and relieved into the empty bottle. The operator would leave the crane only when the next person takes over.

Will our workers ever change their habits to improve efficiency, making the port to run at a profit?



Financial constraints

Public are not aware of the financial crisis faced by the country. The Government needs to settle over $ 6 billion foreign loans this year and slightly less payments over the following years as well. The Government has declared not to accept foreign project loans as further loans would aggravate the situation. As for local expenditure, Daily FT reported that Central Bank printed a record Rs. 650 billion in 2020.

To overcome the critical situation, the Government is expecting help from India, China and Japan. China has pumped in $ 500 m in 2020 and further $ 1.5 b is expected during next two weeks. New Delhi provided $ 400 m currency swap in 2020, and is expecting another $ 1 billion in a month. Above shows the critical nature of our relations with India and China. Cancelling the promised ECT to India may jeopardise the agreed deals.

Under above poor financial conditions the country cannot afford further $ 700 million investment in ECT. Thus, honouring the agreement signed by the previous Government is a convenient arrangement.

The previous Government dragged the decision on ECT for five years, as they too would have been aware of the oncoming financial crisis and selected the Indian offer. When last Government handed over Hambantota port to China due to inability to pay the loans, China paid back $ 1.1 billion, which was expected to be used to pay back high interest Chinese loans. But the Finance Ministry used the funds to settle other commitments.


Being a neutral country

Most of our past investments were with China, headed by Port City and Hambantota Port. To remain neutral, we need investments from other countries, a fact reminded by the American Ambassador few days ago. Last year US signed agreements with India and Japan to counter Chinese influence in Indian Ocean countries, are exerting pressure on Sri Lanka to reduce dealings with China.

In March this year, UN Human Rights Council is expected to take up allegations against SL over human rights issues. Although most of the allegations are false, we will need help from friendly countries. Thus, balancing relations with China and India would help to address issues that are imminent.

India is the closest neighbour to SL, but the country so far neglected any major joint investment opportunities and handing over ECT would go a long way to improve relations.


Anti-COVID vaccines from India

India manufactured anti-COVID vaccine injections under license from the British, and took a decision to distribute substantial quantities free to neighbouring countries. But when the list was announced Sri Lanka was not included. Later it became clear that Sri Lanka delayed requesting the vaccine due to local issues. Finally, 500,000 doses of the vaccine arrived to the country on Poya day; when the country is short of finances to purchase vaccines, the country needs to show its appreciation of Indian gesture.


Handling Indian containers

Currently 85% of container handling in Colombo port are transshipments, with India accounting for 70% of transshippings. India does not approve their containers being handled by Chinese but have no choice. Adani Group is developing ports in India to improve their own container handling and if India is refused ECT though promised, they would accelerate their own port constructions and SL would be the loser making ECT redundant.

Gotabaya wishes to handover ECT to India as per the agreements signed in 2019 with India and Japan. But SLPA unions claim that they have the finances and the capability of building the terminal and to run at a profit.

In addition, there are counter proposals to have a joint venture with local investors, which is vehemently opposed by the port unions.


John Keells in port operations

South Asia Gateway Terminal (SAGT) commenced operations in 1999 as a public-private partnership project under a 30-year BOT concession, having taken over operations at the Queen Elizabeth Quay. Among the shareholders of the company are John Keells Holdings, APM Terminals, Peony investments (subsidiary of Evergreen Marine Corporation) and SLPA, with John Keells Holdings having 33.75% stake.

SAGT commenced with a design capacity of handling 1.1 million TEU, but over the 21-year journey, the Company raised the levels achieving 2 million TEUs. But having commenced operations for a 30-year concession, their term would lapse on 2129, in nine more years.

If the Government wishes to hand over ECT to another organisation John Keells Holdings and Evergreen would definitely be interested. In addition, John Keells is the local agent for Adani Group of India. Evergreen, a large shipping organisation, had already proposed the Government their intention to develop and run ECT by themselves. So, another joint venture would not be far away, if allowed.


The unions on work-to-rule

So far, although the President proposed to hand-over ECT to India, the Cabinet has not been presented with the proposal and the decision is awaited shortly, after various committees appointed to evaluate the proposals give their decision. Meanwhile, the port unions are getting ready for trade union action, so that they could get back to their earlier ways. They are supported by JVP members who lost their parliament representation, also the Buddhist priests who have absolutely no knowledge of port operations. If the port unions decide to go on strike, the action would paralyse the port operations, as evident with earlier worker strike, also with corona-infected persons worker numbers declined. The action resulted in queuing of ships outside port and some ships by-passing Colombo. The port is still trying to recover.

Meanwhile, on Thursday port unions announced that they would be working to rule from Friday. Working to rule the Sri Lankan way would allow port unions to bring down output dramatically, while workers getting paid. Thus, working to rule can drag for a long time.


Results on work-to-rule/strike

If the unions go on work-to-rule operations in Colombo Port output will come down immediately. With reduction of clearing containers unloaded due to delays in transport to transshipping and vice versa it would result in blocking storage space and even container unloading and loading would come to a standstill.

Blockage of containers will stop port operations and ships will have no option but to skip Colombo Port. Thus, Government will have no option but to resolve the crisis.


Government action

The unions' action on work-to-rule drastically reducing output could be considered illegal, as their demands do not involve employment issues, salary or other working conditions. Handing over ECT to India will not affect their job security, in fact if Indian container-ships boycott Sri Lanka would lead to such a situation. Thus, their demands could be considered illegal. But over the years SLPA unions demanded and won their unfair demands and are expecting a similar situation.

But this time they would be opposing Gotabaya Rajapaksa and Mahinda who won the LTTE war. Their action would be guided by J.R. Jayewardene's handling of strikers in 1980 July.


July 1980 strike

J.R. Jayewardene Government liberalised economy discontinuing then prevailing dual exchange, resulting dollar exchange rate rising from Rs. 8.83 at 1976 end to Rs. 15.56 at 1977 end. With resulting inflation public demanded salary increases leading to a general strike in July 1980. But JRJ came down heavily and demanded workers resume work, when the workers refused, action led to over 40,000 public and private sector workers losing their jobs. The Government could result to similar action.

In the current case, the trade unions have no right to interfere with Government decisions; when the Government gives ultimatum, most workers would oblige. But if leaders wish to continue, may lose their jobs. Some years ago, Mahinda Rajapaksa being sympathetic with those who lost jobs in July 1980, proposed a pension scheme.


Committee reports

The President appointed a number of Committees to look into the ECT issue. As pointed out by the Minister for Port, SLPA does not produce profits and what is shown as profits to public are from other private investors. Thus, under the current financial scenario handing over ECT to SLPA would be committing suicide.

The President could discuss Committee reports with trade unions, but will they accept Committee findings or President's requests?


Current scenario

In spite of local issues forcing the Government to disregard the agreement signed by the previous Government with India to hand-over ECT to India, the Government has no choice but to continue. India would help the country to settle foreign loans and strengthened relations will help to overcome future issues as well.

The Government has already helped China and major developments in Port City and Hambantota harbour are about to take off. Thus, China should not have any issues. But trade unions in Port wish to proceed ECT with own funds, which is not practically viable. The port union demands are directed towards establishing their authority over port issues, as in the past. Their current action itself is a sample of things to come. Under such conditions, port operations can never be run at a profit and will result in draining foreign exchange. The Government needs to be careful not to fall into the trap, promoted by JVP who were rejected by the masses.

After the work-to-rule in a few days the entire port operations would come to a halt. Even if the Government takes immediate action to stop the action, getting the port back to normal operations may take a few months. If relations with India are strained due to poor handling of the situation, it would lead to multiple international issues and the country would surely regret it. Thus, the situation needs careful handling.

But Gotabaya and Mahinda Rajapaksa are experienced politicians who defeated the world's most feared insurgent group. The two would handle the situation, without allowing the situation to drag the country down, the country would wait and see.