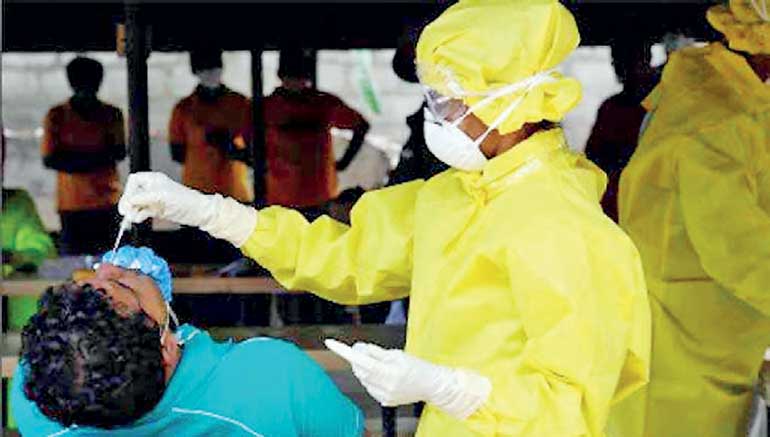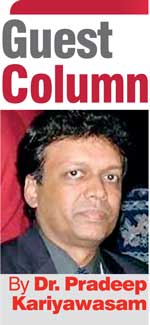 Much has been talked and written about how to control the present COVID-19 pandemic in the recent past. Many valuable contributions were made by eminent doctors, including Prof. Malik Peiris and Dr. Kamini Mendis of the World Health Organization. I too had mentioned some of the concerns they had with regard to lockdowns covering Grama Sevaka Divisions only, and not in larger areas encompassing at least the adjacent Grama Sevaka Divisions. Before being identified as a COVID positive patient there is potential for people to travel to at least the nearby areas while being infected. Then comes the length of the lockdowns; we have to have a minimum of a 14-day lockdown if we want to avoid large graveyards in the country, whether we like it or not – if we want to shorten this third wave.

The third wave happened because we did not close down the country during the April holidays. The ideal time would have been from 10-24 April this year. Usually, many institutions are practically closed down and there is less economic activity anyway during this period. I am mentioning it because next year we should not say this again with hindsight having made the same mistake. This is a lesson that we learnt the hard way.

Even now we have problems in controlling this pandemic. One thing that is missing is teamwork. Many have ideas but do not come forward with them at the correct forum. There are many individuals at these meetings who do not have an iota of an idea when it comes to pandemic control, or experience in controlling one. What is in the books does not apply in these situations. I believe that the task force should be pruned down so that only a few people attend it from relevant fields, all of whom will have to come armed with the relevant proposals, as then it is easy to have a proper discussion, make decisions and agree on policies. With regard to other supportive services, there could be a separate meeting to discuss logistics, manpower, funds etc.

The information about the situation should be simple so that even a layman could understand, and maps should be available to indicate hotspots, high risk areas etc., so that timely action can be taken. Information given late, or PCR test results given two to three days later do not help the control teams, as by the time they receive the information to take action more patients join the queue and infect more people with time. With regard to information and maps, we should use the services of any competent person if the Epidemiology Unit cannot handle it alone. The GMOA has taken some positive steps in this regard and they should be allowed to work with the Epidemiology Unit to carry this out. It is an organisation which has many knowledgeable specialists in the areas of epidemiology, disease control and information technology, and I believe that their knowledge, attitude and valuable inputs will make it easy for the control teams to prevent escalation of this pandemic.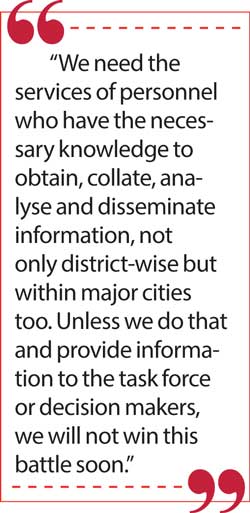 The geographical maps are valuable tools to the MOH and PHIs for their control work, and also to the general public, to know of the locations of the patients, at least to the street level, so that they can avoid such areas. I think the Presidential Task Force also should be shown these maps, if they have not done it yet, so as to take informed decisions. The President of the GMOA has stated, speaking on a private TV channel, that they in fact put up a GIS room next to the Director General of Health Services' room, and that is a right move. Another critical point is that we need more automated PCR systems in the country because we cannot wait for days to get to know whether a patient is positive or not. Although the initial cost will be high in the end, it will save a lot of money for the country by lessening the number of patients with COVID-19 in the long run.

There is a debate about whether the disease has spread beyond our control. In epidemiology there is a saying that only 10% of the patients down with a communicable disease are found. In the case of COVID-19 with all these PCR and antigen tests being done, contact tracing, and quarantines in place, I believe we are still missing at least 30-40% of patients. Around 80% of patients do not show any symptoms, but they could infect others – though with the present COVID-19 variant it could be less. However, the numbers could be high, and they may be never identified unless antibody tests are done. At present antibody tests are done but only using the patients who come for vaccinations. Manpower is an issue as the same PHIs, nurses and midwives are used for PCR testing and Immunisations. Colombo was shown as less prone to the present third wave but yesterday it was found that the Narahenpitiya area had more than 100 people in a day, perhaps due to increased PCR testing in that area. I do not know from which areas within that ward they were found, but such information is important for the general public. Similarly infected areas could be found in Borella, Wanathamulla, Dematagoda, Grandpass, Modera, Mattakkuliya etc., where population densities are high. The priority in the future should be vaccination programs in these areas. Similarly in other cities and townships, such areas should be identified to carry out vaccinations. Unfortunately, we still have the issue of not giving the second dose of the Astra Zeneca (AZ) vaccine to those who received the first. Suddenly we find that although the officials in Colombo say no AZ vaccine is available, there are mobile units in operation giving the second dose, some say for monetary considerations. We need proper planning in place to carry out these actions, and for that to identify the hotspots. We need the services of personnel who have the necessary knowledge to obtain, collate, analyse and disseminate information, not only district-wise but within major cities too. Unless we do that and provide information to the task force or decision makers, we will not win this battle soon. We do not have a proper people-centred awareness programme for high population density areas, where they might not get the information through radios or TV as much as the educated lot do. To do so we have to send in health educators to these areas. Unless we do that the health messages of the need for wearing a mask, social distancing and handwashing, will not sink in. So, let's hope some action will be taken to implement the above actions to get rid of the gaps in the control program.
---
(The writer is a former Chief Medical Officer of Health and Chairman of the Standing Committee on Health at the Colombo Municipal Council)
---