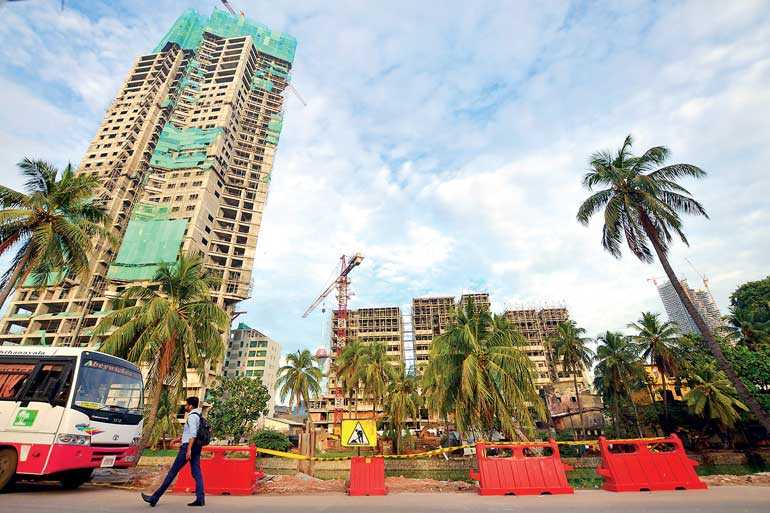 In Colombo and in major cities, new high-rise buildings are being built at a rapid phase. With many adopting the Design-Construct model and consulting engineers becoming just document collectors and coordinators without any technical input or control over the development process, design and construction compliance requirements must be tightened to take control back – Pic by Shehan Gunasekara
---
Sri Lankans are now firmly in Presidential Election mode. This is a person-centric sitcom although it should have been a policy-centric masterpiece.

Various applicants make promises to the public irrespective of their capacity to assess needs holistically before making such promises and, more importantly, disregard their limitations to implement these promises. Fake news is rife throughout social media. It is very easy to create a fake social media account, pretend to be a real person and then peddle half-truths with photoshopped images. By the time gullible members of the public realise the truth, the damage has already been done.

The Election Commission should have developed an official website and created individual webpages for each candidate and asked them to upload their public communication material on to them. The EC should have requested people to seek accurate information only through these accredited webpages. The EC could impose penalties on the applicants if they are found to have wrongfully disseminated unverified information or posted personal insults. This is needed because in Sri Lanka it is hard to find an independent person who delivers unbiased information, as the current system of governance has forced everyone to foster influential affiliations in order to survive. The public must be supported to make informed decisions.


I am lucky to be apolitical, only because I have been away from this chaotic situation for more than 20 years. However, I maintain my personal and professional connections with the island and offer my help to interested professionals in whatever way I can. I care about the wellbeing of the country and society at large. My personal expectation is for a person who is intelligent, aware of the economic and technological developments of developed countries and understands the geopolitical limitations of Sri Lanka to gain leadership of this beautiful country.

It does not matter if the next President has no legal authority to implement his vision without the support of Parliament. It is all about developing a strategic plan for the future with the help of true professionals and honestly presenting it to Parliament and the public. Not implementing the plan would be harakiri for the sitting Parliament. Even if the plan is accepted by Parliament to be implemented, it is a long-term plan with a series of short-term targets. So the country continually needs good people in Parliament. The people of the country have now hit rock bottom and the only way for them is up. People have no other option but to accept the plan and elect suitable people at the next election to implement it.

To do this, the country only needs one good person at the top. So I pray for an educated, ethical and bold person to win this Presidential Election. Hopefully, Sri Lankans are sagacious enough to select such a person as the President, without getting mislead by hollow oratory skills which we witnessed for so many decades. By the time this article is published, my wish might or might not have been fulfilled.

The new President's prime responsibility is to propose governance systems and processes to minimise human intervention, preventing selfish individuals from manipulating systems for their own advantage, which is the very definition of corruption. It is wrong to say that only politicians are corrupt. It is a collective process involving all layers of society. Only a radical change in the system can break this. The detention of corrupt individuals is a second priority as it will be an ongoing, slow process costing millions of rupees and redirecting important resources away from the principal priority. The first priority is to prevent it from happening in the present and in the future.

It is imperative to allow professionals to develop these systems and the new President should use his leadership to guide professionals, even without the support of the currently-elected politicians. Politicians should only be responsible for developing policies based on professional recommendations. The benefits to the people must come directly from robust systems rather than from politicians. That will prevent politicians from fiddling with systems.
Areas of concern

I am a professional engineer who is keen to see improvements in the Sri Lankan public sector. However, the public sector and the private sector should work in partnership, supporting each other to gain an equitable level of performance.

To make this happen, the systems and processes in the public sector must be developed together with the private sector as anything developed must not only be robust to prevent anyone bypassing regulatory procedures but also flexible and user-friendly enough for people and the relevant business entities to comply with.

My area of concern is the building approval and construction process in Sri Lanka as I have been involved in a professional discussion with local counterparts on this for many years now.

As I will explain later in this article, Sri Lanka will face the same crisis Australia is currently confronting. I expect that the newly-appointed President will pay due attention to this situation in time to avoid imminent disaster and appoint suitable local professionals to handle this as efficiently as possible.


Complexity of buildings

Buildings are complex assets. This complexity could be attributed to the architectural and structural forms of a building, building services and features to address varied customer (resident) needs in terms of the orientation of functional spaces and expected comfort levels.

Buildings are not just a composite of materials such as bricks, concrete, mortar, steel and timber. They are a kind of living being and people infuse buildings with their emotions and affection. Furthermore, buildings are significant investments for people. Although people believe that they know enough about buildings, the accidents and fatalities associated with these structures suggest otherwise. Most people really do not know enough about the risks linked to buildings. Building users have limited knowledge about the hidden structural defects, usage limitations and regulatory compliance requirements that should be fulfilled during the construction phase and also during the useful life of the building. This knowledge is important to ensure consumer health and safety, obtain a fair return on investment and facilitate building functionality, sustainability and comfort.
Personal intervention

Two years ago, I raised public awareness over the need for a Building Code in Sri Lanka. (http://www.ft.lk/columns/The-need-of-the-hour-A-building-code-for-Sri-Lanka/4-627140). This article generated significant and immediate feedback from Sri Lankan building professionals and construction and planning authorities. However, it took a long time to garner a response from the political hierarchy. Nevertheless, the Cabinet of Ministers in Sri Lanka approved the preparation of a National Building Code on 30 April 2019.

While waiting for this political response, I noticed that even Sri Lankan professionals who were interested in Building Codes had confused the term Building Code with the Building Design Code. One such article was published on 4 June 2017 in the Sunday Times asserting that Sri Lanka had a very stringent Building Code on par with the United Kingdom. This was misguided information.

In developed economies, Building Technical Design Standards are used for the design of a building. As an example, in Australia, the structural concrete elements of a building are designed in accordance with AS 3600. A technical standard has no legal status whatsoever, unless a statutory regulation makes reference to such a design standard and forces professionals to use it when designing a product. If such a legal enforcement does not exist, an engineer could design a structural element such as a stairway for a residential building and for an elders' home in the same way, fully complying with the relevant design code. But the same design would be completely unsuitable for the elders' home, creating physical dangers for the stairway's users.

Furthermore, an experienced structural engineer could suggest a size and type of material for a structural element using his or her professional experience without referring to a design code and no one could challenge such a design decision within a court of law if anything went wrong since there is no legal document compelling the professional to use a nominated design code.

In the Building Sector, this legal document is called the National Building Code. Sri Lanka does not have a National Building Code.

I further wrote a series of articles in the Daily FT on construction material compliance, quality of construction and issues with condominium construction. The message I tried to convey was that this is a jigsaw puzzle of many legal elements. There should be a building regulatory framework in Sri Lanka and it should bind all building construction processes from the beginning of construction until the demolition of the building at the end of its useful life. It includes environmental compliance as well.

I am writing here about the lifecycle of a building that will last for more than 50 years.

This legal framework will bind the design standards, material conformance and compliance specifications, certification and approval process of development applications, quality assurance requirements of construction, auditing process of construction compliance, warranty conditions of structural and building services integrity, consumer protection during the statutory warranty period, etc. This is not a simple process of copying or adopting a foreign Building Code and stamping it as 'Made in Sri Lanka'. This requires a thorough and coordinated approach by a group of competent professionals and intelligent political leadership offering support with resources.

Even after making the Cabinet decision, the allocation of resources to expedite the NBC development process is painfully slow. This does not suit their political interests. On a daily basis, I can see politicians making promises to the public about welfare projects and actively allocating funds to woo their voter base. It is true that politicians cannot show the development task of the National Building Code and win votes. However, they can ensure quality and well-controlled building activity in Sri Lanka and provide benefits to the people by saving many lives and people's hard-earned money. Only a progressive and intelligent politician can explain this to the people and win their hearts.

To be fair to the politicians, this delay in resource allocation may be due to a lack of understanding of the danger of not having a National Building Code and code enforcement framework and necessary structural changes. This is where local professionals fail in communication.

Sri Lanka is in the worst possible situation in terms of building regulations. Sri Lanka does not have a clear consolidated Buildings Development Act or Buildings Regulations. Building Planning Processes have gaps and contradictions. Sri Lanka does not have a complete set of building design standards or guidelines. Condominiums are being built like mushrooms. Builders run the show according to their whims and fancies and the regulatory authorities rely on builders' recommendations as many professionals employed at approval authorities are not fully-trained or technically skilled enough to handle a holistic and practical development approval process. The authorised officers lack a proper understanding of building compliance aspects.

To explain this grave situation, I will not venture further than my second home of Australia.
Australia is in trouble and Sri Lanka is set to follow it

Australia has everything in place to have safer functional buildings. Yet Australia is presently facing a building crisis. The good news for the country is that it can be resolved by adopting administrative measures.

In Australia, there is a well-coordinated legal system to ensure the public safety, health and amenity of buildings' occupants and sustainability.

As Australia is a collection of states and territories, each government has its own building regulatory system in place. However, the Building Code of Australia, the Australian Building Code Board and the State and Territories Building Ministers Forum act together to maintain the national approach. Each State and Territory has its own Building Approval process, Building Certification process and Builders and Tradesmen Licencing process. The most important fact to be noted is the presence of a high national standard with slight variations.

It is reasonable to assume that having such a regulatory system would make buildings risk-free and fit for their purpose. Defying this belief, from 2014 the signs of faults start appearing in the regulatory system. In November 2014, the 23-storey Lacrosse Tower located in Melbourne's inner west suburb Docklands caught fire simply due to a lit cigarette butt left on its 6th floor's external balcony. A recent report suggested an estimated 1,411 residential apartment buildings in NSW used potentially combustible cladding, with 95 considered 'Extreme Risk' buildings. It has been estimated that to rectify this, at least 1 billion Australian dollars were required. In NSW, the structural issues of buildings keep gaining public awareness.

In 2018, the residents of the 36-level Opal Tower in Sydney were evacuated after the concrete in the building's walls and floors cracked. Mascot Towers in Sydney's inner-south was closed to residents in June after cracks were found in its car park. An apartment building in the Sydney suburb of Zetland was evacuated and has remained vacant for more than eight months now due to water damage and faulty fire prevention measures at the property.

In Victoria, 1,069 buildings have external cladding and of those 72 have been deemed an extreme risk, with 504 categorised as high-risk. The Victorian Government took the responsibility to address public safety as many of the buildings had completed a statutory warranty period. The Victorian Government had already allocated a $ 600 million package to fix the cladding crisis across the state as more than 500 high-risk buildings require corrective work. It is important to note here that in Victoria, Australia, buildings have a two-year non-structural and six-year structural warranty.

However, there are two terms defined as building work and building action. Building work relates to any physical activities carried out to erect or construct the building. The aforementioned warranties are for the building work. However, building action is any action for the loss or damage arising out of or concerning defective building work. The parties involved with building construction (the client, builder, contractors) can take building action up to 10 years which is beyond the statuary warranty period. This is because the real signs of defective building work started within the warranty period could affect the users' amenity beyond the six-year period.

In a country which has all the right legislative rules and regulations in place, how did this happen?

I believe that this is a side effect of democratic freedom in Australia and the unrealistic belief that all humans are intelligent and ethical. Australia believes in democracy and always works hard to reduce administrative red tape by placing the onus and faith on the doers to follow the right path. Basically, Australia told building professionals, "These are the Australian standards, compliance standards and regulations. Please follow them. The results will be fine."

I earnestly believe that this is the right approach for a disciplined society in a developed economy. I praised this Australian approach previously in one of my articles in the Daily FT. At the same time, I mentioned that this self-regulatory system (informative approach instead of a nominative approach) would not work for Sri Lanka although it works for Australia. I had miscalculated the instincts of human beings irrespective of where they live. It is sad to see that many people do not reciprocate the faith afforded to them. My disappointment is that professionals are involved in this crime.

There are multiple factors about the Australian Building Sector crisis which are relevant to Sri Lanka as well. In Australian cities, multi-storeyed apartment or office buildings are very common. The majority of these buildings are built under the 'Design and Construct' contractual arrangement. This means the builder is responsible for the design and also the construction. Basically the paymaster for the design engineer, the contractor and the private sector certifier is the builder or the developer. So there is a high possibility the professionals will cut corners in design and construction and also relax on compliance to maintain a healthy relationship with the developer.

It is also very common in Australia for some companies to cease operations after a few major projects. Following a legal liquidation process, a new company is set up by the same owners somewhere in another state.

In Colombo and in major cities, new high-rise buildings are being built at a rapid phase. I heard that many adopt the Design-Construct model and the consulting engineers have become just document collectors and coordinators without any technical input or control over the development process. Hence, design and construction compliance requirements must be tightened to take control back. Thankfully, Sri Lanka does not have a private certifier system. However, we don't have a good public sector certifying system due to the unavailability of a Consolidated Building Regulation Act and a National Building Code. So Sri Lanka is in a more vulnerable position.

The Australian state governments and territories are responsible for enforcing building regulations through certifying agencies and authorities. This means that there should be a mechanism for auditing the performance of certifiers and for action to be taken if they are found to be at fault when fulfilling their legislative responsibilities. Local Government has been delegated with some of this overseeing responsibilities but state governments have not provided enough resources to carry out this responsibility.

Currently, all Australian state governments are working on this issue. The NSW Government has appointed a Building Services Commissioner and relevant staff to carry out audits. The Queensland Government has introduced Chain of Responsibility Laws that oblige all involved in design and construction to legally report on non-compliance and unsafe construction.

Sri Lanka does not have any design and construction compliance auditing process at all. We only act after a disaster.

The Australian Federal Government always conducted the coordination of getting all state governments and territories minsters to one forum to develop a national policy. However, it always maintained the stand that the participants should pay for the cost of reforms. Now it has been proven that the participants had limited resources and that led to the Building Sector crisis at a national level. Now the Federal Government is under pressure for financial help towards state governments and territories.

In Sri Lanka, National Government Ministers have no clue about the need to develop a proper Buildings Regulatory System. This is why we need clear leadership from the Executive level of the government.

In Australia, standalone home buildings are covered with a warranty insurance obtained by the developer for the period of warranty obligation. In the case of multi-storeyed apartment complexes, this insurance cover is only required by the law for buildings rising up to three levels. Hence, the builders do not legally take any warranty insurance covers for multi-storeyed apartment complexes higher than three levels. The historical reason for this was that if such an insurance product had been available, it would have cost a lot for the developer. That cost would have been apportioned among the number of apartment units and the cost passed on to the buyers eventually. That would have led to an artificial apartment price increase affecting affordability for buyers. However, this unavailability of insurance cover has caused problems when claiming damages from the builders when the apartment owners find major structural defects during the warranty period.

I am unaware of any robust warranty conditions in place to protect Sri Lankan consumers. Even if such protection is available on an individual project basis, such protection must be built into the Buildings Regulation System across the sector to be effective.
The supplication

Mr. President, a full-time committee of engineering, architectural, planning and legal professionals with proven expertise in their respective disciplines is essential to develop a consolidated National Building Act and Regulations and to write the National Building Code. There should be a permanent Building Commission to administer and enforce Regulations and the Building Code and also periodically update the code as is the practice in developed economies.

(The writer is a Chartered Professional Engineer, a Fellow and International Professional Engineer of both the Institution of Engineers, Sri Lanka and Australia. He holds two Masters Degrees in Local Government Engineering and in Engineering Management and currently works in the Australian NSW Local Government Sector. His mission is to use his 32 years of local and overseas experience to inspire Sri Lankan professionals. He is contactable via [email protected])