In my opinion, a progressive budget has been announced by the Minister of Finance reflecting directional change to this country which is badly needed. The policies and the subject matter is very encouraging and farsighted. Moving forward will be challenging but is the right way and hope the Government would have the courage and the plan to implement the reforms fast.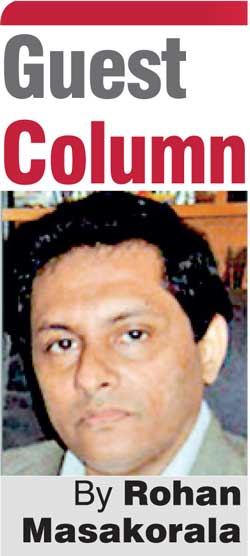 Reforms at Customs

Customs law is considered the bible of how effectively border control procedures will be conducted to facilitate international trade to move fast through ports. This is one of most important reforms the country needs after two hundred years. Announcement of implementing the new Customs Act by the Minister would be the best beginning the export/import industry could wish for in 2018.
Creating the conducive environment to build the eco system

I have been a proponent of creating the conducive environment for the global companies to locate to Sri Lanka to set up head quarter and regional offices in shipping and logistics, I believe without their presence decisions will not be taken in favour of Sri Lanka to transform from a transhipment hub to a first-class world maritime country. In layman's language if they are not present it would be "out of sight is out of mind" and we will be left behind.

Irrespective of the sector, if we must connect to the modern world driven with technology, innovation with speed as an added tool, we need to open doors to global capital, ideas and make Sri Lanka a player that will encourage global owners of businesses to focus and invest as a hub for multiple activities and locate themselves in the island which will have a "multiplier effect" as economists call it.

The telecommunication industry, banking and the apparel industry are true to word success stories of liberal environment in Sri Lanka. As such, rest of the industries, such as, petroleum, petrochemicals, shipping, logistics and tea must also understand that opening doors to areas where we don't have an absolute advantage or assets, capital and markets will only create new opportunities and ideas to grow along with new partnerships.

When expression of interests were called to develop Hambantota, not a single Sri Lankan company could raise $ 100 million even to partner. There is no single hub of any industry in the world without the presence of owners, operators and global retailors coming and building the eco system, we need to offer value added services using the location of the country.

A good South Asian model is Maldives where tourism has been flourishing by the fact of opening it to the world of tourism, and not by giving the control to Maldivians. Now that the Government has decided to open the shipping and logistics industry on the equity, the choice is given to the owners and operators to decide how they would want to model and shape Sri Lanka as the next big hub in the Indian Ocean. For that matter even shopping hubs are made through the presence of global brands, not by domestic players.

I am aware that some in the local agency business colleagues will not agree with me and I do respect their views. I hope they address this Government policy in a professional manner rather than in an emotional manner which very often happens in Sri Lanka. But in my view, they should not be paranoid as this opening will give them many new areas and avenues of opportunities to expand. Just because its open, all the principals and operators are not going to come and take over the business, they will always want strong local partners without whom they cannot sustain the business.

In Singapore there are over 5,000 local agents whilst owners and operators too are present with ownership as partners. But logically as it is their business, owners would always want to have the say in it to make decisions on how things are run. Then only they would feel that they are a part of this country. Opening up removes the perception that Sri Lanka is no more closed for international owners to act as major stakeholders.
Establishment of a regulator and legal reforms

It is a wise decision that the Government has also recognised that the need for a regulator as the country opens for business of ports, shipping and logistics. This has been a long overdue structural reform in the sector. Identifying the need to amend the acts to suit the modern-day demand is a well thought proposal by the Government.

I believe the professionals at the port would have supported this move as they need to run more efficiently and speedily to compete with the region. Therefore, it is a very progressive policy directive that would give the industry a boost to change the way things are done today. The Government has also identified the need to expand regional value addition through entrepot trade, etc.
East Terminal – Port of Colombo

The Government must without delay call for a Private-Public Partnership (PPP) to develop the East Terminal. Colombo will need this new ship handling capacity as more and more ULCC ships are plying the East West route, delays will have repercussions to the country.

SLPA together with a credible service provider who is committed to Sri Lanka can jointly develop with other stakeholders who are willing to invest. Indian ports are offering equity to shipping lines to attract them to get direct services. I hope the Government will finalise and start commencement of the East Terminal as soon as possible to capture the growing demand.
Strengthening commercial hub regulations

The concept of free zones which operate as off-shore destinations have been looked at and reforms have been proposed with further de-regulation and other requirements made by the trade have been accepted which will be a boost for value added re-exports.

Whilst there have been so many enquiries for setting up hub operations closer to Port of Colombo, the main obstacle was availability of land and this has now been addressed at the Budget. However, the BOI will have to now start in getting the regulations amended fast and start promoting and marketing the commercial hub concept.

Within a brief period, seven international and local companies together have started new re-export businesses since 2014 and employed over 2,000 people and the biggest of it, the LPG plant, will be opened early 2018.
Recognising National Export Strategy activities

The Government has clearly indicated its fullest support to the National Export Strategy (NES) and to take forward the country towards doubling its exports within the next five years. With the establishment of free trade agreements, a trade policy and further liberalising of the financial sector as well as the connectivity industry, the overall mix of reforms are very progressive to push the country without getting into a middle-income trap.

The challenge for the Government is that, ignorance and over protectionism will slow down the reform process. People must realise that as an island, more we get connected to markets, population and to global capital knowledge and technology, the country will move forward and bring in economic prosperity to its people at large and help to reduce inequality.

Economic freedom is fundamental in a free market, where regulations and regulators balance against anti-competitive behaviour. Liberalisation will increase the confidence the multinational manufacturing firms for export processing, and will be more willing to look at Sri Lanka as a destination. Presence of international players will have the multiplier effect to the local economy and smaller local companies will have new windows of business opportunity.

Another significant proposal of the Budget is to strengthen anti-trust laws and to oversee a procedure against monopolisation. This will also boost global investors as we will have a more transparent business climate.

The country's economic freedom rankings in 2017, is 112, which is one behind the communist socialist China. People who believe in free market will have to understand why economic freedom should be improved and liberal laws should be adopted for trade and trade-related services if we are to be an Indian Ocean Hub as envisaged by the 'Vision 2025' document. I wish the Minister and the Government all success in implementation

(The writer is the CEO of Shippers' Academy Colombo, an economics graduate from the Connecticut State University USA, and immediate Past Secretary General of the Asian Shippers' Council.)