Brands are just as much about people as they are products. In fact, some of the most iconic brands are people who have found and embraced their sense of purpose, and, in turn, made a dramatic impact in their time and place. Think, for example, of the early stages in a business, when the entrepreneur's identity – his or her vision, motive, strengths, and personality – is the brand identity. The creator is inseparable from the creation.

As start-ups scale-up, however, and efficiency-tasked general managers replace the founding team, the direct link between the entrepreneur and employees and customers becomes less tangible. Most businesses then run the risk of becoming bland, faceless, and inanimate. And so, coming full circle, they find the need to once again personify their brands – to become more impressionably human, capture mindshare, and create tangible value.

Personalities can or should be closely and profitably associated with a brand because, simply put, people relate to people and yearn for human relationships. And so, at this evening's ICCSL Fireside Chat, when Dhammika Perera, Harry Jayawardene, Sumal Perera, Ashok Pathirage, Merrill Fernando and Janak Hirdaramani share the stage as well as their experiences, philosophies, backstories and forward visions, remember: They are their brands.


Mercenaries vs Missionaries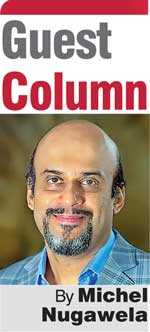 John Deorr, billionaire investor at Kleiner Perkins – the legendary venture capital firm that has backed some of the world's most successful entrepreneurs including Larry Page and Sergey Brin of Google, Jeff Bezos of Amazon.com, and Scott Cook and Bill Campbell of Intuit – says what distinguishes high-impact entrepreneurs from those who don't make a big difference is less about what they do and more about what they believe and how they behave.

Doerr says the entrepreneurs he is most eager to work with and the ones who are, ultimately, the most successful financially are missionaries driven by a compelling sense of why. The others, the ones he is less enthused by, are mercenaries.

In Doerr's own words, this is what distinguishes the two:

"Mercenaries are driven by paranoia, missionaries are driven by passion.

Mercenaries think opportunistically; missionaries think strategically.

Mercenaries go for the sprint; missionaries go for the marathon.

Mercenaries focus on their competitors and financial statements; missionaries focus on their customers and value statements.

Mercenaries are bosses of wolf packs; missionaries are mentors or coaches of teams.

Mercenaries worry about entitlements; missionaries are obsessed with making a contribution.

Mercenaries are motivated by the lust for making money; missionaries, while recognising the importance of money, are fundamentally driven by the desire to make meaning."

To bring Doerr's mercenary-to-missionary scale to life, here are some questions for our six formidable achievers:

1.Mercenaries seek status, missionaries seek significance. What is your founding idea, the purpose that connects you to the past, the reason for being, and the roadmap to the future?

2.Mercenaries lust for money, missionaries lust to make meaning. What is your definition of success? Is it passion (Richard Branson)? Or, perseverance (Steve Jobs)? Or, impact (Elon Musk)? What is the meaning behind your actions?

3.Mercenaries are driven by paranoia, missionaries by passion. Whom or what motivated you to strike out and chart new paths? Are entrepreneurs born, or made? If the latter, who are your role models of leadership? And how do you, in turn, model leadership?

4.Mercenaries think opportunistically, missionaries think strategically. Peeling back the layers, how do you drive clarity of vision as you grow and diversify? Does it engage your employees? Can they identify it, and with it?

5.Mercenaries are alpha-males, missionaries are the first among equals. How do you work and behave? Is your culture driven by paranoia and fear, or do employees help to build it?

6.Mercenaries build businesses and square-off against competitors, missionaries invest in brands and put customers front and forward. How do you realize brand-driven business profits?

We ask these questions because we seek to learn and replicate from those who have made their way, largely by their own efforts, and achieved a sense of mastery over fate. And we ask as customers, who experience these brands on the outside by the way their businesses behave on the inside. Because brands cannot be something their leaders are not.

(The writer heads the Interbrand Sri Lanka office.)