Brand Excellence 2017 has just been concluded and it is good to see all the winners proudly displaying their trophies and accolades in recognition of their brand marketing strategies.

The highest satisfaction that one could get about your work is when you see that what you started is being continued year after year getting better and better. When reading all the articles published recently about Brand Excellence awards, I could not help but go down memory lane back to 2002, exactly 15 years ago, when this program was invented. It was basically an invention because it was the first time that such an idea was conceptualised and implemented.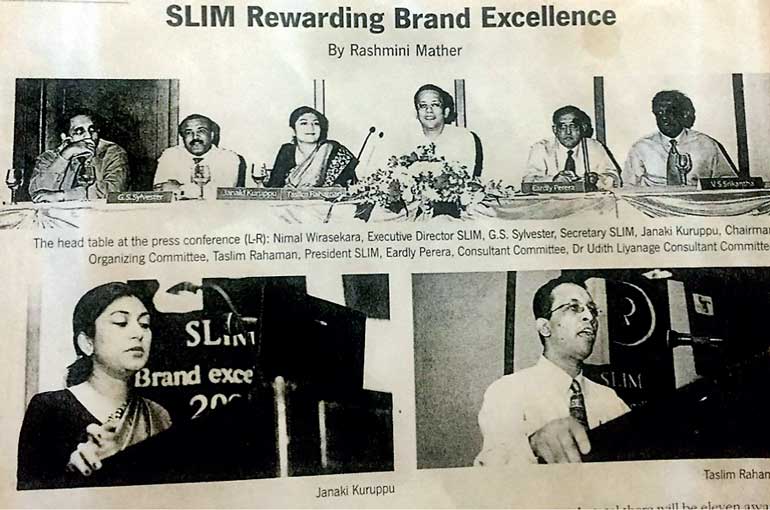 In my second year as a member of SLIM Exco, I was asked to be the Chairman of the SLIM Brand Symposium and conduct the event for that year. At that time, not having much of an idea of Brand Symposium, I consulted the previous committees to find out details. Basically, it was an event where the committee selects two to three brands with a good success story and invites the CEOs of those brands to come and present their story to an audience at a symposium.

At once, I had many questions. So how do you select these brands, so who decides what story deserves to be told, if a committee decides, couldn't it be very biased and limited to the knowledge and experiences of that committee?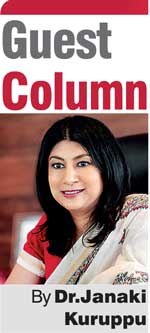 Thinking further I thought, what if we have a competition to select the best brands like the Ad awards? How come SLIM, which is the Sri Lanka Institute of Marketing, is not having a competition to select the best brands but instead is holding a competition to select the best advertisements? If SLIM doesn't recognise excellent brand management who will?

I thought SLIM must have a competition, an awards scheme to select the best brands and thereby promote excellent brand management. I submitted a proposal to scrap the Brand Symposium and instead to hold a competition, and an awards scheme to select the best brands.
At the next SLIM EXCO meeting which was chaired by the then President of SLIM Taslim Rahaman, I presented the proposal. If my memory is right, it was Thusitha Kumarakulasingham who had gone through my proposal and who told Taslim, "Janaki has come up with a new proposal, why don't we allow her to implement it?"

There was no input to the proposal from the SLIM EXCO, and the whole project was totally in my hands to see it through. The proposal included the details of the whole scheme such as the criteria to enter, the criteria to evaluate, the type and number of awards to give, the judging process, etc. We were not following an international model and nor had I ever been involved in such a process before.

Thereafter, a panel of eminent marketers was put together as a judging panel and an implementation committee to help me to organise the whole project. I was ably supported by an implementation committee consisting of Roshni De Fonseka, Rathika de Silva, Sajith Gunaratne, Manju Haththotuwa and Asitha Samaraweera and the first-ever judging panel consisted of Shehara de Silva, Ruchi Gunawardena, Eardley Perera and Prof. Uditha Liyanage.

The name Brand Excellence and the first logo, of a human head with a key hole in it, which was to depict the meaning, "in order to really succeed in brand management you should have the key to the consumer's head" were all designed by us. The awards such as 'Product Brand', 'Service Brand', 'Turnaround Brand', 'New Entrant Brand', 'Local Brand', 'International Brand,' etc., a total of 11 awards, were all created by me in that first round itself.

Being a market researcher, having brought Nielsen to Sri Lanka in 2002, heading Nielsen at that time as its first CEO, I had to emphasise that no story can be presented without independent data on consumer ratings and market shares of the brand, and without audited accounts of the financial performance of the brand. The three-pronged strategy of evaluating namely brand performance, market performance and financial performance were also my ideas coming from a business background.

It was also I who came with the evaluation process to consist of two stages where first it's a desk evaluation of the application followed by a face-to-face presentation of the story by the brand manager, which gives the judges a chance to see the passion behind the results and also to recognise the person behind the story and to make it a career achievement by recognising not only the brand but the brand manager as well.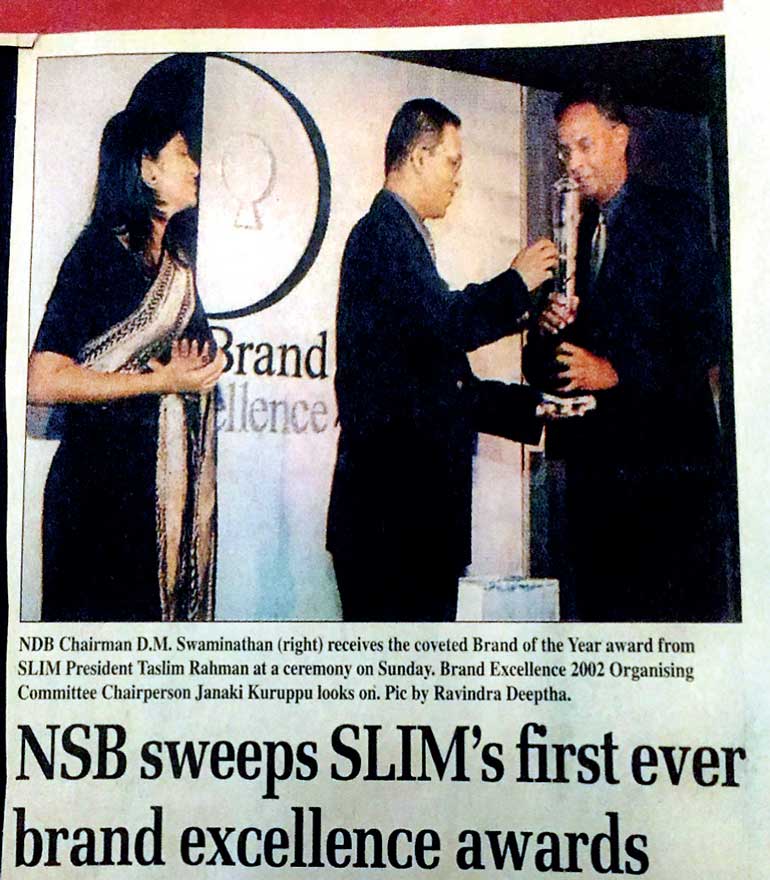 It was our dream to make this event be like the "Oscars in marketing" and hence to have a banquet style seating with a four to five course sit down meal instead of the casual buffet style events that we were having at that time. The black and silver décor used for the first event, the limited invitee only with tickets valued over Rs. 10,000 were also introduced to bring class and prestige to the event.

The briefing of the judges was another new initiative since this was a totally new program, and we needed to get the judges on board. In fact, after completing the full proposal, I personally went and met Eardley Perera and Prof. Uditha Liyanage to get their inputs if any to improve the criteria and the process.

Like any new idea, it was very difficult to convince the companies to enter this competition. The deterrents were firstly that it was new and hence there was no recognition for this event and secondly since it asked them to reveal so much of internal confidential data about the brands performance. So, we had to sign off a personal guarantee with regard to protecting the confidentiality of the information, with all the applications being shredded at the end of the judging process.

Further, since there were not enough applicants, I had to beg people like Amal Cabral to enter Unilever brands and Nandana Wickremage of CBL to enter local brands like Munchee. With all this effort, we were finally able to get 26 entries in this first year. I am sure the number of entries would have increased to much more by now after 15 years of the program. The Brand of the Year at that first ever Brand Excellence awards were taken by National Savings Bank, a Government institution!

It is so heartening to see the program continuing into its 15th year and I do not see much that has changed except for some new awards.

The criteria has been tweaked a few times thereafter to bring in the typical marketing jargon such as 'brand architecture,' etc., but the essence is still the same as what was introduced 15 years ago.

My heartfelt congratulations to all the winners this time and my best wishes to SLIM to continue the program from strength to strength. By the way, my reasons for writing this was to ensure that history is correctly recorded for whatever its worth, otherwise the truth may get buried with us.
(Dr. Janaki Kuruppu is the Founder and Chairperson of Mother Sri Lanka Trust, a charitable foundation focusing primarily on developing responsible citizenship. She was also the first MD – Nielsen Lanka.)