All of us will be back to our workplaces sooner rather than later. We need to be psychologically prepared to get back to our job roles

– Pic by Shehan Gunasekara
---
The two-month-long lockdown in Sri Lanka may be relaxed hopefully by next week. The authorities and media have been circulating various communications with regard to the same even though the possibility of the lockdown extending cannot be totally ruled out either.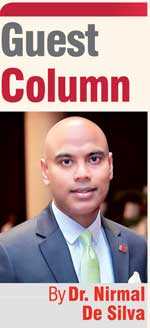 Whilst it may take some time for the country, economy and usual work environment to be in full force, one can argue that organisations, entrepreneurs, business owners, Government and the citizens in general would like to commence work and their regular routine life at the earliest. In fact the general consensus in society seems to be pointing out in that direction as well.

It is a myth however, to assume that everything would be back to the same like it was prior to the COVID-19 scenario. It is most certainly going to be a new world. The authorities have developed certain guidelines on how businesses and commercial establishments should commence operations after the lockdown in order to ensure the health and safety of everyone concerned. These guidelines and recommendations have already been communicated through both mainstream and digital mediums.

Similarly, organisational leaders and decision makers are also currently in the process of creating their own internal guidelines and policies based on the industry dynamics, market conditions and operational necessities.

Getting back to work after two months is not going to be an easy task for many. Job roles are going to be redefined and the new KPIs and expectations are going to be different no doubt. Having the right mindset from day one of recommencement is crucial. Everyone in the organisation irrespective of their role needs to understand this.

The Chief Executive Officer for example needs to now play the role of Chief Encouragement Officer because everyone needs inspiration, encouragement and motivation more than ever before due to the uncertain environment.

The purpose of this article is to outline the 3As that are essential for every employee to take note of once they get back to the work environment regardless of whether it is a State sector or private sector entity that they work for. It's about planning and preparation at an individual level. Think of this scenario like going to work the 'first day' of a new job.

Similarly organisations are encouraged to understand the LOOP model when commencing operations, developing strategies, exploring opportunities and moving forward with a positive approach. So what exactly are the 3As and LOOP model?
The 3As
Attitude: Everyone in the organisation, irrespective of their role, level of experience or competency, needs to have the right attitude when coming back to work. They need to be willing to accept change. Flexibility is the key. Teamwork is crucial and everyone needs to contribute. There is no room for passengers anymore. The willingness to take new challenges, out of the box thinking and solution orientation is only possible with the right attitude. End of the day skills can be trained but attitude can never be trained. We need to move away from a fixed mindset to a growth mindset.

Adaptability: In the new normal it will be 'survival of the most adaptable'. Humans typically resist change and as such we see this aspect often in organisations as well. Once work commences everyone in the organisation needs to adapt to new norms, work policies, redefined job roles and technology transformation. The needs, wants and lifestyles of customers have also changed as a result of COVID-19. Hence, we need to adapt to these realities if we are to progress forward once work commences after the lockdown. It's all about how fast one can commence and run this 'new race'. Achievement: It is critical that everyone in the organisation has a strong achievement orientation. Performance is the key barometer between success and failure. There has to be a zero tolerance for mediocrity. Also there has to be full ownership on the predefined targets and KPIs. Employees need to bring value to the organisation and this is possible through commitment and achievement. Once again innovation, creativity and calculated risk taking will be critical success factors for high performance and achievement.

Now let's explore the LOOP model. This covers some basic fundamental areas but there is a good possibility that these areas would be forgotten once we commence work. The LOOP model stands for Logical, Opportunity, Open-Minded and Persevere. L: The decision making in organisations need to be logical once we commence work post lockdown. Blindly following strategies of others without a proper basis or making decisions based on emotions will have long-term repercussions. So thinking and acting logically at every level in the organisation is the way forward.

O: It is evident that there will be new opportunities for organisations post-COVID-19. Similarly there will be new opportunities when it comes to conducting day-to-day work practices. For example, most organisations have realised that flexi working or Working from Home (WFH) models can be a continuous strategy for them to implement without impacting productivity. They can also reduce costs by implementing such practices.
In order to capitalise on market or customer opportunities, organisations need to keep their eyes and ears open, identify trends, communicate with customers (and get their ideas), conduct regular market research and identify ways of partnering and collaborating with others.

O: Business leaders, employees and stakeholders need to be open-minded when work commences after the two-month lockdown. Agility will be a critical success factor. New ideas will have to be explored and the existing policies and procedures need to be re-evaluated for its relevance based on the new normal. There is no room for ego or complacency. The need to change is inevitable and the previous business practices may be outdated now. So being open-minded is absolutely essential.

P: Organisations, leaders, entrepreneurs and employees need to persevere if they are to weather the storm of COVID-19. Staying calm and maintaining focus is critical. Everyone in the organisation has to have self-belief in their ability to handle the various challenges in the workplace. Patience and perseverance are essential elements when navigating through tough times. This does not mean that you postpone crucial decisions that need to be made urgently. However, the key is to look at things from a holistic perspective and evaluate all options available. There is no short-term fix to most of the challenges. Assuming so will be myopic to say the least.

All of us will be back to our workplaces sooner rather than later. We need to be psychologically prepared to get back to our job roles. Just like in any crisis situation some will come out stronger than others post pandemic. The 3As and LOOP model will be useful for employees and organisations to explore and should be a practical framework to follow.