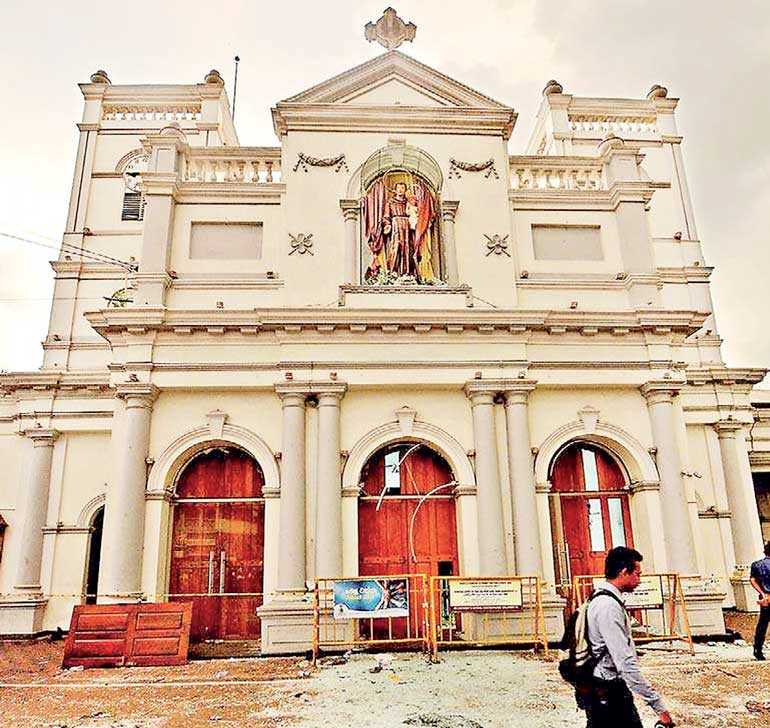 The radicalisation of these terror elements and their influence on religious groups to entice them into violent extremist ideologies has taken place over a period of time – Pic by Shehan Gunasekara
---
Easter Sunday carnage has left the country in a dilemma leaving all of us in a state of anxiety with a feeling of general insecurity. The events have shaken the peace loving world and brought our country to a virtual dead stop. Focus of attention on all relevant aspects of the issue by every peace loving citizen is imperative at this moment.
Notwithstanding the prevailing State of Emergency, public should not slack the responsibility of expressing observations and views which contribute to assist in the recuperation process. It has to be borne in mind that what we experienced was part of the agony that the whole world is facing today. Understanding the problem in its correct precept is a must.

The attack we experienced in Sri Lanka is unparalleled in that it is quite different to the sporadic localised incidents that the world has so far witnessed. The published list of terrorist incidents throughout the world 'only' during April 2019, bespeak the following:


No. of countries subject to terrorist attacks including Sri Lanka – 30
Total number of deaths – 979
Number of persons injured – 1073


These are the details of some of the terrorist, alleged terrorist, or suspected terrorist incidents (total of 110) which took place in April 2019 (with the Sri Lankan attack) which includes incidents by violent non-state actors for political, religious or ideological motives.

In this list the highest number of deaths and injured is from Sri Lanka (258+ and 500+). The largest number of locations attacked in one day is also from Sri Lanka. In addition, the revelations now made with the ongoing investigations, as unveiled and exposed by the Sri Lankan security forces show that the impending potential danger was serious beyond any imagination and spread throughout the length and breadth of the country. Another unique feature associated with the attack in Sri Lanka is that it was a forewarned attack. A chilling video release by an IS-lined group claiming responsibility for the Sri Lanka massacre has declared, "This bloody day is our reward for you".

This record shows that about 20 violent groups were involved in these atrocities with arson, shooting, suicide bombing, petrol bombing, execution, and vehicle ramming, riots, etc. etc. The perpetration of the incidents as assigned to various terrorist organisations is as follows:

Islamic State (ISIS related) 34; Taliban 15; Militants 13; Boko Haram 11; Unknown groups 9 and Al Shabaab 5 and 23 incidents attributed to 14 other different terrorist groups. It is now established that the Sri Lanka attack was carried out by local militants.

The list of countries (28) include Afghanistan, Bangladesh, Burkina Faso, Congo, Chad, Cameroon, Egypt, France, India, Iraq, Indonesia, North Ireland, Kenya, Libya, Mali, Nigeria, Pakistan, Philippines, Sri Lanka, Somalia, Saudi Arabia, Syria, Turkey, Tunisia, Thailand, USA and Yemen.


Hardly any restraining by the authorities


All this information leads to the position that in our land a dormant but conceivable potential risk has gradually grown over a period of time to become a bold violent group spread all over the country with hardly any restraining by the authorities. It is an undeniable fact that the responsibility arising out of this gross negligence is something that no one can ever escape. Hence the meaningless talks by our politicians calling this a global threat which cannot be helped, has to be dispensed with scorn as mere claptrap resorted to cover up the negligence on their part.

The radicalisation of these terror elements and their influence on religious groups to entice them into violent extremist ideologies has taken place over a period of time. There is no doubt that during the stage of their progress they have received the patronage and cover from powerful sectors to develop into such a formidable level. It is unfortunate that political opportunism has played the pivotal role in this regard.

Approvals granted to ostensibly set up mushroom institutions all over the country, alleged reports about release of containers shipped into the country without proper checks and controls at the customs, methodologies adopted to purchase allegiance, funding the influencing process, huge amounts of foreign aid brought into the country by way of donations and grants towards various foundations by passing the regulatory mechanisms, have all contributed to this unrestrained augmentation of terrorist activity.

Interference in the law enforcement process by politicians who have become indispensable in the maintenance of the survival equilibrium of power politics, apparently has been a fundamental underlying factor in this metamorphosis.

The ongoing search operations bring to light the magnitude of the position and the extent of the spread of its tentacles in to the society. But will this bring the matter to a close? Isn't it possible that there are ambitious bigwigs on whom the search lights have not focused yet? If they so remain with the blessings of powers that be can we expect to end the situation? Those caught with swords and small weaponry may take up the defence under the law that they were kept to cut grass! Some VIPs have already expressed such opinions. And law not only here always gives the benefit of the doubt to the accused. We have seen this happening in countries like Australia. A Sri Lankan youth with a student visa in Australia with alleged links to ISIS was arrested in August 2018 and charged with terrorism-related offences in Sydney following an investigation by police and security agencies as reported by the AAP. Australian Federal Police first told reporters that police found a note book that named a number of locations and individuals that are potential targets. They alleged that this person was in possession of a document that was used in the preparation of, 'air terrorism offence'.

They stated that the charge laid against this person is serious and significant. But in the end as he did not have any criminal history in Australia the police could not maintain any offensive charges against him. The prosecutor informed courts that "the prosecution has become aware that an expert handwriting examiner found an inconclusive result on the relevant entries contained in the note book". He was acquitted due to the inconclusive evidence about the documents in his possession. We have to view the various arrests that take place in Sri Lanka in this context. One day before the law the productions taken to custody may not be sufficient to maintain any charges they are to be prosecuted with.

At least 23 Australians, mostly native born, have been convicted of domestic terrorism charges since 2001. According to intelligence reports it is believed that hundreds of Australians advocate violent Islamic ideologies. Australia alleges that domestic terrorism is strongly linked to political, ideological, and cultural conflicts abroad. International Jihadist groups increasingly rely on internet and social media to encourage lone actors to engage in stand-alone domestic attacks and extremism. But Australia maintains a vigil that does not permit the violence to raise its head easily.

Despite the growing threats and apathy from the Islamic extremists Australian government maintains a hard line against their activities. Prime Minister Julia is reported to have made a highly controversial statement about the Muslim rights viz a viz the Australian laws which no other country leader has dared to make. Australian government has increased counter terrorism and counter extremism measures many fold following exposed terrorist activities there.

Among several other laws in force, in 2015 PM Tony Abbot, proposed new hate speech legislation prohibiting speech deemed 'advocacy to genocide'. This law would provide prison sentences of up to seven years for offenders who publicly 'counsel, promote, encourage or urge' genocide.

There are many lessons we can learn from countries which stand exposed to terrorist threats. Those countries can together formulate common ground solutions for the problem. What we need is a broad outlook and an approach like that. If our Parliament, for some reason or other is unable to unite and corporate in a crisis situation such as what we are facing now, best is to 'prorogue' the Parliament and appoint a caretaker cabinet comprising one member from each of the political parties represented in the House to address the issues during the emergency.

What we need is to reduce the dominance of any one party particularly at a time when the public is pointing a finger at the Government for its lapses. When no party on its own can achieve a majority in the Parliament like in the current situation, such an arrangement would pave the way for an acceptable degree of perceived collective identity also avoiding various political power struggles.

Reluctantly though we have to state that it is disgraceful for some political party leaders to put forward their own demands at a time like this (fishing in troubled waters) and make utterances (rationalising) attributing creditable motives to un-creditable acts. Some of the interviews given by our leaders to foreign journalists and agencies convey a poor image of the collective responsibility and display prevaricating tendencies. All such pitfalls could be avoided under a cabinet representing an all party coalition.