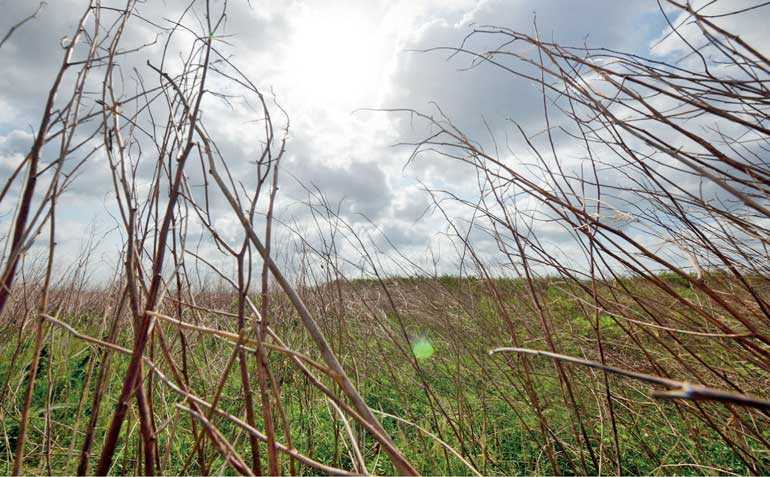 Shouldn't a state support and facilitate developments for a thriving nation resilient to climate change, and maybe even more, proactively working towards conservation of the environment and a liveable future? – Pic by Shehan Gunasekara
---
Avurudu season is approaching and April as always is hotter than hot. Heat warnings are released from the Met Department and what else? Power and water cuts are the daily norm – for most of us. In these times the entire – or let's say most of the – country is reminded how it is to live without power and how dependent we are on it in many ways.
These times also remind us of those Sri Lankans who are facing this destiny throughout the year, and who still have not been able to raise their living standard to have basic needs fulfilled. Service delivery instead of Colombo focused mega projects? Different story.

Where it is understandable that such cuts are taking place if a country faces unexpected challenges and/or does not have enough resources to provide power to its people during times, in Sri Lanka it is another scenario. Sri Lanka has several opportunities for renewable energy. There is sunshine almost throughout the year all across the island, in addition we have rivers, oceans, wind and biomass which can be used sustainably as a source for energy. But what is happening instead?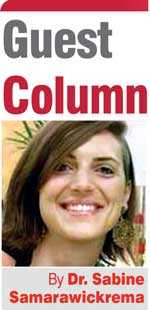 Decisions pro fossil fuels wherever one can look in Sri Lanka! Globally fossil fuels are decreasing and are replaced by hydro, wind, solar and other renewables. It is prognosed that by 2050 only 29% of the power generation mix will be consisting of fossil fuels, 64% of renewables and 7% of nuclear sources (Bloomberg NEF, IEA). If we compare the power mix for Sri Lanka for 2038 we are looking at 53% of coal, 14% of gas, 1% of oil and only at 32% of renewable energy out of solar, wind and water in total (CEB). Aiyo Sri Lanka!

There are various articles online which attempt to explain the current energy crisis outlining responsibilities, failed accountability, the involvement of various interest groups and the consequences for the public. One is left with a headache trying to understand the sheer amount of linkages and different interest groups' involvement in the energy sector in Sri Lanka.

This is beyond any sense and one is left speechless realising the controversial decisions which have been and are still being made about energy provision. Greta Thunberg says "we have a climate crisis," and what do we do? Instead of shifting together to find sustainable solutions towards a climate resistant Sri Lanka, we impose solutions which are far from good.

We are all aware of the multitude of renewable energy related proposals which have been sent to the authorities for approval, and got stuck there since when? Some might find their way to implementation and others not. Isn't there something wrong when people trying to introduce sustainable solutions for a country which is ranked number 2 for climate change risk (Global Climate Risk Index, 2019), have to develop and implement their solutions besides authorities, often avoiding their involvement?

Shouldn't a state support and facilitate developments for a thriving nation resilient to climate change, and maybe even more, proactively working towards conservation of the environment and a liveable future?

The 'National Energy Policy and Strategies of Sri Lanka 2017' lists (amongst other points): Assuring Energy Security, Providing Access to Energy Services, Improving Energy Efficiency and Conservation, Enhancing Self Reliance, Caring for the Environment, Enhancing the Share of Renewable Energy and more; just another policy without spine?

The GCRI explained Sri Lanka's 2 rank: "In May 2017, heavy landslides and floods occurred in Sri Lanka after strong monsoon rains in south western regions of the country. More than 200 people died after the worst rains on the Indian Ocean island since 2003. The monsoons displaced more than 600 000 people from their homes and 12 districts were affected. The inland southwest district of Ratnapura was most affected where over 20,000 people faced flash floods."

What more do we need to realise that climate change will have a strong effect on Sri Lanka and that our very own policies can increase or mitigate this affect? We look at other countries in so many ways, we admire them for various achievements. There are several examples where we can learn from and there are a multitude of capable experts in the country to develop such needed systems and maintain them. But we are not interested in that expertise … not in this case.

The sad fact that whoever joins in destroying the resources of Sri Lanka and its climate is considered a "welcomed investor" and "the way to go forward", however all those who try to change the global climate crisis are considered "fanatic activists", does not really help here. This viewpoint is for sure widespread globally and one of the reasons for the situation we are currently in. It has become normal to us. But what does normal even mean? The dictionary says "conforming to a standard, usual, typical, or expected". Well it by far does not equal normal with "good". And still, the human is a creature of habit. Just because we got used to exploiting the planet, does by far not mean we are doing the right thing.

In addition, that those decision-making people, given their privileges, are not experiencing the challenges in the same way as the rest of the country, does not help neither. It is about time to change the status quo and venture into a new chapter. The preconditions are set in Sri Lanka, the possibilities are there, climate resilience and energy security are possible, if there wasn't…

Aiyo Sri Lanka! How you are enslaved and squeezed by a handful, where you could provide and offer so much for everyone!? You are the most beautiful country in this world, you have all a country needs to provide to its people, but you are put in chains. Hope remains that there comes a point soon where those with decision power release you into the bright future you deserve.