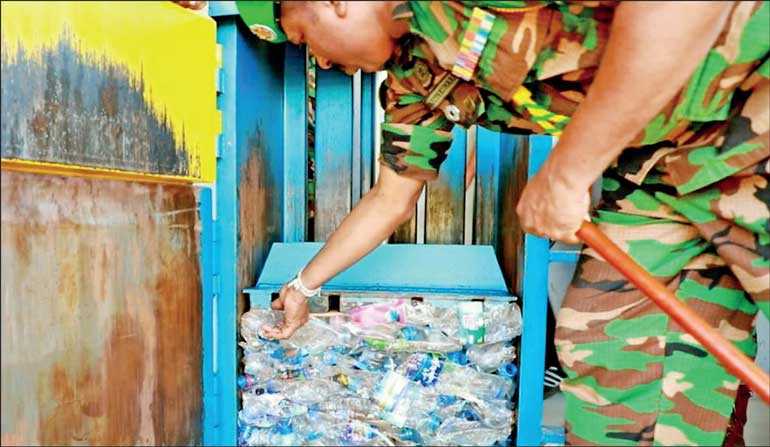 In 2019, MAS and Eco Spindles inaugurated a Material Recovery Centre in Vanni, as an extension of our efforts towards addressing the marine plastic issue that we were witnessing across the coastal belt of Sri Lanka. The Material Recovery Centre functions as a hub to redistribute waste materials collected from the neighbouring regions to recyclers
---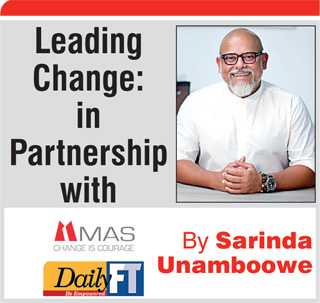 Five years ago, a group of individuals who believed that nothing was impossible banded together to scale the length of the island from the northernmost point of the country, Point Pedro to Southernmost point, Dondra Head. A repeat of the first, successful Trail Sri Lanka walk in 2011, the aim was to raise funds to build a cancer treatment facility as part of an extension of the Karapitiya Teaching Hospital in Galle.

As we walked the 670 kilometres linking the north and the south, we were strengthened by the support of thousands of people. But as we walked on the A9 and past the beaches fringing our island, we found it impossible to ignore the mounds of plastic lining the roads and beaches.

This was a stark eye opener which led to us to research the source and scale of the problem. What we realised was that most of the waste was being washed up from the ocean, as we even found waste from neighbouring countries along our shores, or flowing down to the sea from rivers and canals. This led us to engage in a concentrated effort to clean up our shoreline, partnering with the likes of the Sri Lanka Navy and the Marine Environment Protection Authority (MEPA) to conduct beach clean ups, set up material recovery centres and create networks to enable recycling.

However, research shows that approximately 70% of marine waste sinks to the seafloor and only 30% washes back to shore, which meant cleaning beaches is not a sustainable solution to the marine waste problem in our country.

While the inspiration of addressing the issue of waste at a mass scale came from this experience, we knew the problem of waste was multi-faceted. Addressing this issue for good requires looking at how much waste we produce, what types of behaviours exacerbate the issue, and what types of items contribute to the problem, and how. This kind of intervention would require a multi-pronged, multi-stakeholder approach requiring innovation, collaboration, behaviour change, producer responsibility, regulatory interventions, and accountability.
Driving change: The role of industry
The first step to addressing the problem of waste, comes by acknowledging the problem. We can start at home – simply collecting and separating our food, paper, and plastic waste for a week can give us a quick visual representation of how much waste we actually generate. Understanding the size of the problem is also an important step to creating meaningful change—both as individuals and organizations, we must realistically evaluate the impact we create to push ourselves to create authentic, sustainable change.
Businesses have been known to be some of the greatest contributors to the problem of waste. In fact, the apparel industry is known globally to contribute approximately 4% of the world's waste (https://www.forbes.com/sites/jonbird1/2018/09/09/fashions-dirty-little-secret-and-how-its-coming-clean/?sh=69d0d2881771), and fast fashion has long since battled its waste problem. As businesses, not paying attention to our impact and not seeking solutions to the issue of waste can mean that we continue to be significant contributors to the problem as a whole.

In the apparel industry, the issue of waste is two-fold, as there is a pre-consumer waste generated in the manufacturing process, as well as waste generated post-consumer use. As manufacturers, there are a number of ways that the industry tries to tackle pre-consumer waste, such as innovating cut-and-sew techniques that reduce wastage, converting fabric waste back into yarn, recycling waste water, aligning to standards such as the Zero Discharge of Hazardous Chemicals (ZDHC) roadmap, and even generating energy through waste.

Addressing post-consumer waste, while critical, requires the industry to coordinate between brands, manufacturers, consumers, and even regulators, as goods move between geographies and value chains to close the loop by feeding discarded clothes back into the apparel value chain as raw material.

Industries such as consumer goods, too, have an important role to play, as they contribute significantly to the issue of post-consumer waste, and therefore must take accountability in creating products and packaging that are degradable and environmentally friendly, or innovate product design to use less or no packaging wherever possible. These companies also have the opportunity to promote responsible disposal as well as collection and recycling of packaging, in order to reduce the use of virgin materials in the value chains.

Influencing change: How to do things differently
While industries work towards managing both pre- and post-consumer waste, we must also consider how we can influence the behaviours of our employees, communities, the country and the planet at large. With global businesses that are as big as, or sometimes even bigger than, most economies in the world, business can play an important role in influencing positive change. Similarly, in Sri Lanka too, we have companies that have influence over tens of thousands of people and many geographies within and outside of the nation.

Therefore, businesses have a significant responsibility to use our networks, strengths in communication, partnerships with stakeholders and vast geographical presence to influence people to change their behaviour and actively seek solutions to the issue of waste. By modelling behaviour change within organisations, companies can often encourage employees to adopt these behaviours in their personal lives, and then lead change within communities associated with work and home.

An example of this is an initiative which we call 'Pirisidu Lanka' which is a first step towards our ambition of helping create a zero-waste nation by 2030. The 'Pirisidu Lanka' model is a holistic, three-phase approach that looks at creating spheres of influence around our MAS facilities to drive the concept of a waste-free nation, and encouraging employees, communities, businesses, and other stakeholders to create their own spheres around their own operations and localities. The first stage of the project examines our own facilities, by creating model plants that send zero waste to landfill, adopt the 7R principles and innovate new ways of value enhancing generated waste. Our plants must adhere to guidelines on eliminating single-use plastics and implement viable solutions to reduce, reuse and/or recycle process waste, food waste, construction waste, e-waste, paper and mixed waste.

The second stage of the project is to implement these principles within a five km radius from our plants. Our focus is to create litter-free spaces and enable knowledge transfer within the communities by engaging community leaders who can help encourage behaviour change within their own spheres of influence.

The third stage involves replicating the model within and outside our industry and stakeholders, particularly through other businesses who have immense potential to create change by following the model in their own operations, encouraging adoption among their communities and consumers. This will help increase our spheres of impact across the country, expanding the 'Pirisidu Lanka' concept through collaboration and by advocating national legislation and policy change.

In 2019, we started our journey with a pilot project in Kilinochchi within our facilities and extended to the community through schoolchildren, equipping them with tools and knowledge to act as change agents within their schools and homes. Knowing that the success of the model depends on community ownership, community leaders are tasked with providing leadership to shift behaviours and create the movement necessary to drive sustainable change.

While these are first steps of a much longer journey, it is no secret that collaborative, community and multi-stakeholder driven models such as these have the potential to create tangible impact. The key to success lies in encouraging the relevant stakeholders who have both the ability and motivation to create change, to take accountability for their role and value addition.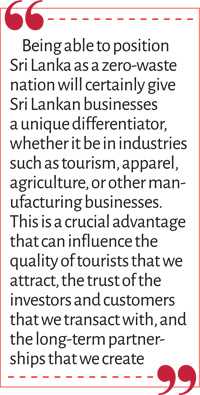 Innovation and collaboration
Innovation has been vital to addressing so many of the challenges in the world—and the issue of waste is no different. Whether it is a simple change in how things are done, or a monumental shift across many stakeholders, innovation has a critical role to play in this issue. From setting up infrastructure in tackling waste, using waste to responsibly generate energy, to converting waste to value such as the case of creating yarn out of PET, waste is an issue that has as many as opportunities as it has challenges.

To truly leverage these opportunities, open innovation and collaboration are necessary. Last year, MAS implemented a pilot floating trash trap, which we called the 'Ocean Strainer,' in the Dehiwala canal, which catches trash floating along the canal, and traps it before it reaches the ocean through the canal mouth. A resource person from the nearby community is tasked with collecting the trash, and the local municipalities support in the removal and disposal of the collected trash.

While the success of the pilot was hugely encouraging, we soon realised that the power of this initiative was in sharing the technology we had unlocked with a wider group of stakeholders. Today, the technology for the 'Ocean Strainer' is open source, and we have over fifty partners who have reached out to us, wanting to contribute in different ways to expand our efforts. Authentic collaboration has the power to create immeasurable impact and can help to really move the needle where it matters.
Our collective opportunity
The pandemic showed us that in order to secure the future, we must adapt with speed, harness innovation, and collaborate in order to survive. To rebuild our economy, Sri Lanka will have to strengthen itself with new value propositions, with industries, competitors, and stakeholders sharing data, insights and strategies on how we can leverage our collective strength to weather the storm and thrive in the new normal.

Being able to position Sri Lanka as a zero-waste nation will certainly give Sri Lankan businesses a unique differentiator, whether it be in industries such as tourism, apparel, agriculture, or other manufacturing businesses. This is a crucial advantage that can influence the quality of tourists that we attract, the trust of the investors and customers that we transact with, and the long-term partnerships that we create.

The benefit of a zero-waste Sri Lanka will not simply be an attractive proposition for the economy, but create a much needed systemic change that will help define a new identity for our nation as a great place to live, work, visit and thrive. Being a small country gives us the opportunity to create visible change and position ourselves as a best-in-class case study for the rest of the world.

Such an effort would also be an integral part of our greater responsibility as citizens of the world to take meaningful action to make an impact on our country and our planet; and an opportunity for all of us, as individuals, business, government, and advocates, to come together to think out of the box, take bold decisions, and inspire others, to truly add value, not just to the problem of waste, but to the longevity of our country and our planet as a whole.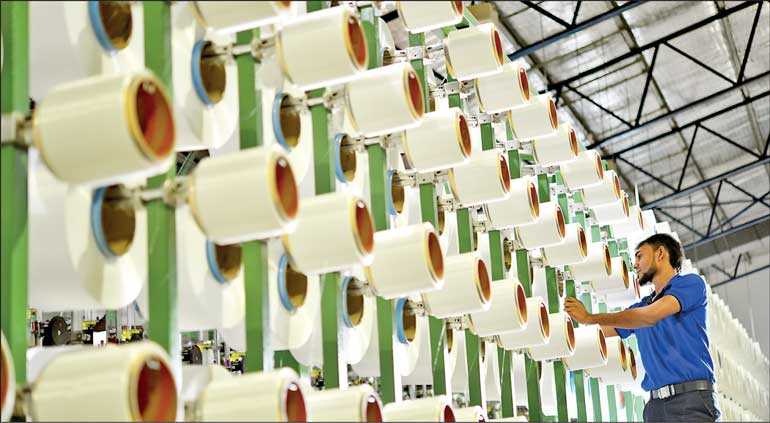 Repurposing process waste is an important step of the value chain that helps manufacturers address the challenge of pre-consumer waste. At MAS, we work on circular initiatives by converting pre-consumer fabric waste to yarn, to close the loop and create a circular model for the waste generated within our own operations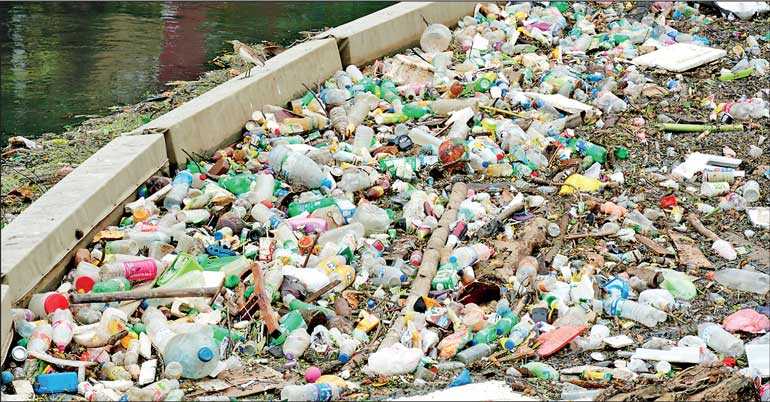 The 'Ocean Strainer' floating trash trap is an extension of our efforts in combatting the issue of plastic waste. Piloted in the Dehiwala Canal last year, the 'Ocean Strainer' was able to keep 30,000 kilograms of waste from reaching the ocean in the period between August to December 2020. Currently, the project is being expanded with the support of the Marine Environment Protection Authority and several corporates who have expressed interest to replicate the solution
---
(The writer is the CEO and Managing Director of MAS Kreeda, and a full-time 'change agent' who believes progressive thinking and passion are an essential part of professional and personal life. When Sarinda is not trying to find ways to bring innovation to manufacturing, he can be found in the jungles, absorbed in his love for wildlife and photography. He sits on the MAS Group's Sustainability Advisory Council and on the Board of Biodiversity Sri Lanka – roles he believes are more of a passion than a job. He is also a Trustee of The Colors of Courage Trust, through which he co-founded TRAIL in 2016, a national movement in aid of cancer.)
---