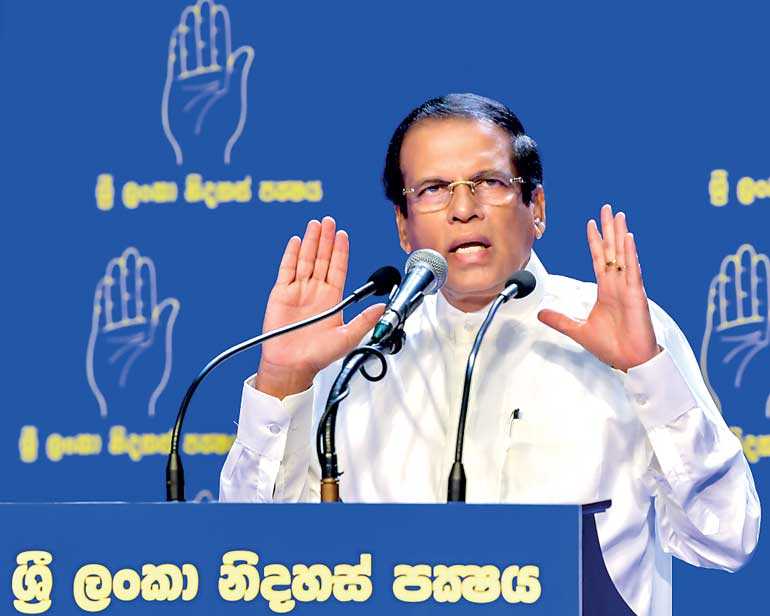 President Maithripala Sirisena's speech at the Sugathadasa Stadium on Tuesday was a terrifying tantrum of rage, an accusatory expression of indignation; it contained traces of tears and a great deal of self-pity and it was revealing theatre of the absurd
---
We must not trust a man willing to die in glory but unwilling to live with truth and pride. Politicians who succeed in convincing themselves that the truth is identical with their self-interest turn out to be exceptionally good at being good liars. The best political liars are those who do not see reason and hence lie convincingly. Even when it becomes obvious that they are lying they insist that they are telling the truth and other party is guilty of untruth. When my son asked me if I had listened to the President's speech at the Sugathadasa Stadium on Tuesday, my initial and laconic riposte was that I did not see the logic of taking blood pressure medication and listening to a man who in my humble opinion has not only decided to fly over the cuckoo's nest but has now opted to remain in permanent orbit over the cuckoo nest.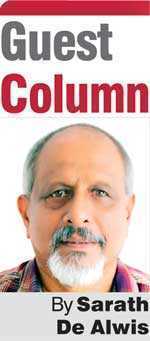 Fate intervenes in funny ways. Before going to bed last night, I changed my mind. I listened to his long emotional outburst. It was a terrifying tantrum of rage. It was an accusatory expression of indignation. It contained traces of tears and a great deal of self-pity. It was revealing theatre of the absurd.

That he began his peroration with a reference to S.W.R.D. Bandaranaike, the founder of the SLFP, was a cruel quirk of history.

Watching the event on a live video was spine chillingly startling.

There was the very learned, consummately cosmopolitan, tantalisingly tribal Social Anthropologist and politician Dr. Sarath Amunugama on the front row applauding the Phony Pericles of Polonnaruwa exploiting the hurriedly convened extraordinary national convention of the SLFP to explain his freakish, outlandish exercise of presumed presidential prerogatives since 26 October – the day he sacked Ranil and installed Mahinda as prime minster.

That was a real shame.

President Sirisena did not have the good fortune of either attending a university or listening to S.W.R.D Bandaranaike's famous convocation address at Peradeniya in 1957 where he encapsulated the epochal transition from elite governance to democratic governance in the "age of the common man' that is now cast in stone in our popular psyche, exploited in cynical disdain by parvenus who occupied the front row of the Tuesday's event.

Dr. Sarath Amunugama, the mass media mandarin, applauding the 'messiah' promising never to make Ranil – the neo liberal ogre – prime minister at the SLFP circus not only attended the then 'University of Ceylon' but was a privileged participant in the Peradeniya event where Bandaranaike explained the Huxleyan paradox of the 'thesis and antithesis 'and the Solomonic synthesis he hoped to achieve though his Sri Lanka Freedom party.

One of SWRD's observations made in 1957 is apposite to the discussion herein: "I feel that this age is not so much a new age but an age of transition between a state of society, a civilisation that is obviously decaying and dying and a new society, whatever it may be its final form, which will replace it. It is therefore essentially an age of transition, a formative age where a great responsibility rests upon all of us, of this generation to think clearly and correctly, in shaping that new civilisation, whatever it may be its final form."

The SLFP founders advise in confronting the dynamics of social and political transition cries out to be translated in to simple Sinhala and explained to the knob head cum dimwit whom we mistakenly trusted on 8th January 2015 to deliver good governance.

There is no doubt that President Sirisena was addressing a rational audience. His preposterously monstrous perversions of facts did not result in wild cheering. The lukewarm hurrahs and applause were limited to the front row and a few pockets of enthusiasts who were switched on and switched off with a mechanical precision. It was an orchestrated obfuscation of obvious reality. It was a microcosm of the make-believe world that Maithripala Sirisena finds himself trapped in today.

The speech was not fascist. It was not neo fascist either. It was breathtakingly proto fascist. Make no mistake. I am not suggesting that Ranil Wickremesinghe is better than Maithripala Sirisena. They are both villains but of different shades and in different forms.

That said, we must in this current predicament, restore Ranil's premiership even for a day for the express, immediate and salutary purpose of rubbing Maithripala's snooty nose on the hard rock of public anger.

Maithripala Sirisena in his speech betrayed his deep insecurity in adhering to democratic process and procedure.

He insisted that all executive action he has taken since 26th October are lawful and constitutional. Who says so? He says so. He cares for the country and the nation. Ranil does not. He alone responds to the people while Ranil pleads at the doorsteps of foreign embassies.

That is more than adequate grounds to sack Ranil and install Mahinda on the Prime ministerial saddle. He insisted that the same raison d'être that made him agree to be the common presidential candidate in opposition to Mahinda Rajapaksa on 21st November 2014 led him to make Mahinda the Prime minster on 26th October 2018!

What was really surprising to me was that Dr.Sarath Amunugama whose mastery and grasp of Weberian ethics of political responsibility is beyond question was applauding the mundane inanities of Sirisena the president with such gusto and élan.

Now, that was a sorry spectacle that reminded the writer a passage by Theodore Adorno that exquisite critic of fascism in his brief observation on what he calls 'Final Clarity':

"The newspaper obituary for a businessman once read: 'The breadth of his conscience competed with the goodness of his heart.' The lapse committed by the mourners in the rarefied, elevated language called for at such times, the involuntary admission that the kind-hearted deceased was devoid of a conscience, expedites the funeral procession on the shortest path to the land of truth. When a man of advanced age becomes famous for being especially benign, one can presume that his life represented a series of scandals. He has gotten used to outrage. The broad conscience passes itself off as greatness of mind, which forgives everything, because it understands it all too well. A quid pro quo steps between one's own guilt and that of others, which is resolved in favour of whoever got the best of the deal. After such a long life, one just can't distinguish who did what to whom. In the abstract representation of universal injustice, every concrete responsibility collapse!"

Our eminent diplomat Jayantha Dhanapala who as a young undergraduate remembered SWRD's philosophical musings at the Peradeniya convocation in 1957 quoted those words in 2013 when he himself delivered a convocation address at the same venue. How come one undergraduate of 1957 at Peradeniya remembers them while another undergraduate of 1957 applauds Sirisena's ignorance of those same musings on societal transition? The philosopher Theodore Adorno has explained. I apologise to my readers for the digression. Imperative of confronting charlatanry demanded it. Sorry.

It is not that I admire Dr. Sarath Amunugama less. It is a contemporary imperative to remind him and others like him that rise of fascism and democratic decay is the results of such elite failure.

Maithripala Sirisena's harangue is indicative of elite failure that can only result in reversing the one single achievement of the 8 January triumph of democratic renewal – the 19th Amendment.

Already the repeal of the 19th Amendment has become the platform of the 'Pohottu' Prime Minister now restrained by a court order.

Fascism is the major political innovation of the 20th century. The so-called neo liberalism now practiced by Putin in Russia in the 21st century and Pinochet in Chile in the eighties of the 20th century are only offshoots of the parent ideology that is advocated by Gotabaya Rajapaksa and now taken over by Maithripala Sirisena.

Maithripala's horrendous harangue to his captive cadres was classic fascist rhetoric. As an ideology, fascism draws its legitimacy from a mythic core of an ancient superiority and an immediate resurgence of a populist nationalism.

In these dangerous times we must revisit history and learn from history. The purpose of history is to instruct on past folly that dissuades us from repeating earlier madness.

Fascism was born in Milan Italy on the quiet morning of Sunday 23 March in 1919. A little more than 100 persons of whom there were 11 war veterans, pretended left wingers (Vasu types), intellectuals, plus some sympathetic journalists formed a political coalition similar to our 'Viyath Maga' that declared war on those who championed socialism and opposed nationalism. Benito Mussolini called it Fasci di Combattimento, which means "fraternities of combat."

Now Maithripala Sirisena has launched his fraternity of combat. He is combatting one ostensible enemy – one single man – Ranil Wickremesinghe. Should we be impressed with that hogwash?

Maithripala Sirisena is the best thing that happened to Ranil Wickremesinghe. I am all for reinstating Ranil Wickremesinghe for as long as it takes to rid the country of this current political obscenity.

The once upon a time Marxist, Trotskyite Revolutionary Socialist and present-day populist Vasudeva Nanayakkara has described the interim order of the Court of Appeal as one without a match or a parallel in the history of either Sri Lanka or the world.

That may well be true. It is doubtful whether any tribunal in modern democratic history has been called upon to determine whether an elected head of state is a jackal, a jackass or a hybrid of the two genres.