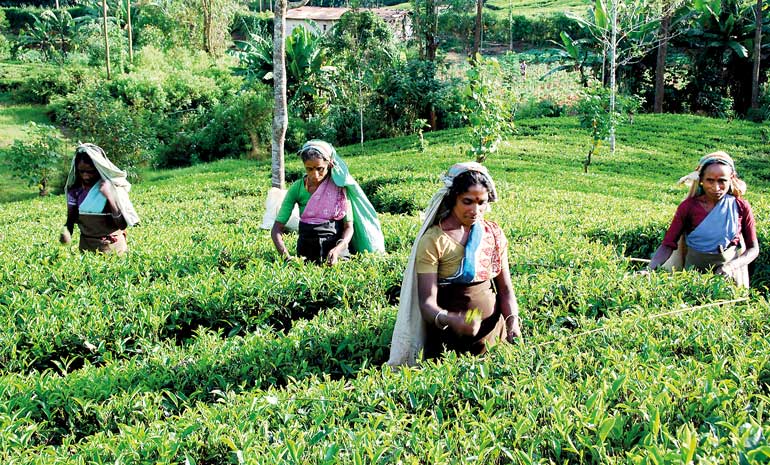 When the Ceylon Chamber of Commerce organised that 'Towards $ 50 Billion in Exports' forum attended by the Prime Minister, Minister of Finance and the then State Minister of Planning in mid-2015, I was confused by the timeframe they had set for its achievement. They had given a 35-year time period to achieve this. Then there was a recent announcement in Lanka Pages by another State Minister that we are planning to achieve $50 billion mark in exports by 2020 and I was still more confused.

I always wanted to write about these projections and then came this latest article by no less a person than a former Chairman of Sri Lanka Export Development Board wherein he laments that (a) Sri Lanka and Vietnam were both $ 2 billion level exporters in 1990 and today Vietnam is doing $ 100 billion and we are doing only $ 12.5 billion and (b) our poor supply chain development which he inherited is still holding ground. I, of course, am not surprised at our current status after reading this most recent article; I would be surprised only if we are doing any better.

The objective of this article is to examine these illogical statements and project them to be more logical pronouncements so that my grandchildren can proudly say that we are on par with any other exporter from Asia and to substantiate what I had mentioned in many a forum, that we should think outside our tea, rubber, gems, apparel export oriented mind frame.


$ 50 billion exports in2050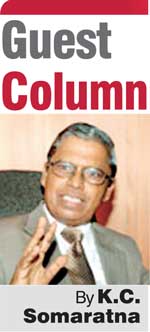 When we project to have $50 billion exports in 2050, we are basically planning to increase exports fourfold in 35 years. We need to look at how long we had taken to have such an increase in the past and my mind goes back to the period from 1992-2014, a span of 22 years in which our exports increased from nearly $ 2.3 billion to nearly $12 billion. So if we managed to achieve this fourfold increase in 22 years then, why should we plan to do it in 35 years now? Vietnam achieved a 50-fold increase in 25 years. Another important aspect is that during the same time period oil price also increased nearly fourfold from $18 per barrel to $72 per barrel.

Oil price increase has an impact on our economy – exports especially, as follows. When oil price goes up, Russian and Middle East economies thrive and our tea exports to these destinations will go up both in volume terms as well as unit price terms. Then synthetic rubber goes up in price and our rubber exports will prosper. If this oil price increase is not sudden – when a recession might set in – the apparel selling volumes and prices might go up in both US and other destinations in Europe. So our exports – both in volume terms and value terms – will increase and achieving the previous fourfold increase could be partially due to this. When I say this, I am not underestimating the tremendous work done by those key players in the Sri Lankan apparel sector to retain their markets against the stiffest competition and in fact to take their products further up in the market place.

So we need to look for other new products we could use in these efforts. In fact if we look at our export revenue, what do we boast about? Tea, rubber, coconuts which had been there since the first half of the last century, tourism added during J.R. Jayewardene's tenure as Minister of State in 1965, gems added during Dr. N.M. Perera's time in 1965 and apparel introduced during J.R. Jayewardene's time in 1977. Then of course the IT exports during the last few years.

The issue is can we achieve a fourfold increase in exports by merely expanding on these. The answer is a definite no, unless or otherwise oil prices go up in a corresponding ratio.


A probable strategy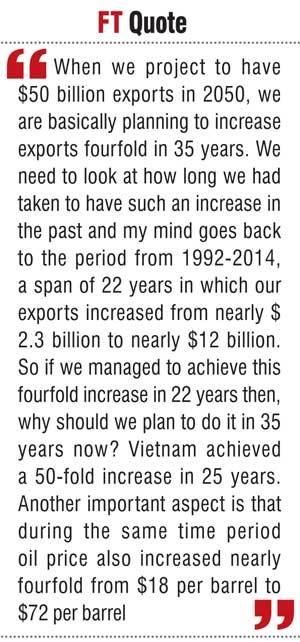 So in our attempt to expand our exports, we need to look at what the market place needs. Although I have marketed/exported coir dust at the price of sugar and we have earned Rs. 2 billion as foreign exchange even last year from this product, I don't project myself as a marketeer; but I respect what I learnt in marketing that instead of our trying to market what we could make the best, we should start making what we could market the best. Of course Sony's Walkie-Talkie may be an exception. We should look at the market place, identify what is in demand or where we can create a demand and check whether we could produce it in Sri Lanka. Michael Porter in his 'Competitive Advantage of Nations' aligns it to his Diamond Model and in corporate world we would call it Corporate Kinetics.

When Arjuna Mahendran was the Chairman of BOI in 2002 or so, he wanted a proper marketing plan formulated for BOI and we, Somaratna Consultants also offered to prepare one based on the Diamond Model, the Corporate Kinetics and a derivative of Value Creation Index (of Gary Hamel) to evaluate how Sri Lanka performs vis-à-vis other countries in Asia, which would have included Vietnam, offering similar services.

I have been writing to the papers that we cannot get over the middle income country trap by working on our current mix of exports. There is this talk of middle income country trap because there are no existing ready-made products/technologies for these countries to exploit and get over the trap. We need to broaden our pond – in Ram Charan's words – and where shall we look for these products and markets? We need to look for discontinuities in the global business environment and where are we going to have the biggest discontinuity? It is these discontinuities which will provide us the biggest opportunities and if we miss them, the way we missed those previous tech products to Vietnam, etc., then we will have to wait another 50 years or so to catch up on the next few.

International Energy Agency's document 'Energy Outlook for 2009' says as follows: "It is no exaggeration that future of human prosperity depends on how successfully we tackle the following two central energy challenges facing us to-day; (i) Securing the supply of reliable and affordable energy, (ii) Effecting a rapid transformation to a low carbon, energy efficient and environmentally benign system of energy supply". So Sri Lanka should look at plugging into this discontinuity in energy in general, and energy for transportation specifically and newer types of vehicles for the new era.

To embark on a proper Corporate Kinetics approach we need to identify what are the core competencies of the Sri Lankan establishment – comprising the land, its characteristics, people, education, prevailing and potential technologies, etc. – and check the import needs of other countries in line with the above discontinuity to identify the potential areas where these two aspects could yield the needed match to develop an export industry. There are enough and more models which could be used in doing this.

In fact what I believe is that the former EDB Chairman was wrong when he pronounced that Sri Lanka's problem is development of supply chain; the problem was and remains the demand side ignorance. Those apparel companies who spent their resources in understanding demand side dynamics prospered well. In today's world, for anybody to prosper – be it a company or a country – one needs to understand the demand side dynamics and manage the demand chain properly and till we do this we would always be promoting our tea, cinnamon and sapphires whichever market we want to open up.

If one wants to be like Vietnam or learn from Vietnam one needs to look at what they did after 1990 when they were on par with us in respect of export revenue in dollar terms. We also had a BOI and an EDB even then. They are about five times our size both in respect of land area and population. If one compares their export revenue distribution, one would see that the first 10 of their export products could have been from our country, of course except for crude oil.

Telecommunications equipment, computers and parts, other instruments, transport equipment would not have been there in their export mix in 1990. So why did we miss those? Because we were looking inwards and considering how to market the tea, cinnamon and sapphires. Even to-day we send a minister to Turkey to market tea and we plan to market these three even in the Pacific Rim countries. We need to get out of this mindset.


Advice from Prof. Joseph Stiglitz

We get down a world famous economist in Prof. Joseph Stiglitz and he makes a set of recommendations; but we insult both him and the many local economists by saying that our BOP crisis was highlighted by Prof. Stiglitz. When we say that he highlighted BOP crisis when he has come out with many other brilliant ideas, it amounts to insulting him. We are insulting the local economists who have been writing about this crisis on the horizon almost every week to the Sunday papers. What does Prof. Stiglitz recommend in respect of overcoming BOP crisis? Some of his recommendations go as follows:

(i) (a) Learning to produce, (b) Learning to export and (c) Learning to Learn, (ii) Go in for a green economy, utilise abundantly available sunshine and wind and put in a carbon tax, (iii) Move in to more technologically advanced sectors, (iv) Ensure good environmental policies and (v) Sound public transport attuned to the cost of carbon and climate change.

When I read these, my mind automatically went to my own article which appeared in Daily Financial Times of 7 August 2014 titled 'Positive Balance of Trade – Dream to Reality'. In that article I mentioned (a) how we have been unable to achieve a positive balance of trade in spite of a near 500% increase in apparel exports from 1999 to 2013 due to the more significant increase in our oil bill, (b) how we could promote solar energy to power our transportation and carve out for Sri Lanka a significant portion of the multi trillion dollar revenue of top energy and automobile companies in the world during this decade when these industries are to undergo significant change (the discontinuity spoken about earlier), (c) how we could start manufacturing PV solar panels and assembly of battery electric vehicles, etc. – products belonging to the future and (d) how we could establish a green economy in the country and promote an incubator for these green economy industries. I, most humbly, believe that there is a certain amount of synergy and similarity, between the two sets of recommendations.


What the IMF Head says

Getting down Prof. Stiglitz with assistance from George Soros is only one part – probably the easier part – of the story; the more difficult part is to implement the recommendations and then only will we achieve results worthwhile talking about. And this implementation will be very difficult if we go by what Christine Lagarde, Managing Director of IMF, told the Maryland University student population on our independence day in 2016. She made four pronouncements which would be extremely relevant to an emerging economy like ours as follows:

(a) FDI into developing economies is now well below 2000-06 levels and it will fall even further by the end of the decade. (b) All the technologies which we are enjoying or take for granted to-day have benefitted from state funding. (c) Over the next 15 years close to $ 90 trillion will be invested in infrastructure development and mostly in developing/emerging economies which will result in massive urbanisation and the tremendous risk it would entail if this locks in carbon-intensive energy and transportation in these mega cities. (d) The quotation from late President John F. Kennedy saying that "those who look only to the past or present are certain to miss the future".

So all these messages from Prof. Stiglitz, Lagarde, etc. are very clear and loud. Stop talking about the tea, the sapphire and cinnamon – by all means get the maximum from them and preserve them – and look for products and technologies of the future to manufacture and promote and in the process be mindful of the climate change and related aspects.

We also need to remember, although, I may be the only person who is saying this to-day – that the dangers the water vapour generated due to the combustion of liquid fossil fuels – petrol, diesel, furnace oil, etc. – and gaseous fuels – LPG, LNG or CNG – would bring about is definitely much more than that arising from the CO2 resulting from the same fuels. This is so because CO2 can never come down as precipitation, while water vapour when in the atmosphere is many times a more dangerous greenhouse gas than CO2 and when it comes down in an accumulated fashion – both area wise and time wise – could lead to many a water-related disaster.


Climate change – dangers and prospects

If one wants to realise and understand the gravity of climate change per se and water related disasters specifically, one only need to consider the following four facts; please note facts and not opinions:

(i) The 15 Mt of CO2 emitted by us in 2012 is equivalent to 244t/km2 while the average for the world was only 67t/km2 or 207t/km2 even if we take only the land area of the planet. (ii) The concentration of CO2 in Sri Lanka's atmosphere considered as a silo of variable cross-section increased by 16ppm in 2012 while that above the whole world increased by only 4ppm. (iii) According to the Central Bank Annual Report – 2014, the precipitation in Sri Lanka has increased by 1.0" per decade during the past four decades while for the whole world this increase is only 0.09" per decade and for USA it is only 0.15" per decade as per USA EPA website. (iv) In 2014, four days of every week were rainy days in Colombo (Table 15 of Central Bank Annual Report 2014).

If one wants (a) to be blind to these facts, facts which could be easily verified, and increase our carbon and water vapour foot print, (b) to ignore the advice given by Prof. Stiglitz, Lagarde, others and forge ahead along fossil fuel based, carbon enhancing pathways, one could use one's power and influence and do the same. Then the achievement of $ 50 billion exports in 2050 will depend only on how the oil price changes in the interim. More educated, climate change conscious future customers in USA, EU etc. would hesitate to import our apparels if they are coming from a country with a 300t/m2 CO2 emission per annum, while the world is moving towards lower CO2 emissions.

If one wants to pay heed to Prof. Stiglitz and others and promote a carbon free development path, the associated green, futuristic products would pave the way not only for a thriving export economy capable of achieving $ 50 billion mark in 2050 in the same way Vietnam benefitted from a few contemporary technical products to increase exports 50-fold in 25 years, but also a safer Asia devoid of water-related disasters.


The silver lining

Such a thrust towards green economic activities would also help us in overcoming the hurdles thrust upon us by the reducing FDI inflows as predicted by Lagarde. Actually in a global environment where these FDI inflows are on a downward trend, SL has only two alternatives, which are not mutually exclusive by any means. The first is to turn towards the greatest benefactor on earth to-day – China; wherever Chinese President visits these days – be it India, UK, Sri Lanka, the country is sure to benefit from China's benevolence. Their reserves in dollar terms has come down a little bit; but at a staggering $ three plus trillion level as at to-day it does not need to be a concern for its potential beneficiaries.

The other route is to invest in green economic activities. As predicted by the UNEP Document – Green Economy – published in July, 2011, the global community needs to spend a $ 1.3 trillion a year on green initiatives to overcome a most perilous future within this century. So by investing in or promoting investment in futuristic, green products and industries mentioned above Sri Lanka can, at least for some time, ensure that FDIs would keep on flowing in thus supporting our efforts to be a $ 50 billion exporter in 2050.

May sanity prevail at the relevant levels to implement advice sought by us and bestowed upon us by Prof. Joseph Stiglitz with George Soros as the benefactor and any reluctance towards such efforts would amount to ingratitude towards the advisor as well as the benefactor and from a Sri Lankan's point of view a classic indifference towards achieving $ 50 billion exports in 2050.
(The writer is Managing Director of Somaratna Consultants.)