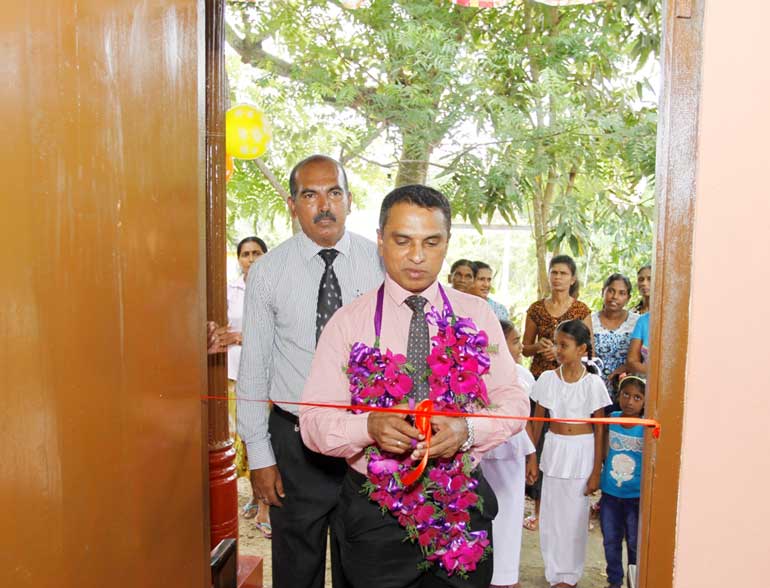 Rhino Roofing Products Director Jude Fernando declares opened the refurbished houses while Rhino Roofing Products Group Marketing Manager Priyantha Jayasinghe looks on
50 families, whose homes were lost in the tsunami of 2004 and were replaced with built houses in 2006 by Rhino Roofing Products Ltd., were beneficiaries of a complete refurbishment of their houses by the company 10 years on.

The village which has been named Rhinopura consists mainly of fisher families. Having assessed the necessary repairs to each house, Rhino Roofing Products Ltd., carried out the repairs and gave each house a new coat of paint, fixed all electrical issues and replaced all items that had fallen to rust as well. The company also refurbished and decorated the community centre and the Buddhist Shrine Room at Rhinopura.

Rhino Roofing Products Ltd. Group Marketing Manager and Coordinator for the project Priyantha Jayasinghe had this to say about the project, "In its CSR activities Rhino Roofing Products Ltd., consider it a priority to assist as best as possible the restoration of normalcy to public life following a natural disaster. Our company has maintained close relationships with communities by seeing to their welfare needs with the objective of uplifting communal living standards. It was in 2006 that we replaced the houses of 50 families who lost their homes due to the devastating tsunami of 2004 in Devinuwara with newly built houses in the Kapugama area of Devinuwara. Having given them new houses, we have constantly monitored them and taken action to ensure their well-being."

"Recently, we began construction of 20 houses for families affected by the landslide in Aranayake. We always take action to provide the necessary Chrysotile Roofing Sheets for those who have lost their shelter in natural disasters as well as for the construction of public amenities. We are unwavering in our commitment to launch CSR projects for such communities in need in the future as well."

Rhino Roofing Products Ltd. Director Jude Fernando presided over the ceremony to hand over the houses. The project from beginning to end was coordinated by Rhino Roofing Products Ltd. Group Marketing Manager Priyantha Jayasinghe. The project for the refurbishment and handing over of the 50 houses was completed in just two months.