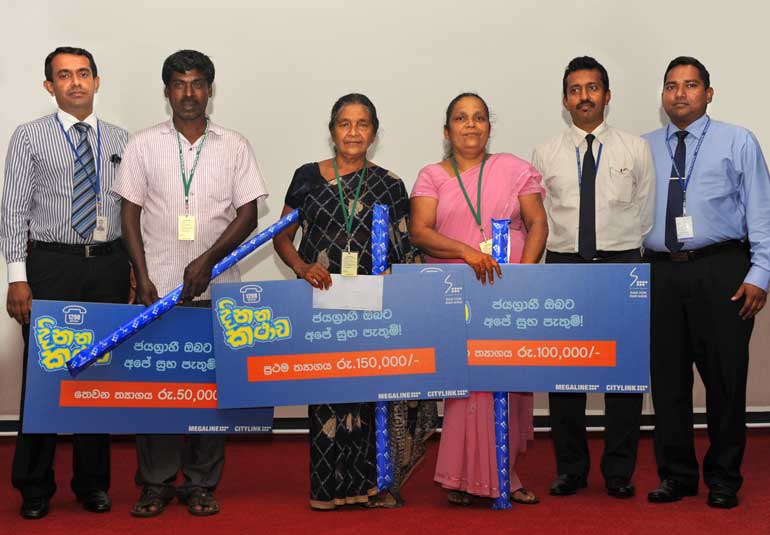 From left: SLT Manager/Marketing Laith Kumara, 2nd runner up S.J. Bandara, the winner W.D. S. Irangani, 1st runner up R.K.K. Fernando, Prabath Dahanayaka GM/Product Development (SLT) and Management and Sanjeewa Jayamaha DGM/Product Development and Management (SLT)
Sri Lanka Telecom (SLT), the national ICT solutions provider recently conducted a prize giving ceremony to recognise and reward the winners of the 'Dinana Kathawa' competition that was successfully completed via its competition portal, 1298.

This competition was designed to entertain as well as support the sharpening of IQ levels of participants, whilst providing them opportunities to win valuable cash prizes. The award ceremony was held at SLT Auditorium, where a total of 13 winners walked off with attractive cash prizes.

Dinana Kathawa competition was held during the period 10 August to 15 September and comprised of an IVR based quiz with multiple choice questions. Contestants were given the opportunity to participate in the competition by accessing the company's competition portal by dialling 1298 from any SLT Megaline or Citylink phone. Upon gaining access to the link, contestants had to listen to a short story and thereafter answer questions based on the story to accumulate points. Contestants were able to participate in the competition in either Sinhala or Tamil languages, according to their preferences.

The competition was widely accepted by people throughout the country and was a huge success, seeing the participation of a large number of contestants. There were participants from all age groups and representing all parts of the country. Out of these participants, 13 winners were selected based on top scores.

The winner of the Dinana Kathawa competition who successfully secured a total exceeding 1,600,000 points was W.D.S. Irangani. The first and second runners up positions were secured by R.K.K. Fernando and S.J. Bandara respectively. 10 other winners with top scores who received concessionary prizes include T.S.P. Fernando, V.S. Damayanthi, K.S. Bandara, K. Sriyani, M.M.P. Deepthi Fernando, T. Santhosam, K.S. Tennakoon, S.M.M. Husain, B.N. Upendra and I.A.G. Mahinda.

The prizes were handed over by SLT Chief Marketing Officer Ajantha Seneviratne, while other SLT officials as well as the family members of the winners were also present at the event.