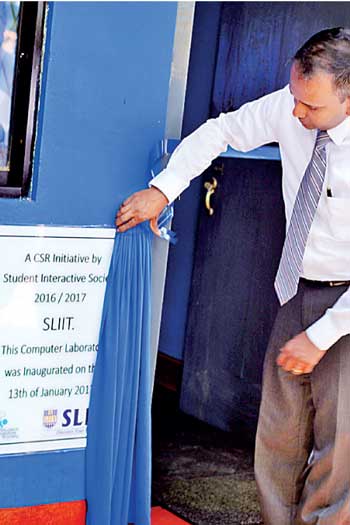 With the aim of helping young minds to fulfil their dreams and enhancing their education, the Undergraduates of SLIIT, the nation's largest degree awarding institute, held their annual fundraising walk – 'SLIIT Walk 2016.'

Through their admirable efforts, a total of Rs. 1.3 million was raised to provide Kudabolana Pagnaseeha Maha Vidyalaya, Ambalantota 15 computers and the entire network requirements improving their learning environment. The computers were recently handed over to the school children who can now enlighten their knowledge and pursue their dreams.

Organised by the Student Interactive Society, this charity walk was themed 'Walk for their Dreams' and funds collected contributed towards helping the children progress at a brighter future.

The SLIIT Walk has become an annual calendar event, bringing together the student community and staff, promoting the Institute's interactive culture and diverse student life.

The event is also organised with the aim of promoting SLIIT as an institute which is focused both on academic and extra and core curricular excellence.

"As part of our SLIIT culture, it's our belief that we should give back to the community. The Walk was also a great opportunity for individuals from the different faculties and SLIIT branches spread across the island to come together, foster collaboration, to meet and socialise in a non-work setting," said SLIIT CEO Prof. Lalith Gamage.

Participating students wore walk t-shirts and a common wrist band demonstrating their unity as a student community and for the cause.

"Since its launch, the SLIIT Walk has successfully brought together both the student community and staff, and made a significant impact in several communities," he noted.

Last year the funds raised helped upgrade the computer labs of six schools in the Sabragamuwa province. The funds collected during the SLIIT Walk in 2014, were used to uplift the Sri Sahashthra Lankara Vidyalaya in Balangoda.

Additionally the funds raised during previous years have also contributed towards providing a water purifying system for the Padavi Sripura Hospital in Mahavilachiya, a village in the North Central Province of Sri Lanka. This initiative was carried out to address the Chronic Kidney Disease of Unknown Etilogy (CKDu) that is widely prevalent in the North Central Province of Sri Lanka.

Many communities and individuals islandwide from SLIIT's fund raising initiatives have benefitted by these empowerment programs, especially children. "Every CSR project we engage in tell a truly compelling story and give us further impetus to continue to help communities, especially children who yearn for better access to education," Gamage added.