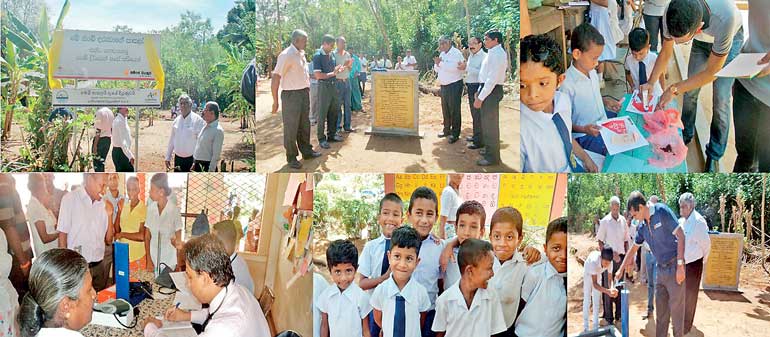 Righteously known for the significant prominence and value placed on giving back to the society, Sampath Bank has continued to depict its whole hearted commitment towards enveloping much of their operations around the Sampath 5E CSR Model which focuses on Education for Development; Empowerment of Community; Ethics and Values; Environment Protection and Conservation and Entrepreneurship Development.

The team at Sampath Bank strongly believes that the future of the nation lies in the hands of the children of today, who will be the leaders of tomorrow. As such, Sampath Bank places great priority on their CSR pillar of Education for Development. Consequently, the responsible corporate citizen recently launched a unique and novel CSR Project – 'Sampath Pasala' with the prime motive of uplifting educational standards in rural areas of Sri Lanka.

In an interview with Sampath Bank PLC Deputy General Manager – Human Resources Aruna Jayasekara, he said, "When thinking about a CSR initiative, we at Sampath Bank put ourselves in the shoes of those in need. 'Sampath Pasala' was therefore inspired by this instinct not just to provide school children with resources to good education and well-being, but also, going a step further, to enlighten the parents and teachers on various ways they could improve their way of life with our assistance."

'Sampath Pasala' is a long term CSR effort where Sampath Bank will reach out to one selected underprivileged school of a rural setting ineach province of Sri Lanka and develop it into a model school while equipping it with required infrastructure, trained teachers with an understanding of modern teaching techniques and other necessities for a prosperous school. The pilot project of 'Sampath Pasala' was thus recently launched at Ba/ Kandegama Kanishta Vidyalaya, located in Rideemaliyadda, Badulla.

"To launch 'Sampath Pasala', we selected Ba/Kandegama Kanishta Vidyalaya for many reasons. As the school is located in a very remote area that is geographically and socially isolated, we identified crucial problems during one of our first visits to the school. One was the lack of clean water facilities for drinking and sanitation. We also noticed that a significant number of children were unhealthy with low Body Mass Indexes and this significant percentage of students remained frequently absent due to illnesses, caused by being in an unhealthy environment.

Thereby, we dedicated our initial efforts to take on a 'Water Project' that provided the school children with clean water for drinking and sanitation. In order to tackle the problem of absentees, we then conducted a 'Foster Parent Program' where volunteers from Sampath Bank contributed to providing a balanced breakfast for students. As a result of these collective efforts, a significant improvement took place in the attendance from 40% (before our intervention in July 2015) to 100% as at today.

The school provides education to about 182 students from Year 1-12 andis steered by a group of teachers and a visionary principal who are whole heartedlydedicated, committed and eager to provide the best of education to the students in order to build a better future for the students and the school itself.

"This was another driving factor towards our contribution to the school and it is humbling to say that during the short span of time we engaged and worked with the principle and the staff, and have been able to uplift the conditions of the school and education of the children, making Kandegama Kanishta Vidyalayaa benchmark among schools in the region," said Aruna.

At Kandegama Kanishta Vidyalaya, Sampath Bank implemented a 'Monthly Monitoring System' with student performance indicators whichenabled teachers to identify students who were falling behind in class and therefore provide them with extra assistance. The students who were to sit for the Grade 5 Scholarship exam participated in a special seminarwhich mentally prepared them to face the examination confidently and taught them various tactics to tackleand answer questions efficiently. Students were also providedwith Past Papers from Colombo in order to well-equip them before exams.

The bank also actively engaged with the students of the school by conducting a workshop on Handwork where members of the Sampath Team worked together with students from Grade 1-5 to demonstrate different ways of designing 'Origami' artwork and rewarded the best designs produced by the students. Furthermore, the Sampath Team also engaged in a joint debate conducted between a Team of School Children versus the Sampath Bank Team as special training initiative to train students by exposing them to professional debating, in addition to the development of leadership qualities and communication skills.

While the heart of the school's progress lies in the hands of the teachers, Sampath Bank placed great emphasis on the teachers of the school with a special training under the theme 'Teaching – From School Children's Perspective'. The special training which was conducted for a period of three hours, educated the teachers on various teaching methodologies while opening their eyes to different ways a teacher can help to develop and positively influence the character of a student.

Adding on to the valuable activities of 'Sampath Pasala', Aruna went on to speak of the 'Health Camp' which was set up at the school premises. "Considering the location of the village, its lack of access to clean water, healthy diets and proper infrastructure, we identified the high probability of individuals in that area to be affected by Chronic Kidney Disease and other illnesses. The Health Camp therefore provided health screenings for the entire village to identify those suffering from such diseases or sicknesses and provided them with treatment and medical advice.

The health camp further served as a platform for parents to receive free health screenings for non-communicable diseases such as high blood pressure, diabetes, cholesterol etc. and also calculated the Body Mass Index of every student whilst creating awareness among parents and students on the importance of a balanced diet and healthy meals. Students were also provided with a free dental screening, medical treatment and advice on the importance of dental healthwith the support of the Medical Office in the Uva Province."

Emphasising the historical pride Sampath Bank bears in CSR initiatives Aruna said, "We have been heavily involved in CSR since the inception of the bank, back in 1987, in a time when the concept of CSR was barely known to the Sri Lankan corporate arena. While, solely not focusing on merely providing donations in the name of CSR, we have made additional efforts in setting up Kandegama Kanishta Vidyalaya as a significant centre of development, which we hope, will set an example for the rest of the corporates who will in turn join us in uplifting the education sector and wellbeing of the rural areas of Sri Lanka to newer heights."

As such Sampath Bank seeks to factor social responsibility and sustainability into their approach to business. The bank pledges a continued engaging spirit towards uplifting the standards that currently exist in the local Sri Lankan community. Sampath Bank hopes that through their constant CSR efforts, Sri Lanka will be one step closer to thriving as a more developed nation, whilst keeping its promise 'We Present Your Future'.
---

'Daham Thilina' Program of

Sampath

Bank
Sampath Bank recognised the winners of the All Island Dhamma School Competition under the 'Sampath Daham Thilina' program. Sampath Bank has conducted this program in circuit level continuously for 15 years and this is the sixth consecutive year of its contribution made for All Island Dhamma School Competitions.

Here Sampath Bank Managing Director Aravinda Perera handing over Rs. 1.4 million worth of cash prizes and gifts to Buddhist Affairs Commissioner General Chandrapema Gamage.