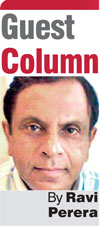 As a responsible corporate citizen, Sampath Bank has always demonstrated their commitment towards the environment and society with multiple company initiatives. The bank has sustained its efforts in spearheading earth-friendly initiatives keeping in line with one of its main CSR operation pillars – Environment Protection and Conservation. Together with Sampath Bank Nature Protection Club, Sampath Bank's environment and nature protection arm, the bank annually celebrates the environment day 'Sampath Green Day' to motivate its staff to think green and be eco-friendly.

At the recently concluded Sampath Bank Green Awards 2015, Sampath Bank took a step forward to announce the declaration of two significant projects – 'Sampath Green Inventor' and 'Surakimu Sundara Polhena'.

With the Ministry of Education, Sampath Bank aims to launch 'Sampath Green Inventor', Sri Lanka's first eco-friendly initiative targeting all national schools in Sri Lanka with a view to encourage school children to develop green inventions, promote green concepts and motivate them to lead an eco-friendly lifestyle. This unique initiative will further enhance their knowledge on Environmental Protection and Conservation. Upon registration to the competition, students are given the opportunity to submit a project report based on an innovative idea or product they have invented to protect and conserve the environment in a sustainable manner.

With the assistance from specialists in the Environmental Protection and Conservation field, finalised projects and ideas will be analysed in order to crown the title of Green Inventor to the most innovative student at the Green Day Award Celebrations to be held this year. Sampath Bank will reward the next best inventors with cash prizes of Rs. 150,000 and Rs. 100,000 respectively, along with seven consolation prizes for other participants. Simultaneously, Sampath Bank will also award cash prizes to the schools which the winners represent.

The second initiative, 'Surakimu Sundhara Polhena' was declared with the exchange of official documents at Green Day Awards 2015 between Sampath Bank and the Department of Oceanography and Marine Geology, University of Ruhuna.

This project was embarked on advice and guidance of Dr. Turny Pradeep Kumara, the former Head of Department of Oceanography and Marine Geology with the main aim of restoring the Polhena Reef in Matara through coral transplantation; reef clean ups and reef zoning. In doing so, Sampath Bank aims to bring back the beauty of the Polhena Coral Reef that attracts many tourists, which in turn benefits the Polhena community who build their livelihoods from the reef.

Additionally, in commemoration of Green Day 2015 the bank recognised and awarded the winners of Outstanding Eco Teams 2014, a competition that aimed to encourage teams at Sampath Bank to actively engage in environmental conservation initiatives conducted by the bank. Each eco team was required to plant a minimum of 100 trees and reduce their monthly consumption of electricity units in their households in comparison to a pre-determined base month.

The competition which was conducted for the second consecutive year recognised three teams as the Outstanding Eco Teams from the Tree Planting Challenge and the Energy Saving Competition. Furthermore, five branches received certificates of recognition for their contribution and efforts demonstrated throughout the competition whilst category awards were presented to 'Most Innovative Green Project', 'Most Sustainable Green Project' and top performing energy saving category.

Furthermore, 'Most Sustainable Tree Planting Project' of the Outstanding Eco Team2013 competition was also awarded at the ceremony recognising their efforts in developing a sustainable tree planting project.

Environment Protection and Conservation pillar receives great emphasis under 5E pillar model of Sampath CSR. Having made CSR an integral part of its business, Sampath Bank has continued to remain committed in implementing several initiatives in order to protect and conserve the environment and its natural resources in a sustainable manner.