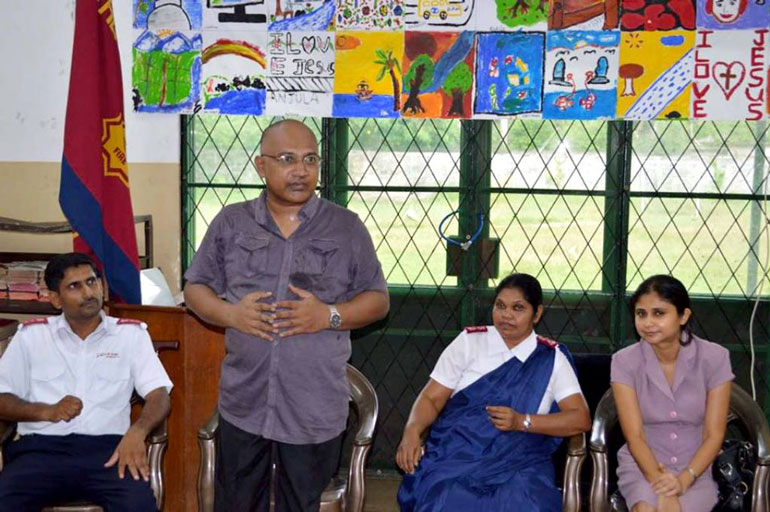 Computer Instructor for the Salvation Army Homes Naresh Mylvaganam giving the vote of thanks
Berendina Development Services (BDS) donated two computers to the Salvation Army Children's Homes in Rajagiriya and Dehiwala recently. Over 70 children ranging from ages 5-17 residing at these homes are expected to benefit through this donation. The official handing over ceremony was held at the Salvation Army Children's Home in Rajagiriya recently.

Present at the handing over ceremony were Rajagiriya Home Officer-in-charge Captain Sujith Pushpakumara, Dehiwala Home Officer-in-charge Major Mary Ratnasingham, Computer Instructor attached to the two Homes Naresh Mylvaganam, Berendina Head of Communication Suranthi Boange and Berendina Executive – Communication and Fund raising Sirajul Anam. Around 50 children representing both homes also participated at the event.

Suranthi Boange speaking at the handing over ceremony on behalf of Berendina stated that; 'Berendina' was named after its original benefactress Berendina Borst and initially commenced work on a small scale in the Garagoda area of Yatiyanthota in 1982. Now the Berendina group consists of four companies; namely Berendina Development Services, Berendina Microfinance Institute, Berendina Employment Centre and the Berendina Micro investments Company and is active in over 10 districts in Sri Lanka.

These four companies are involved in a diverse range of poverty alleviation activities ranging from direct social work to assist needy families and individuals to provision of microfinance and enterprise development services to help uplift the living standards of the rural poor. Berendina also links underprivileged rural and plantation youth with job opportunities and provides vocational training scholarships to such youth.


Provision of necessary assistance to Children's, Elder's and Disabled Homes was also an important aspect of Berendina's social welfare program and in the year 2014 alone over Rs. 3.7 million in assistance was provided to such homes across Sri Lanka, stated Boange.


Naresh Mylvaganam, giving the vote of thanks on behalf of the Salvation Army stated that he was immensely grateful to Berendina and to the group's Chairman Dulan de Silva in particular for the generous donation and stated that this donation would be immensely beneficial to promote IT literacy among the children in these homes.

More on Berendina's extensive range of poverty alleviation work can be seen on www.berendina.org and jobsberendina.com.