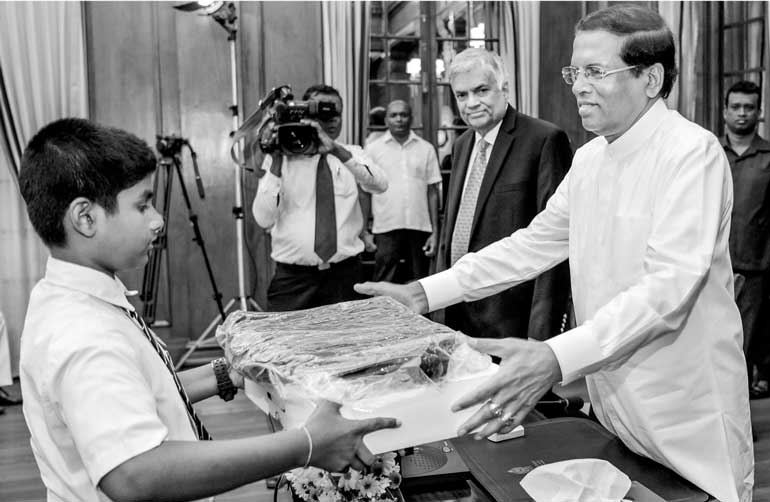 Singer Sri Lanka PLC, the country's premier consumer durables retailer, has continued its tradition of encouraging students to excel in their studies by gifting 26 of the latest Singer laptops at a felicitation ceremony held recently.

The laptops were handed over to these students by President Maithripala Sirisena together with Prime Minister Ranil Wickremesinghe and the Minister of Education Akila Viraj Kariyawasam at a special event organised at the Presidential Secretariat on 28 March. Singer Sri Lanka was represented by Group CEO Asoka Pieris together with Finance Director Lalith Yatiwella and Senior Brand Manager – Digital Media Sahan Perera.

The Top 12 Grade 5 Scholarship exam students as well as the Top 2 students from the seven different streams of the Advanced Level (A/L) examination received laptops. The laptops include latest Intel Core i5 with 7th Generation Processor powered by genuine Windows 10 Operating System, 4GB RAM, 1TB Hard Disk, 15.6" HD Display, Integrated HD Web Camera, enhanced Intel graphics support, Wi-Fi and Bluetooth.

Singer Group CEO Asoka Pieris in a press release stated that, "Singer is proud to continue the tradition of encouraging the youth in our country to pursue their educational dreams and pave the way to achieve great things in life. We believe that by providing them with the right tools and resources they will be able to realise their academic goals and give back by utilising their knowledge for the betterment of the country."

Singer Sri Lanka markets DELL and Singer laptops across the island. Singer Duo is the latest addition offered to promote 'a laptop to all' with a very attractive price together with the convenience of using it as a tab as well. Singer Duo is specially designed for the youth to support with their routine needs in education and knowledge sharing. Special discounts are offered to students who can look forward to the latest digital devices including laptops at very competitive prices at every Singer Showroom. SINGER also offers consumers a wide range of top-quality international brands such as SISIL, Samsung, Hitachi, TCL, Beko, Sony, Huawei, Sharp and Mitsubishi. It continues to engage with its consumer base through a growing network of over 400 showrooms spread island-wide and an equally established after sales service network. In order to provide consumers with greater flexibility when making purchases, Singer offers consumers interest-free schemes, special discounts, trade-in discounts, free offers and special credit card offers.