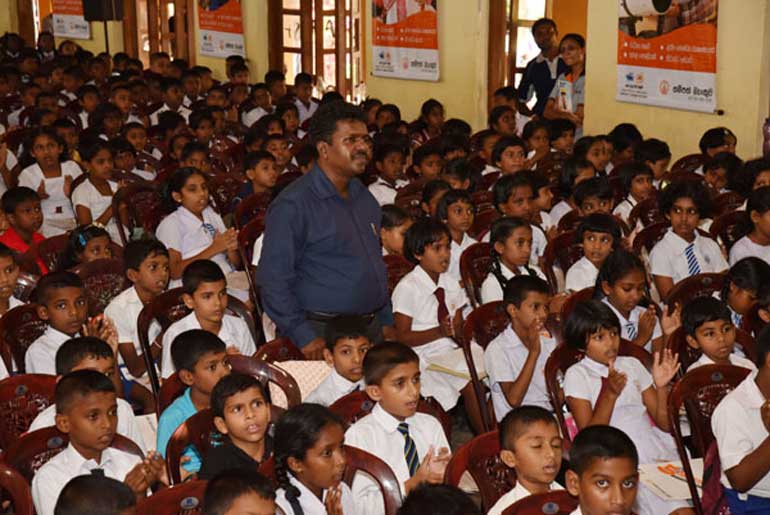 Conducted for the seventh consecutive year in keeping with the commitment of enhancing the future of Sri Lanka, Sampath Bank 'Pahe Sishyathwa' Seminar Series continues to gain increasing demand and participation, reaching over 5,000 year five scholarship exam students since its commencement in May. The bank has conducted four seminars thus far in Matara, Trincomalee, Matugama and Anamaduwa, providing a special learning opportunity for students in rural areas of the country with limited access to supportive resources and facilities.

With escalating interest and strong demand, the Pahe Sishyathwa Seminar Series is scheduled to continue in Mahiyanganaya, Nuwara Eliya and Gampaha on 11 and 25 July and 8 August respectively.

Organised annually in collaboration with NethFm, Sampath Bank Pahe Sishyathwa seminar series is carried out island wide and open to all students due to sit for the grade 5 scholarship examination in August. The program focuses on reaching out to students in the rural areas of Sri Lanka who have limited access to supportive resources and facilities and moulding them with the right mindset and technicalities for facing their first real challenge in life. This year, Sampath Bank has taken steps to add more value to the program by recognising Sampath Bank Children's account holders who excel in the Scholarship Examination and rewarding them and their schools with significant cash prizes. Commenting on this exceptional initiative, Sampath Bank PLC Deputy General Manager – Marketing and Business Development Tharaka Ranwalam said, "We at Sampath Bank believe that children are the nation's treasure and we are proud to have supported the children of Sri Lanka through our Pahe Sishyathwa program. The primary goal of this series of seminars and workshops is to righteously guide children and parents to face the fundamental challenge of sitting for the standardised national exam in a holistic and healthy manner. By doing so, we enable children to meet a significant milestone whilst opening up new windows of opportunities for their future." In addition to preparing children with the right mindset and technicalities for facing a significant national exam, the seminars also include a discussion of two model exam papers to enlighten students of the different and appropriate methods that can be used to untangle various questions, tactics to provide efficient answers, as well as time management skills during the examination. Running concurrently to the seminars conducted for children, the program also includes workshops for parents that are designed to provide advice and teachings about the many ways to be supportive and encouraging to their children. In addition to this, the workshops also enlighten parents with knowledge on how to manage household finances, children's saving funds as well as family finances.

At the conclusion of the Year 5 Scholarship Exam, Sampath Bank will further reward the island's highest achiever with Rs. 150,000, while the second and third highest achievers in the island will be awarded Rs. 100,000 and Rs. 75,000 respectively. The top five achievers in each district will also be awarded Rs. 10,000 each. Furthermore, the school of the top achiever of each district will receive a contribution of Rs. 25,000 each, while the school of the second highest achiever of each district will receive Rs. 20,000 each. To qualify for cash prizes, maintaining a minimum balance of Rs. 2,500 in a Sampath Sapiri or Pubudu Children's Savings Account prior to the exam is required. Sampath Bank continues to display tremendous commitment in being a strong pedestal to contributing life changing experiences to the youth of Sri Lanka while opening windows of opportunities to achieving milestones for a bright and successful future.