Jungle Beach by Uga Escapes, recently hosted two noteworthy socially responsible initiatives in Kuchchaveli and Pigeon Island marine nation park; both areas in dire need of assistance. The luxury beach resort located in Trincomalee, is an active contributor towards community development schemes aimed at uplifting the community, and vehemently believes that modern day businesses should evolve around sustainability. In line with this belief, they provide consistent contributions to society when and where required. The resort's latest projects are no different, with a focus on assisting a marginalised school and the protection of the famed Pigeon Island marine national park.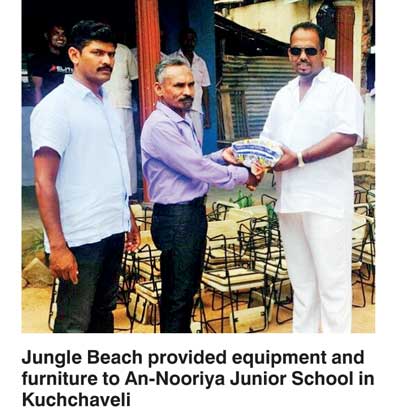 Their first project focused on the An-Nooriya Junior School in Kuchchaveli, was based on a request made by the school principal, G.M. Rahuman Yusuf. The impoverished school was in earnest need of educational equipment, and therefore, with the aim of improving the quality of its educational facilities, Jungle Beach provided equipment and furniture which included 2 steel cupboards, 50 chairs, 8 white boards, 1 Epson printer and 75 marker pens.

The school contains 348 pupils in total, and its severely dilapidated condition means that some of the students are found seated on the ground in outdoor classrooms without shade. The teachers are forced to write on pieces of wood due to a lack of proper blackboards. However, despite these significant setbacks, the sincere willingness to teach and learn on the part of both the teachers and students is heartening to witness.

The second project was in collaboration with the Wildlife Conservation Department, where both parties took steps towards conserving the Pigeon Island marine national park. Aside from being home to some of Sri Lanka's best coral reefs, Pigeon Island serves as the breeding ground for the Rock Pigeon as well. Jungle Beach installed four colour-coded garbage bins on the island, in order to assist with proper garbage sorting procedures.

Furthermore, due to an absence of signs/boards promoting awareness about protecting the island, the beach had considerably deteriorated, prompting efforts to put out two large sign boards with information on the implications of pollution in the region and its surroundings. Approximately 40 staff members from Jungle Beach actively participated in the process of cleaning the area.