Speak on strategic Corporate Social Responsibility, Inclusive Business and Human Rights Relations in Business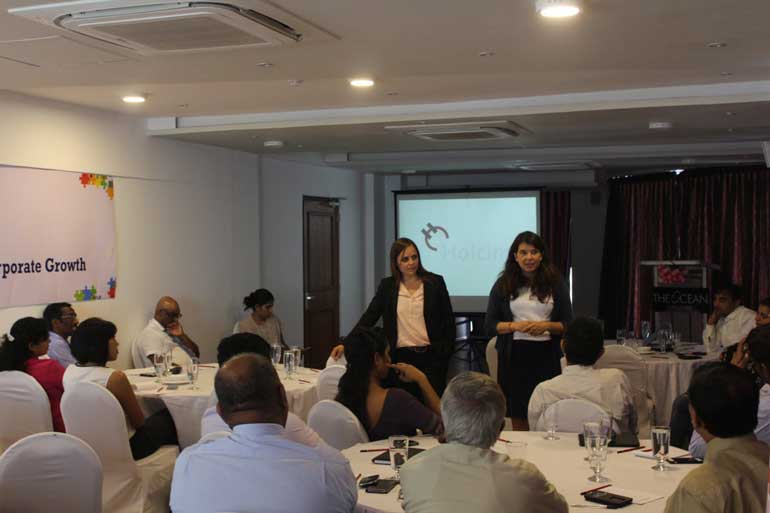 The two CSR experts address the gathering
At the recent knowledge exchange program on the Practicalities of Business Transformation, organised by CSR Lanka, two Corporate Social Responsibility (CSR) experts from Holcim International shared their insights and international experience on the Strategic Approach of CSR, Sustainable Development Ambitions, Inclusive Business Initiatives and Human Rights Relations in Business.

Holcim International Head of Corporate Social Responsibility, Stephanie Koch, initially spoke about the transition and evolution of CSR activities in large corporates where CSR has moved from general philanthropic projects to strategic CSR and now to Inclusive Business.

She further highlighted the intricacies of each area and mapped out how Holcim International has set a goal to impact and influence 100 million lives around the world by 2030. Holcim International Human Rights Specialist Ariane Luthi covered the topic of Human Rights Relations in Business and spoke about how the company uses the Human Development Index and Economic Freedom Index and engages with industry experts and different stakeholders in various countries to prioritise CSR projects that would have a deep impact on the community.

Responding to a question concerning priority and resource allocation for CSR at Holcim International, Koch stated that CSR projects should be more strategic than philanthropic and commitment from the company's senior management was vital for this to be successful.

Elaborating on Holcim's CSR activities, she stated that the company's environmental policy had been in effect since the turn of the century and addresses climate change and, more importantly, the allocation of resources for all the social issues faced by communities in and around where Holcim operates.

"The traditional type of CSR projects, which is philanthropy, is an area which private sector companies should slowly move away from," stated Koch. "Foundations and social service organisations can do that. In the case of Holcim International we are involved in needs assessment of the community that we are operating in and tools are developed after a stakeholder analysis and going through a social development scorecard process."

Decisions are taken using the Social Development Scorecard to constantly evaluate the sustainability of the project. Today each plant of Holcim is required to provide a 'Community Engagement Plan', where action points to provide shared value to the bottom of the pyramid are noted.

The company constantly addresses the social needs of the community. This is a clear indication that CSR activity is not relegated to a remote division of Holcim but is very much a part of the corporate activity of the company. Since commitment from senior management is extremely strong, the company is en route to achieving CSR goals in the area of environment and climate change.

Speaking about strategic social investment, the Holcim experts stated that it must always be linked with the core business and should be based on the expertise of the company. Holcim recently embarked on an inclusive business in the area of sanitation.

They said that housing was a complicated area of work and incurred high costs whereas sanitation projects/building toilets, such as the 'Sanitation for Life' project in India, were less complicated and one unit would serve five to six people, which took them closer to their goal of changing100 million lives.

"In South America, stoves made out cement are provided to households. These Inclusive Business initiatives are not carried out to make high profits. However, a slim margin of profit needs to exist in order to ensure that the venture is sustainable," She stated.

Community bonds

The company has also trained 5 million masons in South East Asia, thus giving the trade a better and more acceptable image. Recently, the Regional Masons Olympics was organised by Holcim International in South East Asia and South America. This has brought professionalism into the trade.

Speaking of their personal experiences, the Holcim experts further expounded on how CSR activity also builds allies within a community. In a certain crisis situation where erroneous media reports highlighted alleged heavy emissions from a cement plant, the community acted as spokespersons in this particular instance and corrected the wrong perception and view propagated in the media.

Holcim International Human Rights Specialist Ariane Luthi spoke about how many private companies were now considering human rights as a vital part of their business. However, she cautioned that a company should put its own house in order before thinking of CSR. The management of the entire supply chain was important she stated. Business opportunities within the value chain must be first pursued. At Holcim, industry experts are called upon to see what topics (human rights Issues, social issues, etc.) come up in each area. Different stakeholders are requested to give their views and action plans are formulated based on their perceptions. CSR activity and human rights-based social engagement programs at Holcim are prioritised based on whether they are a high-risk, medium-risk or low-risk country.

The event was well-attended by member companies of CSR Lanka. The insights shared by Holcim experts undoubtedly provided strategic guidance to further understand the difference between ad hoc CSR projects and creating sustainable value for the
company's communities.

CSR Lanka is the national apex body incorporated a few years ago by an initiative of USAID, together with seven leading corporate leaders from the private sector, backed by over 40 leading private sector corporates and a rapidly-growing membership.

Since a number of Sri Lankan private sector organisations have engaged in numerous CSR initiatives during the last two decades with a commitment to social and environmental upliftment with significant monetary contribution, the need was felt to facilitate this engagement with a greater impact covering national priorities.

The Board of CSR Lanka, with firm conviction and commitment, has set in motion a number of key programs to assists the private sector in building capacity on sustainable business engagement and practices. Policy advocacies, state-of-the-art best practices and public private sector collaboration are some of the areas of focus of CSR Sri Lanka.