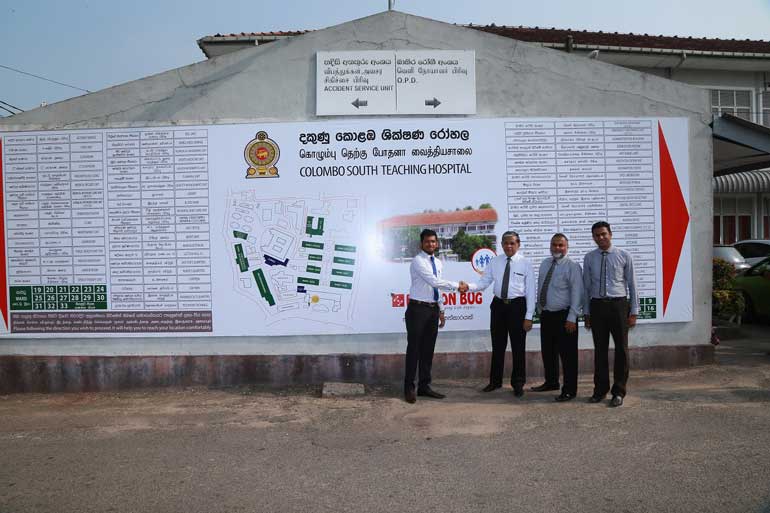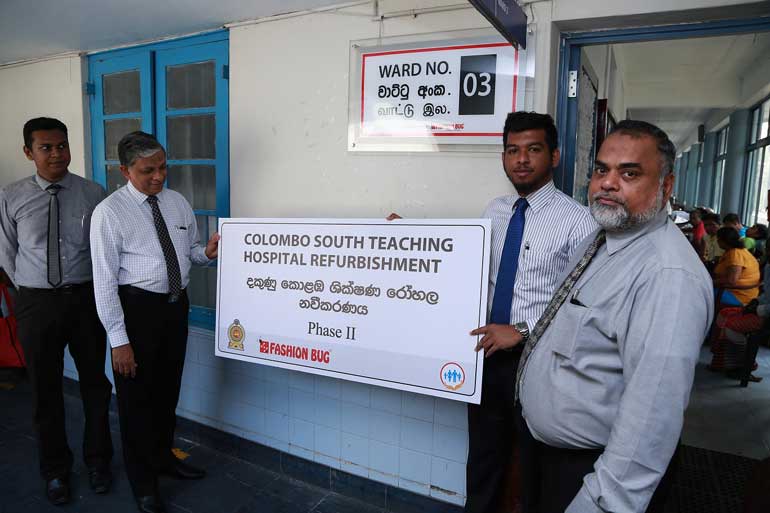 The ward and main board were handed to Kalubowila Hospital Director Dr. Asela Gunawardena by Fashion Bug Director Shabier Subian, Deputy General Manager Dr. S.H.M. Faraaz and Fashion Bug Senior Marketing Executive Ishan Godamanna
Fashion Bug, one of Sri Lanka's leading retail clothing chains with over 16 outlets island-wide, completed yet another CSR activity for the new year by refurbishing an entire ward at the Kalubowila Hospital and renewing the hospital's main sign board as well.

"We initiated the Kalubowila hospital ward project in 2014, and since then have renovated the entire ward, adding wash rooms and donating an LED TV and chairs to the ward," said Fashion Bug DGM Dr. S.H.M. Faraaz. The hospital's main signage which was dilapidated and in a very bad condition, was also replaced by Fashion Bug.

In addition, Fashion Bug is also involved in several other hospitals' CSR projects which include the Maharagama Cancer Hospital, Eye Hospital, Ragama North Teaching Hospital, etc.

Amongst Fashion Bug's CSR activities are their all island career guidance programs, the Roo Siththam art competition, the drinking water project that was completed and presented to the Ovitigamuwa Maha Vidyalaya, the donation of the computer unit at the Thumbe Kanishta Vidyalaya and the sponsorship of the Dhammikka Kithulgoda scholarship foundation, just to name a few.

"Each Fashion Bug outlet works closely with its community. We have close links with the community centres and religious communities of all religions and we actively participate in and contribute to all their events. As part of the profits generated from a branch in a particular area are channeled towards the CSR project of that area, our customers who patronise that particular outlet are proud custodians of that particular project and feel that they too are working side by side with us," said Fashion Bug Director Shabier Subian.